The woes and recent rebounds for the Market Vectors Russia ETF (NYSEARCA:RSX) and the iShares MSCI Russia Capped ETF (NYSEARCA:ERUS) have gotten ample coverage, but the downturn in Russian equities following the countries invasion of Ukraine has been a drag on Polish stocks as well.
Although not as bad as their Russian counterparts, the iShares MSCI Poland Capped ETF (NYSEARCA:EPOL) and the Market Vectors Poland ETF (NYSEARCA:PLND) have both traded lower over the past month, but those declines could lead to buying opportunities for the two Poland ETFs, which were previously among the stronger single-country emerging markets offerings.
Research firm, Capital Economics, says the recovering Eurozone economy, chock full of Poland's largest trading partners, could lift the Polish economy, reports Shuli Ren for Barron's. The research firm also cites benign inflation and the potential for an improving labor market as positive catalysts for Poland.
The bullish outlook on Poland, which artfully dodged the global financial crisis, is held by other investors as well. Said Franklin Templeton's Mark Mobius in a recent question and answer session on his blog:
Poland successfully competes in outsourcing of services with countries like India thanks to its well-educated workforce. These include companies in consumer-related and financial companies. In the long run, we expect Poland could also benefit from the process of relocation of factories from Western Europe to Eastern Europe. These long-term trends could lead to the creation of additional jobs and lead to strong domestic demand, which in turn enhances economic growth.
PLND has the larger allocation to consumer-related shares as staples and discretionary names combine for 11% of the ETF's weight, according to Market Vectors data.
Although inflation is low in Poland, forward-rate agreements point to a quarter point hike in benchmark interest rates within 12 months, with some traders expecting rate hikes as soon as the third quarter of 2014.
Polish households have replenished their savings since the middle of 2012, positioning the country to absorb rate hikes, assuming employment picks up.
iShares MSCI Poland Capped ETF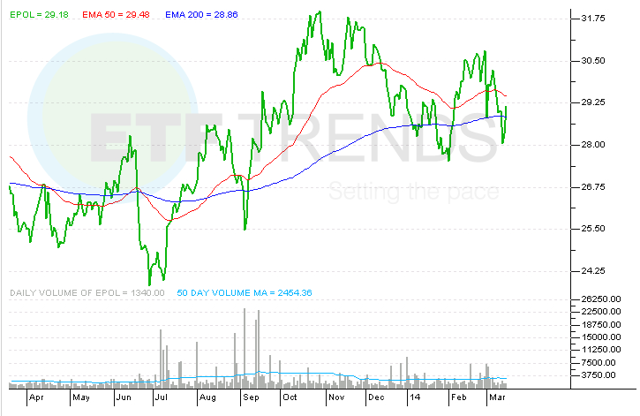 ETF Trends editorial team contributed to this post.
Disclosure: I have no positions in any stocks mentioned, and no plans to initiate any positions within the next 72 hours. I wrote this article myself, and it expresses my own opinions. I am not receiving compensation for it. I have no business relationship with any company whose stock is mentioned in this article.