Russia breached its neighbor's border and basically annexed Crimea without firing a shot. And then they inexplicably fired shots over the past weekend! The latest activities in Crimea should remind investors that Russia's Putin and the nation's military are unpredictable. Despite Ukraine's decision to pull its troops from Crimea and basically hand the region over to Russia, Russian troops still forced their way into Ukrainian bases and demanded the immediate surrender of its Ukrainian military residents at gunpoint.
Meanwhile, another breakaway region of a former Soviet Republic nearby is begging Russia for annexation, and a NATO general is warning that the Russian force on the border with Ukraine could easily accomplish that mission. President Obama is meeting with G7 leaders in Europe to discuss the Russian aggression right now. Take note that the G7 has replaced the G8, and that the meeting of the world's greatest powers will exclude Russia from here forward. The group has cancelled its planned June meeting in Sochi, Russia and rescheduled it to exclude Russia while it is instead held in Brussels. So shouldn't gold be back in play as a result and the SPDR Gold Trust (NYSEARCA:GLD) surging higher? Instead, it is doing the exact opposite. Is this asinine or what?
Asinine 1. Ridiculous: Utterly ridiculous or lacking sense.
In a recent piece, we tried to explain why gold should find support after giving back all of its gains taken on the Crimean crisis. We outlined our expectations for ongoing aggression from Russian troops and described how the Putin wildcard should continue to factor in currency pricing and the price of the commodity many consider a currency. And that is what is coming to pass, but it seems trading is insensitive to anything that happens within Crimean borders. So, it appears that unless Russia breaches the Eastern border of Ukraine, the GLD will find few bids on the geopolitical driver.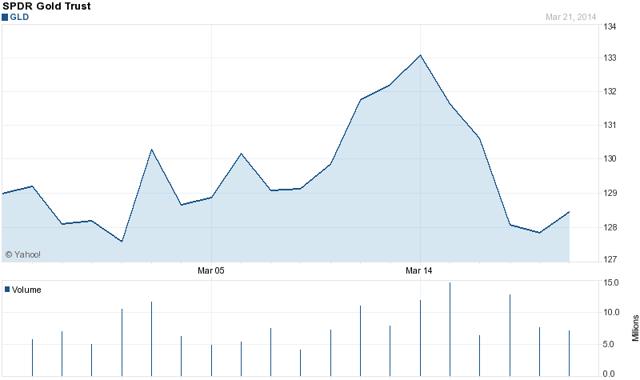 1-Month Chart of GLD at Yahoo Finance
You cannot tell by the yet to be updated chart above that the SPDR Gold Trust is now cheaper than it was when Russian forces first entered Crimea in late February. The GLD is now 1.1% below its close on February 28th, the day when the Crimean Crisis began. It's okay to mark performance from that date because stocks did not react to the event until the following trading day. Though from that point, the GLD rose 4.8% over the following two weeks as global concerns intensified over the standoff. You can see that spike in the one-month chart above. The GLD was not alone in that rise, and it's not alone now in the latest demise of precious metals securities, either.
| | | | |
| --- | --- | --- | --- |
| Precious Metals Security | 2/28 - 3/24 | YTD | TTM |
| SPDR Gold Trust | -1.1% | +8.7% | -18.9% |
| iShares Silver Trust (NYSEARCA:SLV) | -5.6% | +2.7% | -30.8% |
| Market Vectors Gold Miners (NYSEARCA:GDX) | -6.0% | +15.1% | -36.3% |
| Direxion Daily Gold Miners Bull 3X (NYSEARCA:NUGT) | -19% | +40.3% | -86.6% |
| Goldcorp (NYSE:GG) | -4.9% | +17.9% | -23.9% |
The table here shows that bullish precious metals ETFs and Goldcorp, a miner, are all down on net since the day the Crimean Crisis started. We would expect that to be the case from a later date, since the crisis was resolved via the effective legal (or illegal) annexation of Crimea. It's shocking that the entire event has been basically erased from the performance of the precious metals securities, especially given that the latest news out of the region has been of intensified rhetoric and military action.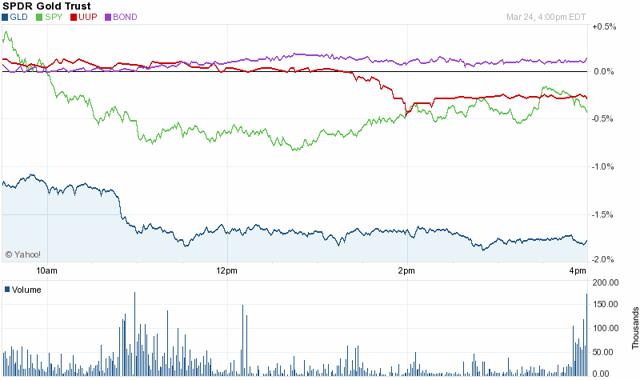 1-Day Chart of GLD, SPY, UUP, BOND
The driver of capital out of the GLD Monday was not leading capital into stocks. You can see that both the SPDR Gold Trust and the SPDR S&P 500 (NYSEARCA:SPY) each fell, though stocks recovered some into the close. Gold did not benefit against the dollar either, as the PowerShares DB US Dollar Bullish (NYSEARCA:UUP) security declined on the day. Bond prices improved though, putting only the PIMCO Total Return Fund (NYSEARCA:BOND) in the green in the chart above. That means Treasury Yields fell, and the 10-year looks to have dropped by 2 basis points on the day. But is that enough of a driver to harm gold so much? I think not.
An important catalyst for all of the above was poor PMI data on China. Chinese demand for everything could be declining, including for gold, and some have attributed this as a catalyst for the day's decline. It is worth some consideration, but I would view it as a temporary and less relative factor should the global economy find new pressure and fiat currency with it. On the contrary, positive US data in the Markit Economics PMI measure of New Orders and a better-than-expected Chicago Fed National Activity Index could have harmed gold, but it should have driven US stocks higher at the same time. Take note though that the Chicago Fed measure's 3-month average fell into negative territory, which signifies a lower level of inflationary pressure should be expected over the coming year. Such a result would be a negative for gold and the SPDR Gold Trust.
Take note that spot gold prices are moving higher in Sydney trading and on the New York Globex as I scribble here at 8:30 PM ET. It may be that programmatic trading influenced gold prices Monday as well, and might not hold against fundamental catalysts for long. It was a complex trading day to say the least, so try not to make too much of it as we sort through what longer-term drivers will hold weight moving forward. It looks to me like deflation signs dampened the day Monday more than anything else, but it will take more than signs to hold a trend. So the picture is too complex to say positively that the move in the GLD was asinine Monday.
Disclosure: I have no positions in any stocks mentioned, and no plans to initiate any positions within the next 72 hours. I wrote this article myself, and it expresses my own opinions. I am not receiving compensation for it (other than from Seeking Alpha). I have no business relationship with any company whose stock is mentioned in this article.