Suncor Energy (NYSE:SU) is a Canadian integrated energy company focusing on developing oil sands. Suncor Energy has a diversified asset footprint with exploration operations in West Canada, at the Canadian East Coast, in Norway, the United Kingdom and in Libya.
I think Suncor Energy is a suitable investment for investors who desire exposure to the oil- and gas boom in North America but want to diversify into Canadian investments. E&P companies such as Suncor Energy essentially represent a long-term bet on the ongoing boom in commercial oil sands development and crude oil production.
Share performance
I wrote about Suncor Energy a few months back in 2013 because a) the company was just plain cheap and b) Suncor Energy expected solid upstream production growth driven by its oil sands business. Since then, the share price has pulled back a bit which I believe is unwarranted. The pullback offers investors the chance to purchase a leading oil sands producer at a very reasonable price.
(Source: Yahoo Finance)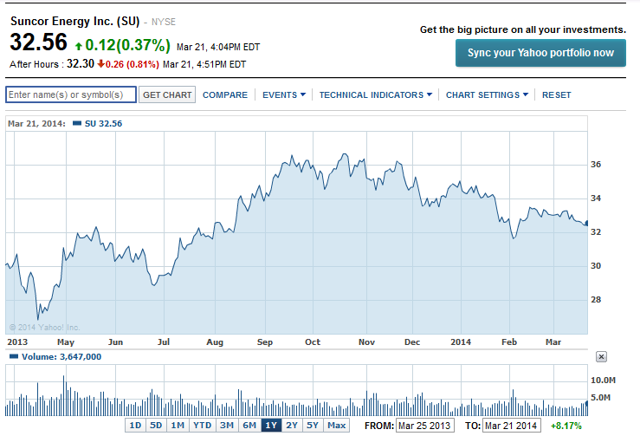 Background
Suncor Energy was trading at around $35 at the time I recommended the stock. However, I have no reason whatsoever to change my positive outlook for Suncor Energy amid the pullback in share price: Suncor Energy has an diversified quality portfolio of oil producing assets. The company also operates in a booming industry with increasingly attractive export opportunities as the Canadian energy industry tries to reduce its reliance on US oil- and gas exports.
I am especially optimistic with regard to Suncor Energy's Fort Hills mine which has an expected 180kb/d of planned production capacity and a potential 50-year life span which should materially improve and de-risk cash flow. The mine is expected to start production in 2017.
(Source: Suncor Energy Investor Presentation February 3, 2014)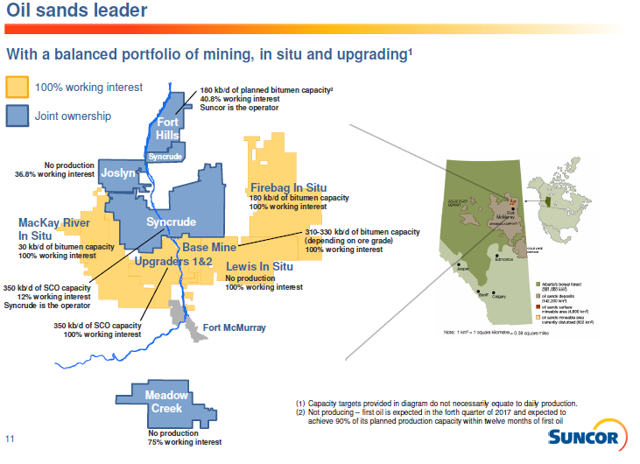 Market valuation
One of the main reasons to buy Suncor Energy besides being an oil sands leader in a booming oil- and gas exploration business, is its valuation. I think that firms offering investors commodity exposure are excellent investments as the global economy prepares itself for more dynamic growth and higher energy consumption in the coming years.
Purchasing an industry-leading company is often a good move. But it gets even better when it can be done at a reasonable price.
Suncor Energy currently trades at just 10.57 times forward earnings and is among the cheapest large-cap oil- and gas exploration companies in North America. Suncor Energy also exhibits a 13% discount from the peer group average P/E ratio of 12.13.
(Source: Achilles Research, Finviz)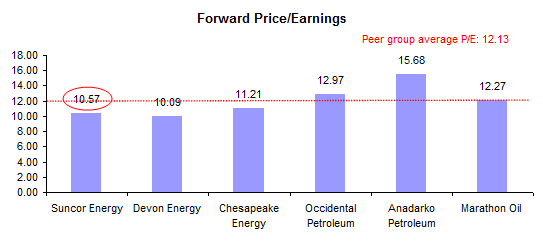 Dividends
Suncor Energy funnels substantial amounts of free cash flow back to shareholders. The company currently pays investors a dividend of CAD-$0.23 quarterly which translates into approximately US-$0.205 per share. The specific US-$ amount depends on the prevailing CAD/US-$ exchange rate at payment date.
Suncor Energy's dividend record is convincing: The company has a history of 2:1 stock splits and increasing dividends. In 2013 Suncor Energy increased its quarterly cash distributions from CAD-$0.13 to CAD-$0.20. The company also deploys significant amounts of capital to repurchase its own shares:
(Source: Suncor Energy Investor Presentation February 3, 2014)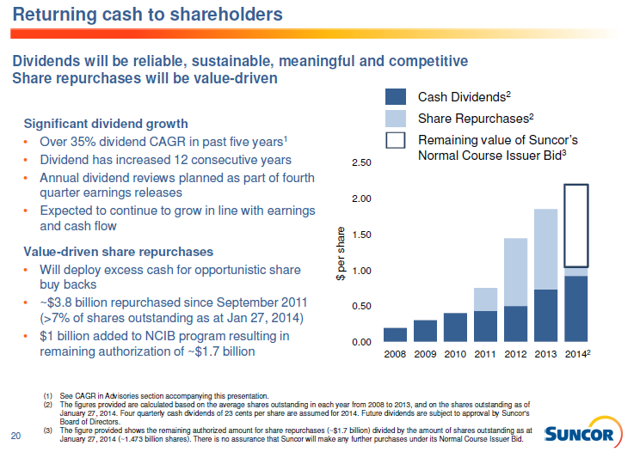 Suncor Energy currently has a dividend yield of approximately 2.55% which is quite solid for an exploration company and at the higher end of the peer group: Occidental Petroleum (NYSE:OXY) has a dividend yield of 3.06%, Marathon Oil (NYSE:MRO) of 2.21%, Devon Energy (NYSE:DVN) of 1.50%, Chesapeake Energy (NYSE:CHK) of 1.42% and Anadarko Petroleum (NYSE:APC) of 0.86%.
The summary table below contains P/E-, PEG- and D/P ratios for Suncor Energy and compares them to the respective ratios of other independent, large-cap oil- and gas producers in the United States.
(Source: Achilles Research, Finviz)

Conclusion
Suncor Energy is a leader in commercial oil sands development and with a market capitalization of almost $50 billion a true gorilla in the energy business. The company has a promising asset portfolio, is committed to remunerating shareholders, has a convincing dividend record and a low valuation.
Canadian energy firms are valid alternatives to US-based exploration companies for investors who want to diversify their US equity investments and gain exposure to the Canadian Dollar. Higher economic growth in North America and higher oil prices could give Suncor Energy's earnings and share price a substantial boost. Long-term BUY.
Disclosure: I am long DVN, CHK. I wrote this article myself, and it expresses my own opinions. I am not receiving compensation for it (other than from Seeking Alpha). I have no business relationship with any company whose stock is mentioned in this article.