Introduction
A lot has been written about King Digital Entertainment's (BATS:KING) upcoming IPO, much of it overwhelmingly negative. In general, the major criticisms of the company consist of:
Revenue Concentration: 95% of revenue comes from just 3 games, with 78% coming from Candy Crush alone. To make matters worse, ALL of KING's revenue comes from just 4% of its user base.
Peaking Growth: Despite explosive growth over the past year, KING's revenues posted a sequential decline in the 4th quarter of 2013.
"Fickle" user base: The mobile gaming industry has low barriers to entry and is highly unpredictable. Nothing illustrates this better than the sudden rise of Flappy Birds, an immensely popular app which was developed by a single programmer over the span of a few days.
These points are enough to scare away many investors, myself included. However, it's still worthwhile to examine what a reasonable "bull" scenario would look like. As a great author once said, "The test of first-rate intelligence is the ability to hold two opposing ideas in mind at the same time and still retain the ability to function." With that in mind, let's play devil's advocate and examine how the stock could reasonably (i.e. not a 'pie-in-the-sky' growth story) see upside from its initial offering price in the low $20s.
Reasonable Bull Case: Mobile gaming is here to stay, and KING is poised to rule
In a video game industry that's been around for decades, mobile gaming has quickly become the "new normal" for hundreds of millions of smartphone owners across the globe. Practically unheard of just five years ago, the sector has quickly blossomed into a multi-billion dollar opportunity, and is projected to continue growing by more than 30% annually.
An important distinction to make when looking at mobile games vs. traditional video games is that mobile games are rarely a destination, but rather a time-killer. Anyone who commutes via public transportation or has recently spent time in a waiting room has likely witnessed -or experienced- this firsthand.
KING understands this distinction, and uses it as a guiding philosophy. When developing new game titles, the company embraces an "anytime, anywhere" model, creating games that are easy to learn but difficult to master and can be played in small "bite-sized" chunks of time. In other words, KING understands what makes mobile games attractive, and doesn't waste money or time trying to re-invent the wheel.
A major knock against KING is that it's a "one-trick pony," having been unable to replicate the massive success it has seen from Candy Crush. That may be the wrong way to think about it, given the nature of mobile gaming. As mentioned above, mobile games are largely used to consume a player's idle time, which is often very finite. The reason KING hasn't had another game as popular as Candy Crush is because people are still playing Candy Crush. Once current players grow bored with the game, are they simply going to stop playing mobile games altogether? I can't say for certain, but it seems doubtful. It's much more likely that as these players grow bored, they will begin to look for new mobile games to fill the idle-time vacuum once occupied by Candy Crush.
This is where KING's game development model becomes a major strength. As mentioned above, its developers understand what makes a mobile game attractive. This increases the odds of KING having a title that's enticing to former Candy Crushers who are looking for a new game. At the very least, this should keep KING's user count somewhat stable. Because of this, it may be beneficial to not think of KING as a traditional tech growth story.
(Source: Company Marketing Materials; DAU represents Daily Active Users)
As shown above, Candy Crush is beginning to look like it may have peaked in popularity at the beginning of 2014. The decline in daily active users for Candy Crush, however, has been more than offset by growth from Farm Heroes Saga and Pet Rescue Saga. Even though the popularity of these two games pales in comparison to Candy Crush, they are still both among the top-10 highest-grossing games for the Apple iTunes Store, Google Play, and Facebook.
Financial Overview: Not Your Typical Game Developer
Often overlooked in the KING IPO is that the company has remarkably solid financials. This isn't Zynga (NASDAQ:ZNGA), losing money hand-over-fist. This isn't Electronic Arts (NASDAQ:EA) with razor-thin profit margins. This isn't Activision (NASDAQ:ATVI) or Take Two Interactive (NASDAQ:TTWO) levered up with debt. For 2013, KING was profitable (with very healthy margins), generated solid cash flow, and had no debt.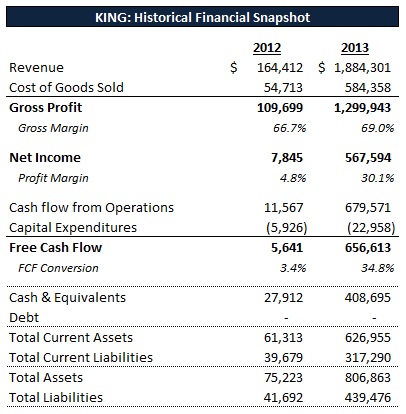 (Source: Company filings)
Reasonable Bull Case Valuation: KING is worth up to $45, double its IPO price
With the above in mind, let's look at a reasonable, conservative, upside valuation. Please note that the below is a simplified, high-level growth forecast, and is intended to be illustrative in nature. Investors should always conduct their own research and analysis prior to making an investment decision.
Revenue Growth: As Candy Crush begins to lose popularity, players adopt a new game of choice. With multiple titles fitting a "model" similar to Candy Crush, many players ultimately select another KING game. A revenue growth rate of 5% assumes KING is able to retain the majority of their current users, and either attract a modest amount of new players and/or increase monetization of current players.
Profit Margin: KING's single major expense consists of paying 30% of revenue to Apple (NASDAQ:AAPL), Google (NASDAQ:GOOG), Amazon (NASDAQ:AMZN), or Facebook (NASDAQ:FB) for purchases made via their respective app stores. With a low-cost game development model, the company is able to limit research & development spending to a modest level and enjoys low overhead costs. A profit margin of 30% assumes the company can maintain the same level of profitability it achieved in 2013.
Shares Outstanding: Per Company filings, KING will have approximately 315 million shares outstanding subsequent to their IPO. This model assumes the company does not issue any additional shares or repurchase any shares for the next five years.
Valuation Multiples: While there are a wide range of valuation multiples for other developers in the mobile and non-mobile gaming industry, a P/E of 20x and a P/S of 5x seem reasonable for a company that would, in this scenario, be the dominant player in a growing industry.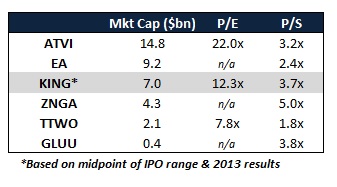 (Source: All values taken from Google Finance as of March 23, 2014)
Given the above, one could make the case that KING is reasonably worth up to $45.
Additionally, KING's prospectus does not rule out future dividend payments. Given that the company produces significant free cash flow, does not employ a cash-intensive business model, and currently has no debt to pay off, it's not a stretch to imagine they may begin paying out dividends at a later date. For the sake of simplicity, the below model assumes KING will continue to match its FCF conversion rate from 2013 and that it pays half of this out in the form of dividends.
Admittedly, these dividend projections are very speculative. At the very least, however, it helps to illustrate the potential profitability and the amount of cash KING is capable of generating.
Conclusion
So does the KING IPO look like an attractive investment opportunity? Probably not. Although I believe the above projections are reasonable and conservative, and the resulting price range is certainly a premium to the IPO price, I still don't believe there's enough upside to justify the massive risks mentioned at the top of this article. For investors willing to take on extra risk, however, KING may prove to be a solid contrarian bet. After all, as a great investor once said, "Be fearful when others are greedy, and greedy when others are fearful."
Disclosure: I have no positions in any stocks mentioned, and no plans to initiate any positions within the next 72 hours. I wrote this article myself, and it expresses my own opinions. I am not receiving compensation for it (other than from Seeking Alpha). I have no business relationship with any company whose stock is mentioned in this article.