One of the things required of tobacco investing that is not necessarily true with other blue-chip quality holdings is the need to constantly assess and reassess business risks that could threaten the sector's long history of profit growth and dividend increases.
The primary business risk facing Altria (NYSE:MO) has always been that anti-tobacco legislation (in the form of higher taxes and restrictions of public locations available for smoking) would decrease volume shipments to the point that it would make earnings growth, and eventually dividend growth, no longer possible.
For much of the 2000s, Altria's volume loss hovered in the low 3% range. In the past two years, however, that figure has inched upward toward 3.6-3.8% declines annually. The good news for Altria shareholders is that dividends from the company's 27% stake in SABMiller, coupled with price increases and stock buybacks, has enabled America's largest tobacco company to continue growing profits and dividends at a satisfactory clip. Declining volumes is a very real threat to Altria's business, yet the management team has been able to increase Altria's profits from $2.06 in 2012 to $2.40 in 2013, and an estimated $2.55 by the end of 2014. Altria is truly making more with less: volume declines have accelerated a bit, yet it looks like Altria will have grown profits 23% between the beginning of 2012 and the end of 2014.
What is most compelling about Altria's ability to grow its profits amidst declining volumes is the fact that it enables shareholders to benefit from the two forces that are particularly excellent when it comes to wealth creation: high current dividends plus high single digit earnings and dividend growth.
Check out this F.A.S.T. Graphs chart that shows what happens when you take a dividend yield in the 5% range, and combine it with a growth rate around 8% that gets reinvested back into the company.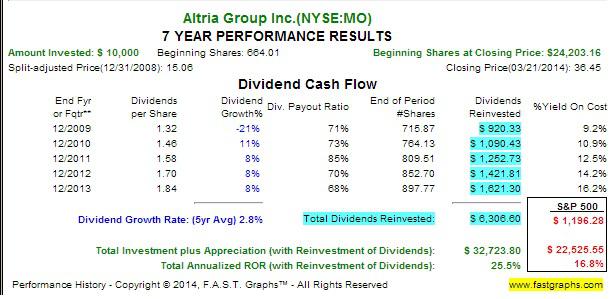 Ignore the mention of a 21% dividend decline in the 2009 figure - it's an adjustment for the spinoffs of Philip Morris International (NYSE:PM), Kraft (KRFT), and Mondelez (NASDAQ:MDLZ) that occurred in 2008, and creates a misleading comparison for the year-over-year figures.
Those 25.5% annual returns are the results of mixing three things: favorable valuations, high current dividends, and a high single-digit dividend growth rate.
For investors thinking about Altria's potential stock performance over the next five years, the question becomes: To what extent will declining volumes affect Altria's ability to continue its magic formula of delivering superior returns?
The first two questions are easy to answer: the valuation is not as favorable today as it was six years ago, and the current dividend is roughly analogous to where it was six years ago. In 2008, you could buy Altria for 11-12x its operating profits. Nowadays, you have to pay 16x profits, or a 30% premium above the artificial lows created by the financial crisis. Regarding the dividend, the company's average annual dividend range has hovered between 5.3% and 6.0% since the financial crisis, and the current yield of 5.27% is roughly in line with a typical entry point for the stock.
The art of investing comes in when we try to answer this question: Can Altria experience 4% volume declines over the next five years while simultaneously growing earnings and dividends in the neighborhood of the 10% range?
I think the answer right now is a tentative yes because Altria has a few mechanisms to absorb volume loss while growing profits.
First, we've got the buyback program. Altria is retiring about 35 million shares per year (depending on the price of the stock at buyback time) which has the net effect of adding almost two percentage points per year to the company's growth rate. In other words, if profits naturally grow at 6%, shareholders will actually experience earnings per share of roughly 8% due to the effects of the reduced share count.
In terms of new growth areas, it seems that Altria is trying to make up for the fact that it has entered the e-cig game much later than its peers Lorillard (NYSE:LO) and Reynolds American (NYSE:RAI). The company has partnered with Philip Morris International to launch the brands internationally, and has also bought Greensmoke for over $100 million to carve out a chunk of the burgeoning e-cigarette business.
Per the Wall Street Journal:
"Altria controls roughly half of the $100 billion U.S. tobacco industry but is playing catch-up in the estimated $1 billion market for e-cigarettes, battery-powered devices that turn nicotine-laced liquid into vapor. Annual U.S. consumption of regular cigarettes, the leading cause of preventable death, has been dropping 3% to 4% in recent years.

Mr. Barrington said MarkTen built up a 48% e-cigarette market share in Arizona stores in just seven weeks after leveraging its considerable distribution clout.

Altria also announced earlier this month that it would pay $110 million to acquire Green Smoke Inc., which sells its namesake e-cigarettes mostly over the Internet. That deal is expected to close during the second quarter, widening its e-cigarette portfolio."
In the near-term sense, these moves figure to add about $350 million to Altria's bottom-line profits which currently stand at slightly below $5 billion per year, or 6-7% total profit growth in the next 2-3 years. The agreement with Philip Morris International, plus the rapid acquisitions, should be encouraging news for Altria shareholders that may have grown worried that the growing market of e-cigarettes was quickly becoming the exclusive terrain of Reynolds and Lorillard throughout the United States.
With tobacco investing, people with a long-term orientation always have the question "Is this ultimately a doomed industry?" lurking at the back of their minds. When pondering that, I find it useful to remember Abraham Lincoln's counsel that "the best thing about the future is that it happens one day at a time." We get the ability to analyze how well Altria is coping with its business risk of volume declines on an ongoing basis.
When I run the figures, I see a company that can manage earnings per share growth in the 10% range even if volumes decline at nearly 4% per year. That is because the volume declines are offset by these countervailing forces: price increases, dividends from the 27% SABMiller stake, buybacks that add almost two percentage points to the earnings per share figures, and now, a position in the growing e-cigarette market. The volume shipments continue to decline, yet Altria's profits and dividends continue to go up. That's great news for long-term Altria shareholders.
Disclosure: I have no positions in any stocks mentioned, and no plans to initiate any positions within the next 72 hours. I wrote this article myself, and it expresses my own opinions. I am not receiving compensation for it (other than from Seeking Alpha). I have no business relationship with any company whose stock is mentioned in this article.