In the technology industry, it is rare that a company can last for many decades and still grow its revenue on a consistent basis. Many tech companies are eventually replaced by competitors that are more competitive and innovative. A great example is BlackBerry (NASDAQ:BBRY) that was replaced by Apple (NASDAQ:AAPL) and Google (NASDAQ:GOOG) because the company failed to make products that were more innovative, user-friendly and fun. BlackBerry simply created phones with more features and better specs without connecting with and understanding their customers.
However, there are several tech companies that have the potential to last forever - or for many decades - and that can still grow its revenue consistently. The first one is Google - the largest internet search engine in the world with the most market share. It is also one of the most competitive companies in the world.
Although Google is in the tech sector, I believe that it has become a forever stock - like Coke (NYSE:KO) and Wal-Mart (NYSE:WMT) - that will be around for many years.
Forever stocks tend to be mature companies with growing dividends, stable revenue and consistent net profits each year. They are often the market leaders with the largest market shares in their industries. Since they are often mature companies with low revenue growth rates, they tend to return capital to investors by giving out higher dividends and buying back more shares each year.
Google is not a mature company and does not pay cash dividends. However, it is a great stock to hold forever - or for many decades - because its search engine has become an essential service for internet users to search for almost anything they want online. Moreover, its search engine and advertising programs (AdWords and AdSense) have also become essential services for businesses and large corporations to advertise their brands and products online. Many businesses rely on Google and its paid ads to bring traffic and sales to their sites. It is almost impossible for internet companies to not optimize their websites (aka search engine optimization or SEO) for Google or use Google ads, if they have the budget.
Google is Exceptionally Competitive
According to Netmarketshare, Google's global market share in search engines was 71.81%, followed by Baidu's 15.21%, Yahoo's 6.05% and Bing's 5.95%, for the month of February 2014.
In the U.S., Google's market share was 67.5%, followed by Bing's 18.4% and Yahoo's 10.3%, for the month of February 2014 (source: Comscore).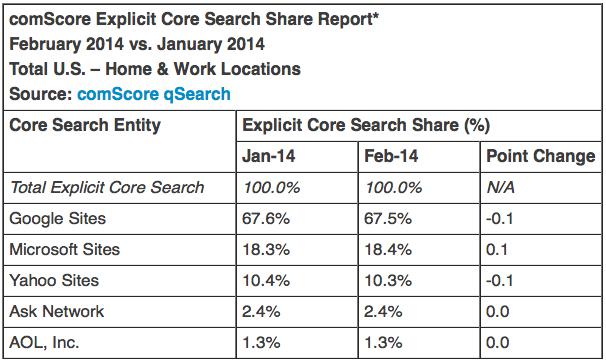 Source: Comscore
The closest competitor to Google's search engine business is Microsoft's (NASDAQ:MSFT) Bing. However, Google is way ahead of Bing in terms of search technology, algorithms, the number of sites that are indexed and advertising programs. It is unlikely that Bing can overtake Google's search business because Google's main focus is its search engine while Microsoft's main focuses are Windows, Office, cloud computing and mobile.
The only two search engine companies that can compete with Google in their local markets are Baidu (NASDAQ:BIDU) in China and Yandex (NASDAQ:YNDX) in Russia. Both of them are market leaders with the most market share in their domestic markets.
Google's Growth Prospects
At the time of writing this, Google's market cap is already at $398 billion, making it the third most valuable company in the world behind Exxon Mobile (NYSE:XOM) at $408 billion and Apple at $476 billion. Since the company is already one of the largest companies in the world, one question you may ask is how much it can still grow.
Unlike other large cap companies that have lower revenue growth rates as they grow bigger, Google's growth potential is much larger. The company earns most of its revenues - e.g. 91% in 2013 - from online advertising and is benefiting from the continuous growth of the online advertising industry. This is shown in Google's latest earnings slides that shows its consolidated revenues by revenue source between Q1 2011 to Q4 2013 (note that Google recently sold Motorola Mobile to Lenovo):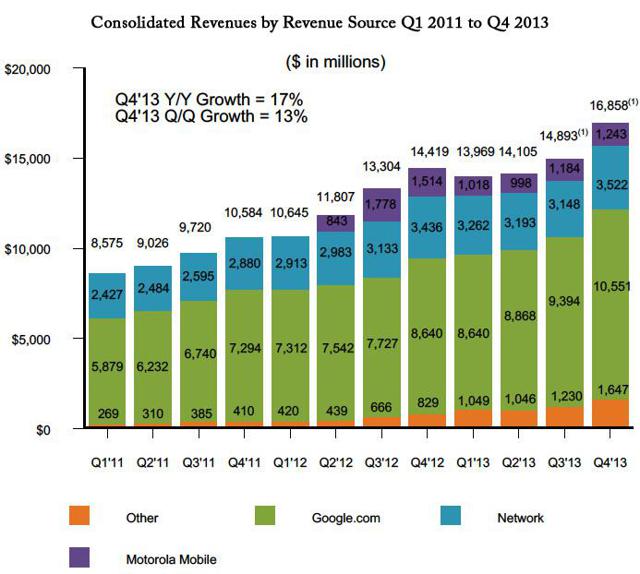 Source: Google 2013 Earnings Slides
The online advertising industry is growing because more companies are shifting their ad budgets from offline to online advertising. Advertisers recognize that the internet is one of the best places to market their brands and products, and that Google has one of the best online advertising platforms (AdWords, AdSense and display advertising). Google ads are based on "search queries or web content," and advertisers pay Google primarily on a cost-per-click (CPC) basis. This is much more effective than other competing advertising programs that are based on "content-only, interests and/or demographics."
Aside from online advertising, Google has a lot of growth opportunities in Android. While the company does not earn revenue from licensing Android to other handset manufacturer (Android is freely distributed and modified by developers and manufacturers), it is starting to make a lot of money indirectly from Google Play - Android's app store.
According to Google's 2013 10-K report, other revenues - which are revenues from licensing, hardware and digital content (app store, music, movie and eBook downloads) -accounted for 9% of Google's total revenues. It increased from $2,353 million in 2012 to $4,972 million in 2013, representing a 111% increase in revenue in one year (see image below). The management stated that the increase was primarily due to the growth of digital content products such as apps, music and movies. If this segment continues to grow at a faster pace than advertising revenues, it will eventually become a significant contributor to Google's total revenues.


Source: Google 2013 10-K Report
Google's Valuation

If we compare Google's current valuation with its peers, it is relatively more expensive compared with Microsoft and Apple, but it is on par with Baidu and Yahoo (NASDAQ:YHOO) in price-to-earnings.
Google is either fairly-valued or slightly overvalued if we compare its P/E, P/S and P/B with its peers. However, I believe that the stock is at a reasonable price if you are willing to invest in it for the long-term.
A few years ago, when I first invested in Google, the stock was traded at a premium, but I believed that the company has exceptionally strong competitive advantages and that its advertising business will continue to grow. Now, the stock has grown more than two-fold because of the company's growing advertising revenues and net profits.
The Bottom Line
I believe that Google is one of the best companies for long-term investing because it is exceptionally competitive, it has a near-monopoly in the search engine market, and it still has a lot of growth opportunities in its advertising and search engine business. While it is rare that a company in the tech industry can last for many decades, I believe that Google has become a forever stock because its search engine business has become an essential service for internet users as well as advertisers.
Sources: Google 2013 10-K Report, Netmarketshare, Comscore, Yahoo Finance.
About the Author: Victor Liang is a co-founder of Intelligent Stocks, a stock recommendation service that is dedicated to helping investors outperform the market.
Disclosure: I am long AAPL, GOOG, BIDU, YNDX. I wrote this article myself, and it expresses my own opinions. I am not receiving compensation for it (other than from Seeking Alpha). I have no business relationship with any company whose stock is mentioned in this article.