While our last article discussed geopolitical events, this one touches closer to home.
People looking to own a company that profits off of market transactions can buy the Intercontinental Exchange (NYSE:ICE), CME Group (NASDAQ:CME), and even the Nasdaq (NASDAQ:NDAQ). But there is another exchange stock that I think has a brighter future.
CBOE Holdings Inc (NASDAQ:CBOE) is the parent company of the Chicago Board Options Exchange and the CBOE Futures Exchange. CBOE provides the largest marketplace for options trading on various stocks, ETFs, indexes, and futures. CBOE also has its own trademarked products, like the CBOE Volatility Index (VIX) and VIX Futures (VX), which measure implied volatility on S&P 500 (SPX) index options. [The VIX is viewed as a gauge of fear in the marketplace, since volatility tends to rise leading up to and during sharp selloffs.]
The CBOE stands to continue growing as investors, speculators, and institutions refine methods to hedge their portfolios, or use the leverage available in options to predict stock movement, and do so while using defined risk methods.
Specifically, I believe that CBOE's bread and butter -- options -- is a continually growing marketplace due to its value in hedging stock positions and portfolios, and due to its overall flexibility in making money in: up, down, and sideways markets. Let us look at other facets of the company to evaluate the stock.
Growth
CBOE is growing revenues solidly. To see a glimpse of the recent transaction growth, take a look at these numbers. Average daily volume was up 37% over February of 2013, and up 3% over January 2014. [AVD -- average daily volume -- is a good metric since the number of trading days in months vary].
| | | | | | |
| --- | --- | --- | --- | --- | --- |
| (trades in thousands) | Feb-14 | Feb-13 | % Chg | Jan-14 | % Chg |
| Trading Days | 19 | 19 | | 21 | |
| Total Contracts (options & futures) | 113,508 | 83,140 | 37% | 121,446 | -7% |
| Total Options Contracts (CBOE & C2) | 109,384 | 80,052 | 37% | 117,039 | -7% |
| Total Futures Contracts (CFE) | 4,123 | 3,088 | 34% | 4,407 | -6% |
| | | | | | |
| Total ADV (options & futures) | 5,974 | 4,376 | 37% | 5,783 | 3% |
| Total Options ADV (CBOE & C2) | 5,757 | 4,213 | 37% | 5,573 | 3% |
| Total Futures ADV (CFE) | 217 | 162 | 34% | 210 | 3% |
| | | | | | |
Additionally, when you talk about options trading, you sometimes find that there is an element of apprehension in customers because of the variables that go into trading them. However once the options industry teaches the customer, that apprehension dissipates and the customer realizes how versatile options can be. This new customer will likely continue using options well for the rest of their trading/investing career.
That is why I believe the growth in options use will continue. Options are simply more flexible than most other financial instruments and there are tons of people that don't know it yet. As people learn the flexibility of options, they will use them more often. And as the industry grows, so do the transactions and revenue.
Metrics
CBOE is not cheap, but its premium is not irrational either. The company is expected to grow EPS by 14.5% per year over the next five years, and it has a P/E ratio of 28. Generally I like to see the P/E ratio closer to the growth rate, but there are other factors that add to the premium the market has priced into the shares.
The company maintains zero debt, and runs at high margins. Operating margin for CBOE is 50%. Additionally, return on assets is 50.1% and return on equity is 72.2%. Those are all very high.
Also, CBOE has been gaining market share. The CBOE's share of market option volume in February 2014 was 29.9%. That is an increase of 1.5% from January 2014, and a 6.5% increase from February 2013.
The company's steady growth, profitability, low debt, and growing market share all point to the fact that CBOE is pretty fairly priced.
Technical
As you can see in the long term chart below, CBOE has risen a lot since the beginning of 2013. On one hand, that is cause to be confident because generally you want to be on the side of the trend. On the other hand, the angle of the ascent is a bit steep and the price has gotten more volatile in the second half of 2013, and the beginning of 2014.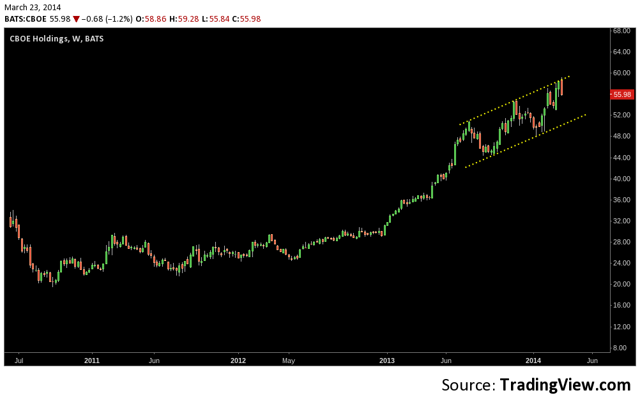 Below is the daily chart which shows the price bouncing between the top and bottom of this ascending channel, sometimes stopping at the midpoint. When a price is in a channel like this, it gives you clear locations where you can buy with support directly below you, or avoid buying when near the top of the channel. However, when the price exits the channel, it can mean a change in intermediate term trend.
Risks
The risks to CBOE are mainly two-fold.
One risk is that the premium in the stock price gets re-priced and the stock sells off. That is possible, but healthy, and a good opportunity to buy for investors with a longer time horizon.
The second risk is more systemic -- that the stock market experiences a prolonged slump, like a recession, and trading volumes decline. This volume decline happens as retail money is scared out of the market or possibly as a function of the money supply contracting, in the case of Fed rate increases. This decline in volume would affect the number of transactions placed with CBOE, and would likely negatively affect CBOE revenues and earnings.
While the market looks fairly priced at the moment, the rally is a bit long-in-the-tooth and it seems like most money managers expect it to go up again this year. The contrarian in me wants to fade that consensus opinion, at least temporarily. If I had to guess I would say we are in the Bottom of the 7th in this bull run, and need a correction before going the last two innings.
Guesses aside, a recent news release may further hint at the time remaining in the rally. On March 18th, two senior CBOE executives established plans to sell fairly large portions of their holdings (up to 14%). The news release says that the sale is for "personal financial and estate planning services." While that may be the case, the fact that they are doing it at the same time is interesting. It could signal that they too are feeling the rally is overdue for a correction, simply that their stock is due for a correction. Given their market experience -- specifically running an exchange -- I would suspect they've seen their share of business and stock cycles. They could be a canary in the coalmine with regards to a selloff. Or maybe they are just being prudent.
The Play
Believers in the long term future of this stock should feel positive about further growth prospects. With its low debt, growing market share, high margins, and growing EPS, this company is well positioned.
While there may be a pullback in the near future, it could be looked at as a buying opportunity. I will wait for such a pullback before initiating any position. If I had a position on, I would consider selling calls against it.
Disclaimer: We do not know your personal financial situation, so the information contained in this article represents an opinion, and should not be construed as personalized investment advice. Past performance is no guarantee of future results. Do your own research on individual issues.
Disclosure: I have no positions in any stocks mentioned, and no plans to initiate any positions within the next 72 hours. I wrote this article myself, and it expresses my own opinions. I am not receiving compensation for it (other than from Seeking Alpha). I have no business relationship with any company whose stock is mentioned in this article.