Our bodies contain three types of muscle: cardiac, smooth, and skeletal. The heart is composed of cardiac muscle. If this muscle loses blood supply, an infarct can result due to ischemia. This is also known as cardiac muscle death; a muscle that cannot regenerate.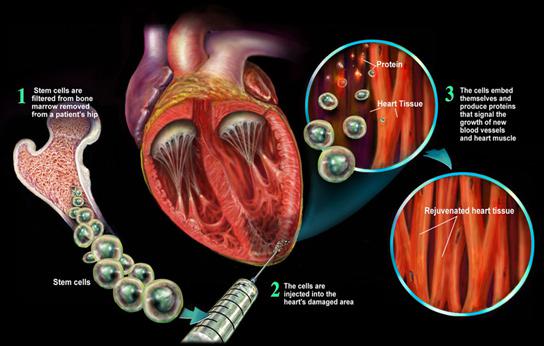 Stem cell therapy can help repair and reduce cardiac muscle cell death. Upon injection various proteins signal blood vessel growth (angiogenesis) and muscle regeneration (myogenesis). Studies have been done using mesenchymal stem cells for this purpose. Two forms of mesenchyme stem cells are being studied: Allogeneic and Autologous. Autologous stem cells are cells from your own body whereas allogeneic stem cells come from a compatible donor.
A randomized study investigating the safety and efficacy of Autologous vs. Allogeneic stem cell therapy in 30 patients with Left Ventricular Ischemic Cardiomyopathy was conducted in Miller School of Medicine: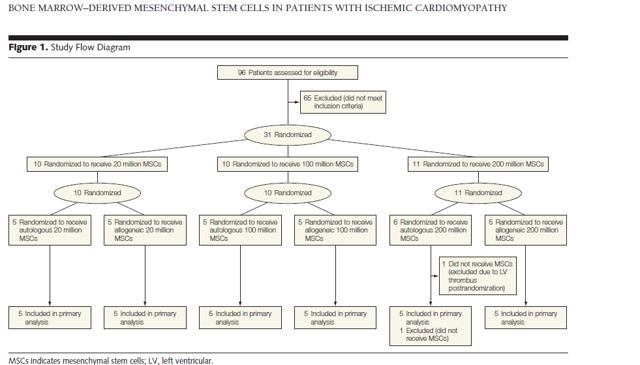 Selected Patient Population: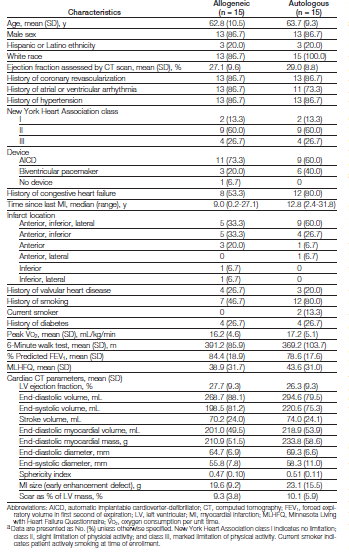 According to New York Heart Association Class: Greater Improvement in Patients Injected with Autologous Stem Cells: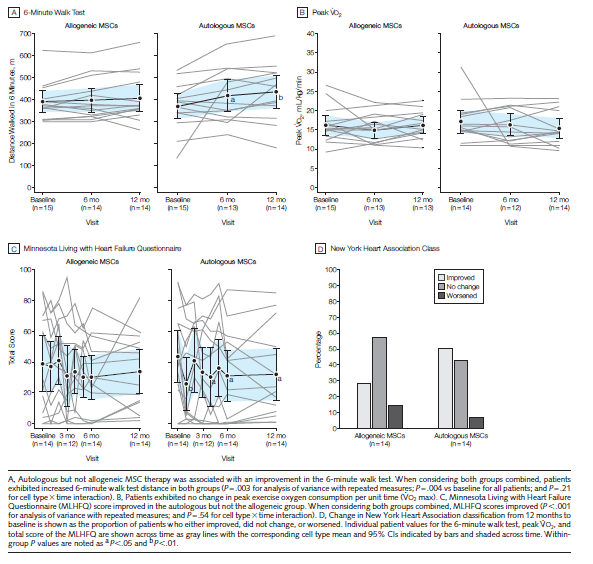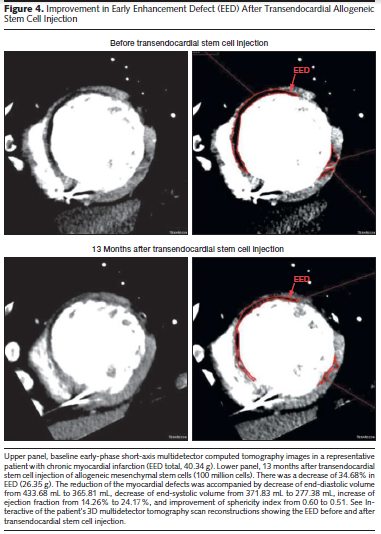 1 year Post Treatment

From Baseline

Autologous

Allogeneic

Serious Adverse Events

53.30%

33.30%

Ventricular Arrhythmias

26.70%

0%

6 minute walk test

Improvement

No Improvement

MLHFQ Score

Improvement

No Improvement

Exercise VO2 Max

No Improvement

No Improvement

Reduction in infarct size

-33.21%

-33.21%

Ejection Fraction

No increase

No Increase
Both forms of stem cells resulted in less myocardium death in peri-infarct zone. This reduction was not only due to myogenesis but also angiogenesis. The 6 minute walk test and MLHFQ Score improvement, however, was only seen with autologous stem cells. These results have pushed a number of companies to further investigate autologous stem cell treatment in patients suffering from cardiac muscle cell death. One of the biggest innovators in the field is NeoStem, Inc. (NBS).
NeoStem, Inc.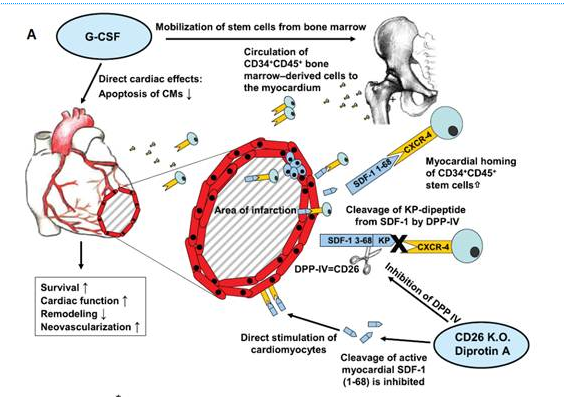 Bone marrow derived CD34+/CXCR4+ autologous stem cells, AMR-001, are currently being investigated by NBS for the treatment of acute ST segment elevation MI's (STEMI). STEMI is the most dangerous form of acute MI. Greater than 150,000 individuals in the United States suffer from the condition annually.
MI patients are rushed to the nearest hospital with a catheter lab. An angiogram is performed allowing the physician to locate the site of blockage. Generally, if less than three vessels are blocked, an angioplasty can be done during the angiogram. This procedure places a stent within the vessel allowing re-circulation of blood flow.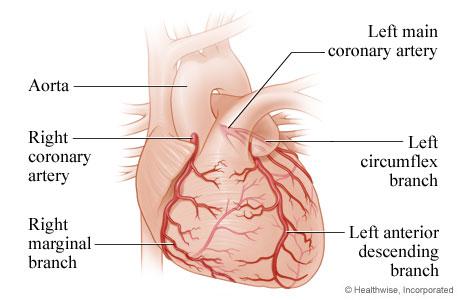 AMR-001 is delivered to the blockage site around 5-11 days post-MI. Upon delivery, angiogenesis occurs in the tissue surrounding the infarct (peri-infarct zone).
To Summarize:
As Dr. Robin Smith, CEO of NBS, explained to Forbes:
"Our cell populations, are the CD34/CXCR4 cells from the bone marrow. We give a concentrated dosing of the cells that work along the SDF-1 gradient which release proteins and factors that provide for new blood vessel growth and improve oxygenation to the damaged tissue in an attempt to prevent adverse consequences that result from a heart attack."
Enhanced blood flow to the peri-infarct zone protects the myocardium from cell death in attempts to decreased morbidity and mortality.
Investor Concerns: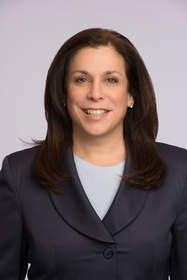 In a recent interview on "The Traders Network," Dr. Smith addressed many concerns investors tend to have upon investing in small-cap biotechnology companies: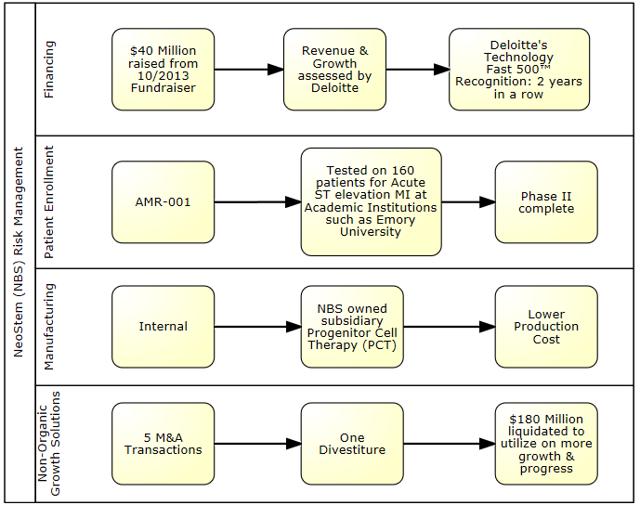 Financials, Manufacturing & Growth
NBS has been acknowledged by Deloitte for a 17,053% growth in revenue from 2008 to 2012. Utilizing internal manufacturing and numerous M&A's, NBS has not only increased their operating margin, but also lowered their manufacturing production cost.
The company's total assets are three fold greater than its liabilities. NBS book value per share has increased by nearly $50 since 2004. It has a working capital of more than $40 million; $33 million more than its 2012 figure.
| | | | | | | |
| --- | --- | --- | --- | --- | --- | --- |
| YOY Q4's | Operating Income in USD million | Net Income in USD million | EBITDA | Operating Cash Flow | Capital Expenditure | Free Cash Flow |
| TTM | -37 | -39 | -37 | -27 | -3 | -30 |
| 2013 | -37 | -39 | -37 | -27 | -3 | -30 |
| 2012 | -30 | -54 | -33 | -14 | -1 | -14 |
| 2011 | -55 | -47 | -43 | -21 | -6 | -27 |
| 2010 | -19 | -23 | -13 | -8 | -16 | -25 |
| 2010-TTM | -18 | -16 | -24 | -19 | 13 | -5 |
Unfortunately the burn rate exceeds the operating cash flow. However, capital expenditure has decreased by $13 million since 2010. This decrease has a lot to do with NBS's wholly owned subsidiary Progenitor Cell Therapy (PCT).
Baxter and PCT
NBS is not the only company addressing autologous stem cell treatment for cardivascular disease. Baxter (NYSE:BAX), a large cap company in very good financial standing, is already in Phase III of battling MI's with CD34+ stem cells. This is not a negative headwind for NBS investors. BAX is utilizing NBS's wholly owned subsidiary for manufacturing purposes. In 2012, BAX declared, "Stem cell processing will be conducted in GMP facilities in the United States by Progenitor Cell Therapy (PCT), a subsidiary of NeoStem, Inc." There are no studies ahead of BAX in the FDA pipeline for Stem Cell MI treatment.
Patient Enrollment
NeoStem has not had any problems enrolling patients. Dr. Jonathan-Sackner Bernstein, Vice President of Clinical Development, commented on NeoStem's PreSERVE AMI Phase II double-blind-placebo-controlled study, "With completion of enrollment, we are now closer to demonstrating the impact of AMR-001 in patients with left ventricular dysfunction after suffering a STEMI. We thank our patients, study coordinators, and investigators for their time and dedication to the study."
On March 17, 2014, the PreSERVE AMI trial received approval for the fourth time by the Data Safety Monitoring Board (DSMB). Dr. Robin Smith, CEO of NBS expressed her gratitude to the monitoring board, "We are grateful to the DSMB for their oversight of the study and pleased that the continued patient follow-up has yielded no safety concerns." PreSERVE AMI is on track. Although results of the study will be released later on this year, as investors we can rest assured that the product is progressing in a positive manner through federal regulations. Enhanced and safe treatment for one of the biggest killers in the world has already been demonstrated.
NeoStem Inc., Expands Economic Moat:
Although in their initial stages, NBS does have other projects in their pipeline also. It is planning on investigating the benefits of AMR-001 in congestive heart failure and traumatic brain injury patients. It also plans on studying the therapeutic benefits of increased T-Cell counts on autoimmune and inflammatory conditions; such as Diabetes type I and Steroid Resistant Asthma.
NBS has also discovered VSELs. VSELs are found within our own bodies and are capable of multi-lineage differentiation. The project has currently received over three million dollars in grant money to study bone formation, wound healing, retinal regeneration, and nerve regeneration.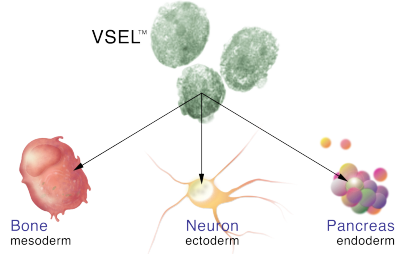 NBS's pipeline will face fierce competition. According to "Medicine in Developments: Biologics 2013 Report," there are 69 FDA approved cell therapy investigations. NBS is only sharing 1/69th of this progress.
Given Baxter's Alliance, When Should I Buy?
Without a doubt, BAX and NBS have leverage over other stem cell investigators for Autologous Acute MI treatment. CardioCell TM, a Stemedica Company, like NBS, is in Phase II of FDA approval for Acute MI treatment. Stemedica, however, is utilizing allogeneic stem cells. Current studies continue to support greater safety and efficacy in utilization of Autologous mesenchymal cells. Stemedica's reaction to these negative headwinds are currently unpredictable.
In the 'mean-time', I like NBS's AMR-001 product and their relationship with Baxter: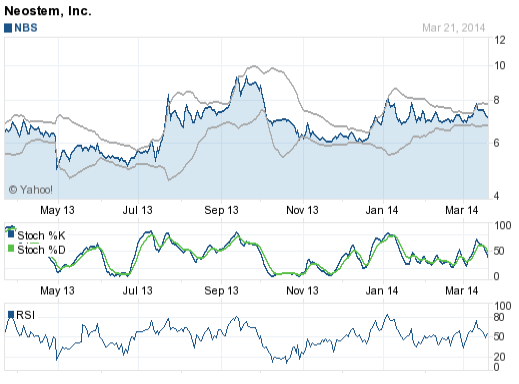 RSI (14) demonstrates divergence relative to share price and Bbands are closing in. A trend reversal may be coming up. Stochastic Oscillators are also headed into oversold territory. All these technical indicators demonstrate that now might be a good time to enter a competitive stock at a bearish price. Cashing in before the release of PreSERVE AMI Phase II results in Q3 of 2014 would be a wise decision.
Disclosure: I have no positions in any stocks mentioned, and no plans to initiate any positions within the next 72 hours. I wrote this article myself, and it expresses my own opinions. I am not receiving compensation for it (other than from Seeking Alpha). I have no business relationship with any company whose stock is mentioned in this article.