Over the past two years, biotechnology has been one of the most attractive industries to invest in, as returns have been nothing short of phenomenal. In terms of the domestic stock market, the U.S. S&P Biotechnology Select Industry Index has outperformed the S&P 500 heavily.
Domestic biotechnology, as measured by the $1.5 billion SPDR S&P Biotech Index ETF (NYSEARCA:XBI), has outperformed the SPDR S&P 500 Index ETF (NYSEARCA:SPY) with a March 26, 2012 to March 21, 2014 return of 90.5% vs. 31.5%. This equates to two-year compound annual growth rates of 38% and 14.7%, respectively.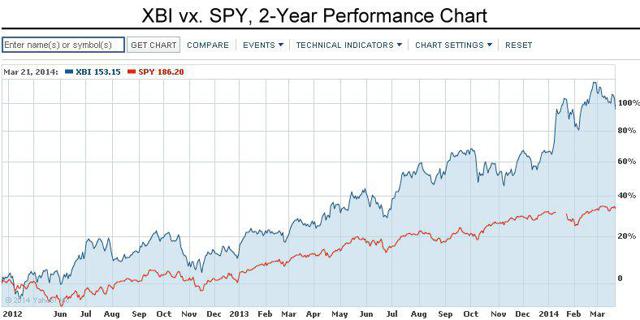 U.S. Lawmakers Push Biotech Into The Cooler
On Thursday, March 20, 2014, three democratic members of Congress, led by lame duck representative, Henry Waxman of Beverly Hills, CA, wrote a letter to Gilead Sciences Inc. (NASDAQ:GILD) asking the company to justify the cost of a new Hepatitis C drug, Sovaldi.
In response, investors quickly sold off the general domestic biotechnology index, pushing the XBI down 4.2% on Friday, March 21, while GILD fell 4.6%.
On Monday, March 24, GILD was stable as of mid-day, with a loss of 0.52%, while the S&P 500 was off 0.62%. The XBI was down 4.33%, however, with average daily volume 120% above average before 2 p.m.
While Sovaldi is an isolated issue, investors currently fear U.S. government interference in the pricing of potential blockbuster drugs that the biotechnology index is working on so feverishly.
Biotechnology is often a high-risk investment, especially in the smaller, still unprofitable names. With many investors betting on an index or an array of names to hit their investment targets, any threat to the domestic biotechnology sector's future profitability will further increase the risk.
As such, investors now view biotech as a higher-risk, big momentum sector with the new caveat of additional risk due to potential governmental interference.
Are There Obscene Profits In Biotech?
Independent of Sovaldi's pricing, biotechnology companies should be able to charge free market pricing to recoup their drug investment cost to insure that biotech research continues. In addition, firms should receive very high profit levels to account for unprofitable research and the high investment risk that is involved in new drug discovery, as investment may dry up without such incentives.
If biotechnology firms cannot potentially achieve what these lawmakers may view as obscene profits, investment in biotech may slow down in the U.S. and move overseas to other developed nations without price controls.
Also, without the incentive of profitable sales to domestic customers, aggregate global incentive may be reduced, which would offer a huge setback to biotech in general.
As such, investors who are betting on an array of names in order to achieve the appropriate return for the risk involved are running for the hills.
An appropriate scenario would involve the hypothetical Investor A, who bets $1 MM each among 10 smaller biotech names. This investor knows that 8/10 names will likely be duds, however, the other two could return 10-20x his investment, thus giving him an appropriate return for the risk involved. In this scenario, Investor A is betting $10 MM with expectations of $20-$30 MM once the drugs he is betting on are either tossed out or approved by the FDA.
With potential pricing an issue, his two winners may be seen to return less, thus increasing his risk profile and remove justification for his investment. If 8/10 companies will already likely lose, a return of less than 1000%-2000% on the other two stocks will not be worth the overall risk.
Other investors may choose a similar investment thesis, however, instead of betting on individual names, they could invest in ETFs such as the $6.8 billion iShares Nasdaq Biotechnology ETF (NASDAQ:IBB) or the $680 MM Market Vectors Biotechnology ETF (NYSEARCA:BBH), as well or other managed biotech funds.
A Healthy Pullback?
As of 2 p.m. on Monday, March 24, the XBI was down 8.2% in just under two trading days. While some may consider this a healthy pullback in a Big Mo (big momentum) industry, the bottom line is that a credible pricing risk of new drugs could throw biotech into bear market territory and dry up a major portion of drug discovery investment for years to come.
Any continued share price weakness, in conjunction with the reduced demand to continue funding such companies (through bond sales, secondary offerings and buyouts) may result in both bankruptcies and severely reduced aggregate investment in drug discovery.
With these risks affecting the aggregate domestic biotechnology sector, investors may be smart to distance themselves from the XBI and smaller, less profitable (or unprofitable) biotechnology names.
General Healthcare Is Tossed Out With The Bathwater
While the SPY Index ETF was down 0.9% from Thursday, March 20 to 2 p.m. on Monday, March 24, the Healthcare Select SPDR ETF (NYSEARCA:XLV), which measures the aggregate large-cap domestic healthcare industry, was down 3.2%. While this is much less than the XBI index drop of 8.3%, the XLV loss is still much larger than the market average.
The XLV fund holds less than 19% in biotechnology stocks, investors may consider the fund and other related stocks as bargains, as the biotech fallout has affected the unrelated, general healthcare market.
Take Strkyer Corporation (NYSE:SYK) and Medtronic, Inc. (NYSE:MDT), for example. These are two leading medical device equipment manufacturers, which have market capitalizations of $30 billion and $58 billion, respectively.
Both SYK and MDT were off 2.4% in the same Friday, March 21 to intra-day Monday, March 24 pricing range that the S&P 500 dropped only 0.9%. While 2.4% isn't that large of a move, it does showcase capital flight from the aggregate healthcare market.
One exception is the ~$270 billion healthcare conglomerate, Johnson & Johnson, Inc. (NYSE:JNJ), which actually improved 1.9% on Friday, March 21 on above-average trading volume (up 193% from the three-month daily average). This can be seen as a flight-to-safety move by fund managers exiting biotech but looking to maintain healthcare allocations by pushing funds into this relatively safe healthcare industry leader.
Conclusion
Watching the trend in the domestic biotechnology industry is of paramount importance, as the incentive for drug discovery could be heavily weakened by political adversity to free-market pricing.
Regardless of the drug discovery potential that the U.S. government may thwart by setting price controls, as seen by the questioning of GILD's Sovaldi, domestic healthcare remains a long-term secular growth story.
While biotech has been routed over the past two trading days, other domestic healthcare companies have experienced a less-intense, yet above-market pullback. This setback may offer an attractive entry-point into healthy, long-term growth stocks, such as SYK and MDT, as well as diverse healthcare funds, such as the XLV ETF.
Disclosure: I have no positions in any stocks mentioned, and no plans to initiate any positions within the next 72 hours. I wrote this article myself, and it expresses my own opinions. I am not receiving compensation for it (other than from Seeking Alpha). I have no business relationship with any company whose stock is mentioned in this article.