Enbridge Energy Partners (NYSE:EEP), a prominent MLP, has generated a lot of investor interest with its 8% yield. But high yields carry added risk. The sellers are largely willing to abandon the yield because of a negative outlook on the company's ability to maintain and grow distributions. I am long the company and remain optimistic about its ability to maintain and grow distributions.
This company has an unusually long track record of rewarding unit holders with growing distributions. Distributions have been paid since 1992. In addition, the general partner is Enbridge, Inc (NYSE:ENB), a major Canadian energy company with a market value of $35 billion. These 2 companies operate as partners.
EEP operates crude oil and natural gas transportation systems in the U.S. The crude oil system is the U.S. portion of the largest pipeline transporting growing oil production from western Canada and the North Dakota Bakken formation. Deliveries to the U.S. account for 17% of U.S. oil imports. The natural gas business, located in the U.S. Mid-Continent and Gulf Coast areas, delivers 2.5 billion cubic feet of natural gas daily.
The map for EEP pipelines is shown below:
Enbridge Energy Partners Map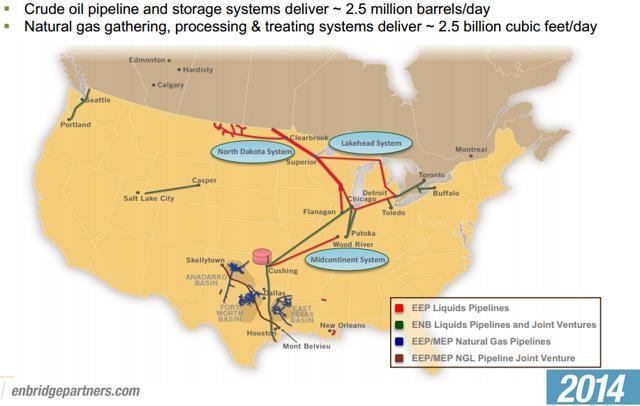 The red lines in Minnesota and Wisconsin are thicker because of a major expansion 3 years ago which doubled capacity. Since then, there has been significant new investment in North Dakota to transport oil from the state with the second largest oil production.
Substantial capital spending has hurt earnings. Last year, EEP placed $1.2 billion oil pipeline assets in service. Interest costs and startup expenses precede revenue, which penalizes earnings over the short term. This year, the company expects to bring $1.9 billion of projects in service. Long term investors are willing to ride out these periods, awaiting long term benefits.
The company made significant progress last year on the financing overhang that has negatively impacted EEP units. An IPO for Midcoast Energy Partners (NYSE:MEP) in November 2013 provided $675 million to fund the liquids pipelines organic growth. EEP will complete further drop-downs (selling) of ownership interests in its natural gas businesses to MEP in the coming months so that it can take over all of the natural gas business. Drop-downs supply equity capital for EEP liquids pipelines projects. In May 2013, EEP sold $1.2 billion of preferred units (with an initial deferred distribution period) to ENB. Additionally, last year there were 2 offerings of Enbridge Management (NYSE:EEQ) shares, a corporation, to raise equity capital. These financing transactions will help fund capital expenditures over the next 5 years.
Revenue (including the natural gas business) rose to $7.1 billion last year from $6.7 billion in the prior year. Earnings were reduced from increased environmental costs of $365 million in 2013 on Line 6B. In 2010, the 6B line had a spill near Kalamazoo, Michigan, which resulted in a total net cost of $575 million. That line has been replaced and capacity was increased by 260K barrels per day.
EEP expects improved financial performance in 2014 after making substantial progress in arranging for long-term financing needs. In Q2-2014, EEP will benefit from a large component of the Eastern Access project (pipelines largely in Michigan) entering service. Cash flow from this phase of Eastern Access, the full year contribution from projects completed during 2013 and increasing volume will improve earnings, and, more importantly, raise distribution coverage to about 100%. New delivery contracts have attractive terms: cost-of-service terms that provide low risk long term with predictable cash flow streams. EEP expects adjusted EBITDA for 2014 to increase 30%:
EEP - EBITDA
2014 ………… $1,500-$1,600 estimate
2013 ………… $1,143
2012 ………… $1,144
2011 ………… $1,182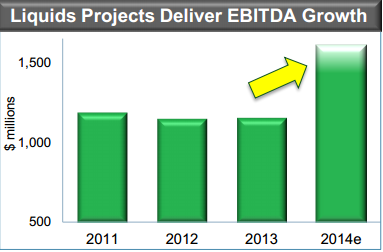 To finance the expansion program, EEP began 2014 with $2.6 billion in cash and credit available.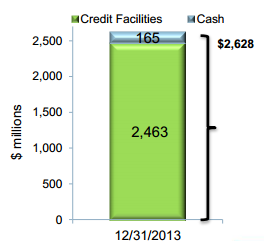 Growth will come from higher liquids volume. The Lakehead system is responsible for the bulk of revenue and North Dakota is the fastest growing portion.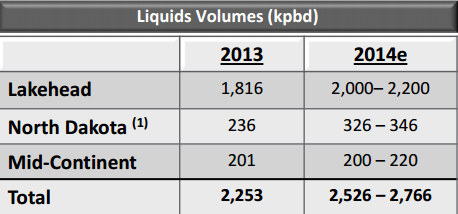 (1) North Dakota system volume includes physical volume on North Dakota Trunkline and ship-or-pay volume on Bakken Expansion. (2013: physical volume of 171 kpbd and 2014 forecasted physical volume of 230-250 kbpd)
Rapid growth in the Bakken region of North Dakota is continuing. EEP forecasts expansion to grow from under 1 million barrels per day presently to more than 2 million by 2025, helping make the US energy independent.
2 weeks ago, the largest expansion project in Enbridge history was announced. ENB and EEP, with shipper support (contracts), are making a $7 billion investment in the Canada-U.S. mainline system. The Line 3 Replacement Program will complement the existing Line 3 segment replacement program between Hardisty, Alberta and Superior, Minnesota. The EEP portion, mainly in Minnesota, will cost about $2.6 billion with an expected completion in late 2017 and should save the company over $100 million maintenance capital through 2017. The replacement program will improve system reliability in meeting greater throughput. EEP uses cost-of-service contracts to provide highly predictable, long-term cash flows. EEP says the project will be accretive to unit holders for distribution growth.
The partnership with ENB is critical for success. In November 2008, at the bottom of the recession for MLPs, ENB subscribed to 16.25 million units of EEP (adding $500 million to equity) to build the capital base of EEP. One month later, EEP had a $500 million notes offering. The $1.2 billion private placement of preferred units last year (along with joint financing arrangements) helps EEP meet its financial expansion needs.
The company gives investors a choice in ownership. EEP units pay distributions with money and that has tax consequences from K-1 tax reports issued in late February. EEQ is a comparable corporation to EEP. Each share of stock is backed by one unit of the MLP, and EEQ pays stock dividends based on distributions paid by EEP. Stock dividends do not generate 1099s. The unit and stock prices near $28 provide a generous yield for equity holders.
Value investors will appreciate the long history of growth for EEP and ENB (which has been transporting oil from western Canada for more than half a century). From 2008-2013, EEP has placed $17 billion of investments in service. This is the 23rd year of growing distributions with no quarterly cuts along the way. Management stands by its goal in this month's presentation that improved coverage will allow distribution growth at the annual target rate of 2%-5%. Petroleum volume from Canada and North Dakota will grow because it has lower costs than oil from overseas, and it replaces oil from unreliable foreign sources.
The chart below shows EEP has had a drab performance (the charts for EEQ is similar) for more than 3 years. Meanwhile the Alerian MLP Index rose to a new record, although it has been flattish near record levels in the 460s for the last year.
Enbridge Energy Partners -- 5 years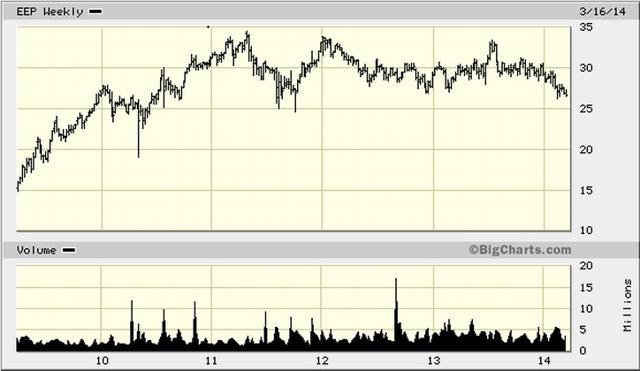 Waiting for improved equity prices is made easier on Enbridge holders with a high yield along the way. The long growth record and financing arranged for investment projects indicate that growth will take off itself.
Disclosure: I am long EEQ. I wrote this article myself, and it expresses my own opinions. I am not receiving compensation for it (other than from Seeking Alpha). I have no business relationship with any company whose stock is mentioned in this article.