Back in January, Stone Fox Capital warned that the MasterCard Incorporated (NYSE:MA) stock split could signal a top in the stock. The company followed up the split with an earnings miss that further hit the stock. Suddenly, a stock that had ridden an uptrend for several years faces the reality that a bullish trend doesn't mean a never ending stock gain.
MasterCard is the second largest payment processing network behind Visa (NYSE:V). The company connects consumers, financial institutions, merchants, and businesses in more than 210 countries around the globe. Even after the recent stock weakness, MasterCard is still worth around $90 billion.
Investors have long valued the promises of the shift from cash payments to credit card transactions around the globe, but the stock got to the point that investors didn't see any risks to the stock. Now virtual currencies such as Bitcoin hope to replace the payment processing networks of MasterCard and Visa. The high costs of those networks have businesses and consumers alike looking for alternative options leading to a potential loss in momentum for the stocks.
Disappointing Q4
On top of losing momentum with the stock split, MasterCard reported that Q413 earnings missed estimates due to higher costs. Below are the highlights from the earnings report:
Fourth-quarter net income of $684 million, excluding a special item, or $0.57 per diluted share
Fourth-quarter net revenue increase of 12%, to $2.1 billion
Fourth-quarter gross dollar volume up 14% and purchase volume up 12%
Company repurchases 9.8 million shares at a cost of approximately $751 million
With analysts expecting earnings to reach $0.60, the $0.03 miss has analysts lowering 2014 and 2015 earnings estimates leaving the stock pricey for one losing momentum. The stock trades at roughly 25x current year earnings assuming those are even met.
Margins Too High?
The real key to understanding the MasterCard story is that revenue is only growing 12% and the payment processing market doesn't particularly appreciate the substantial 47.7% operating margins for the quarter. Even more incredible, the company generated an operating margin of 55.1% for full-year 2013. Margins this high place the company in the target sights of numerous companies hoping to grab a share of those profits.
Even more incredible, Visa has an operating margin in excess of 60%. For a comparative purpose, eBay (NASDAQ:EBAY) and Intuit (NASDAQ:INTU) have payment operations along with other strong businesses, yet their margins don't even approach those of the leading payment processors. See the below chart for a comparison of the operating margins over the last five years: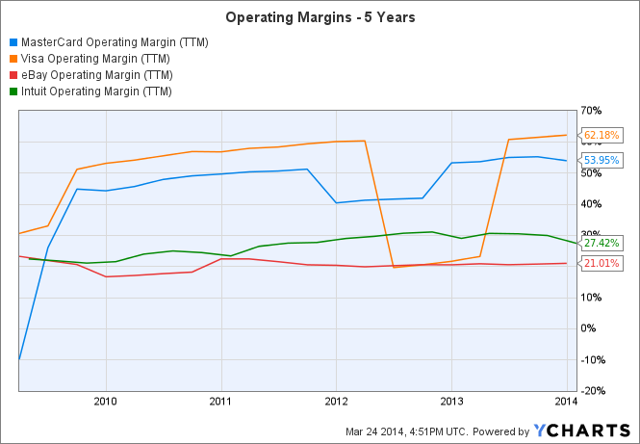 MA Operating Margin (TTM) data by YCharts
Virtual Currency Threat
While Bitcoin has hit several major bumps in the road recently, the interest in the payment method stems partly from the huge operating margins reported by MasterCard and Visa. Bitcoin or any other future digital or virtual currency will no doubt have as a selling point a lower cost to use than the current payment processing networks.
According to bitcoin.org, using bitcoins has virtually no costs and allows for fast international payments. The coins allow for the removal of intermediate banks that typically require a wait of three business days. In addition, Bitcoin payments are irreversible and secure, meaning that the cost of fraud is no longer pushed onto merchants. Of course, the Mt. Gox bankruptcy and Bitcoin theft brings different fears to consumers of the virtual currency.
The CEO of Overstock.com (NASDAQ:OSTK) is on record claiming that the use of Bitcoin helps the company save up to 2% on interchange fees. Patrick Byrne is always controversial and a notable early adopter of new technologies, but his move could hurt MasterCard's growth by pushing other retailers to accept the payment method.
Within two months of accepting the cryptocurrency, the company has sold over $1 million in product to Bitcoin users. The impressive part is that almost 60% of the 4,300 Bitcoin customers were new to the retail site.
Conclusion
MasterCard remains a well-run company that has a high-class problem. Unfortunately, the stock has lost momentum due to the stock split and earnings miss, but ultimately it might face a bigger threat down the road. The emerging reality that virtual currencies might be here to stay could threaten the substantial operating margins that exceed 50%. With revenue only growing 12%, it won't take much of a margin hiccup to cause profits and the stock to stall.
Disclosure: I have no positions in any stocks mentioned, and no plans to initiate any positions within the next 72 hours. I wrote this article myself, and it expresses my own opinions. I am not receiving compensation for it (other than from Seeking Alpha). I have no business relationship with any company whose stock is mentioned in this article.
Additional disclosure: The information contained herein is for informational purposes only. Nothing in this article should be taken as a solicitation to purchase or sell securities. Before buying or selling any stock you should do your own research and reach your own conclusion or consult a financial advisor. Investing includes risks, including loss of principal.