Make no mistake about it, the personal electronics ecosystem is going to be the way that companies like Google (NASDAQ:GOOG), Microsoft (NASDAQ:MSFT), and Apple (NASDAQ:AAPL) want to get in your life. Not only do they want the phone in your pocket, but they want the PC you use at home, the watch on your wrist, the OS in your car, and the television in your living room.
I had previously written several times as to why the Xbox One was such a good idea for Microsoft - yes, it's a great gaming system, but with all of its added features, it's essentially introducing the Microsoft platform into the living rooms of millions. A head start, if you will.
The big rumor coming out of Apple yesterday was whether or not the company was in talks with Comcast (NASDAQ:CMCSA) regarding preferential streaming treatment for its shows on Comcast's networks. Sites like Mashable reported:
The never-ending rumors surrounding a possible Apple smart TV are likely to ramp up once again in the wake of a report that Apple is in talks with major U.S. cable provider Comcast to create a streaming TV service.

According to the Wall Street Journal, citing sources familiar with the matter, the service would include an Apple set-top box that would allow for special access on Comcast's backend equipment, thus bypassing typical Internet congestion.

The major features of the Apple/Comcast service would reportedly include streaming, on-demand video and video recordings stored in the cloud.

A key component of the reported deal has to do with the delivery of video content. According to the report, Apple would not ask for preferential treatment on Comcast's pipes.
However, it was then downplayed a bit towards the end of the day, as sites like Seeking Alpha reported that people were skeptical about the talks. Regardless, it's a telling sign that we're having this discussion.
But, come on. We all know an update to the set-top box is coming in way or another. More and more, it's starting to seem like it isn't going to be Apple producing an actual TV, but it's starting to look like it's going to take Apple TV a little more seriously.
"It's a little more difficult to call [Apple TV] a hobby these days."

-Apple CEO Tim Cook
And, that's just where the times are heading. With Google's Chromecast so widely available due to its price, the introduction of "smart" TVs, and streaming available from your cable provider like Comcast or Time Warner (TWC), it's nothing short of an all-out war for your living room.
- source lifehacker.com)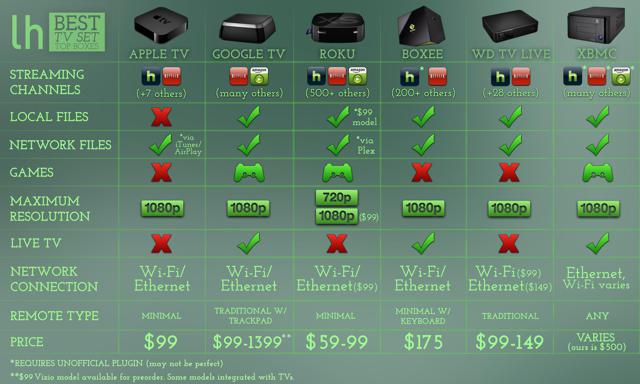 Some of the items that you can see above that Apple lacks - video game support, local files, and live TV - are all said to be being addressed in the company's new set-top box. This could provide a major opportunity for the company.
Meanwhile, the consumer sentiment behind these set-top boxes is strong. For example, that chart was sourced from an awesome Lifehacker article entitled, "How to Find the Best TV Set Top Box and Ditch Cable Once and For All".
Seeking Alpha provided two interesting nuggets of information with regard to the Apple/Comcast skepticism:
Game controller support is going to be crucial if Apple wants to even begin to think about going after Xbox. Not that the games will all be ported over, or even available at first - but, it's definitely the very beginnings of a foray into video games, the key to what is keeping Microsoft in my, and many other, living rooms.
The good thing is that Apple has a head start. The success that the company has had over the years with tablet and mobile has created a loyalty and familiarity for the brand name. When Apple launches its new set-top box (expected in the first half of 2014), it's likely to do exceptionally well and be the de facto choice for many consumers that are already part of the growing constituency of customers that have catalyzed Apple's meteoric rise.
This news all comes on the heels of Apple announcing its system for "in car" control via your phone. The phone will run through the car's already-installed OS, similar to the way the set-top box will likely run through one of your TV's inputs.
If Apple can correctly execute this set-top box - and whenever it's alluding to taking its time with something (see the iWatch), it usually turns out to blow away the competition - Apple could have another leg-up in ecosystem. By occupying your vehicles and your living room now, Apple shoulders out Microsoft in these areas and leaves itself major room for growth.
Investment thesis: I continue to contend that Apple is one of the best long-term investments you can put your money in. The company still has massive growth potential, namely through Mac and ecosystem, and it dominates the music business. With the addition of a Spotify-like service that is being rumored, Apple has nothing but continued room for growth an innovation ahead of it. I am bullish long term on Apple.
Best of luck to all investors.
Disclosure: I have no positions in any stocks mentioned, and no plans to initiate any positions within the next 72 hours. I wrote this article myself, and it expresses my own opinions. I am not receiving compensation for it (other than from Seeking Alpha). I have no business relationship with any company whose stock is mentioned in this article.