In 2013, the forward-thinking innovation publication Fast Company named Nike (NYSE:NKE) its "No. 1 Innovative Company of 2013." While the accolades might have seemed surprising to many who are used to seeing the likes of Google (NASDAQ:GOOG), Apple (NASDAQ:AAPL), and Amazon (NASDAQ:AMZN) topping these lists, Nike's transition from a performance apparel company to a design-oriented "lifestyle brand" under CEO Mark Parker has been quite remarkable. It is an ironic shift predicated on consumer engagement by providing its customers the ability to create products that represent their identities, and not that of Nike.
Leading the iDentity Movement
While there are many initiatives happening within Nike, the ones that we have seen in recent years have spanned from fitness software (Nike Move App) to wearables (FuelBand) to NIKEiD (shoe customization). While each has its own merits and place in the company's overall strategy, I would like to focus on NIKEiD as a consumer trend that empowers customers with the power of creativity.
NIKEiD - The Experiment
NIKEiD actually predates Mark Parker's tenure as CEO, launching as a web-only feature in 1999. It was initially focused on capturing the hype surrounding such popular lifestyle sneakers as the Air Force One and was limited to a small number of shoes with choices of possible combinations that mainly focused on color customization. The service originally carried a no-return policy as they had been customized by the customer, and the lead times to get a pair of these shoes was several months.
NIKEiD - An Experiment Turned Experience
What Nike found within its NIKEiD experiment was not just a new product offering, but also a new way to think about a commoditized consumer experience. I think we all remember the days of going to the shoe store, placing our foot in that metal sizing template and the salesperson telling us our size was between x and y, so it would be best to try on both. Nike has turned that experience upside down.
What started out as a web-only experience has now turned into a bricks-and-mortar phenomenon where Nike has created over 100 "design studios." These studios not only create a unique consumer experience, they bring intimacy to the design process and squarely place it in the hands of those who care about it most -- the customer.
The design studio is often defined by a set of iMac workstations surrounded by versions of all the customizable shoes and staffed with salespeople who are there to guide customers through the design process, offer suggestions, and generally provide insights on the latest trends. The layout is clean, provides an aura of sophistication and, most of all, separates Nike from its competitors still content to measure feet and, at the very most, suggest a size.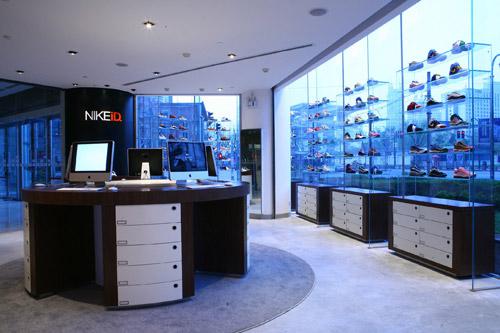 Source: Nike.
The company has invested tremendously in the web iD experience as well and is the center of the company's desire to ensure a seamless experience to interact with the Nike brand. The iD site allows a customer to take any of the iD-compatible shoes and then, piece by piece, customize every single aspect of the shoe from colors to width to cushion. It allows the customer to view the shoe design from all angles as if he/she were holding it, save it to a personal locker as future thoughts/designs come to mind, and share it with others via the traditional social media channels.
Click to enlarge images.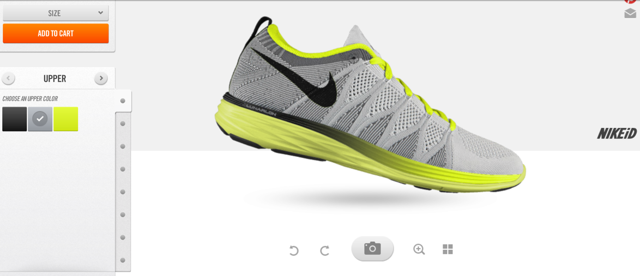 Source: Nike.
Crowdsourcing
In February 2013, Nike took its iD concept to crowdsourcing by allowing people to submit customized designs of Kobe Bryant's Kobe 8 System shoe. The winner received a free pair of the shoes, but most importantly, Bryant actually wore the crowdsourced design in an NBA game. Nike has since further expanded on this concept with "player edition" iD versions of its shoes designed for superstar NBA players such as Carmelo Anthony, Kevin Durant, and Chris Paul. This extension of the customization idea is yet another way that Nike is using its iD concept to further connect its brand with customers through the company's highly touted professional athletes.
Financial Impact
The experience element that NIKEiD has brought to the company's bricks-and-mortar and online stores fuels its aura of innovation, but what is the financial impact -- if any? Today, Nike.com offers its iD customization for 125 mens shoes, 119 womens shoes, and 79 kids (both male and female) shoes. Its iD offering includes performance-specific shoes such as football/baseball cleats and also includes a number of apparel items ranging from t-shirts to hoodies. The typical premium on the iD customization is around 20% (e.g., the 2014 Men's Nike Air Max stock color sells for $180, whereas the customizable iD version of the same shoe sells for $225). Additionally, a stock color can be obtained same-day from a retail store or the typical three to five days if ordered online. Nike provides a range of 38 to 43 days (six to eight weeks) for iD orders. However, I think that focusing on the increased premium (margin) of an iD shoe vs. a stock color version would be missing the point.
Nike's online business grew 32% in fiscal 2013 to $540 million, but still represents a small percentage of the company's overall revenue. Nike is aiming big and hopes to grow the segment to $2 billion by 2017. Nike's CEO has used words such as "urgency," "simplification," and "catalyst" to describe its digital movement, which is driven, in large part, by e-commerce. Clearly, Nike is banking on its iD concept to be a significant driver of that growth as the company continues its focus on consumer engagement -- an ideal that the iD concept touches in every way.
Summarizing iDentity as Strategy
Fast Company did not name Nike its most innovative company in 2013 because it thought it had the best-looking or feeling shoes. Rather, it crowned Nike because of the way the company has shifted its approach in consumer engagement with its brand by reinforcing the identity of the individual consumer. In a sense, that is the most ironic part of all -- a company that has built its success by riding the endorsements of superstar athletes is now focusing its strategy on the creative desires of the everyday consumer. If Nike is to find new growth, it seems to have "iDentified" where to focus.
Disclosure: I have no positions in any stocks mentioned, but may initiate a long position in NKE over the next 72 hours. I wrote this article myself, and it expresses my own opinions. I am not receiving compensation for it (other than from Seeking Alpha). I have no business relationship with any company whose stock is mentioned in this article.