Yesterday's market tells me the market is finally taking the threat to liquidity seriously with the short end of the curve spiking upward indicating short term rates will rise. (See the 2 year and 5 year rates below) The nearly five year flood of liquidity is soon to subside.
Beginning mid-summer last year the market began to price in tapering in US treasury purchases. The 10 year note shot up from a 1 to 2 handle along with long term along with mortgage rates rising from a 3 to 4. The only real drag was to housing and perhaps mortgage REITS like American Capital (NASDAQ:AGNC) and Annaly (NYSE:NLY) The equity market quickly moved on and so did the short end of the interest rate curve as 2 year and 5 year rates retrenched.
Following Yellen's comments putting a more discernible timeline on the fed funds rate we see a different market reaction. The sell off was almost perfectly more pronounced in given the risk profile of the investment.
Dow -.16%
S&P 500 -.49%
S&P 400 -.77%
S&P 600 -.97
Russell 2000 -1.3%
NYSE Archa Biotech -2.54%
This view is further supported looking at key names with high flyers such as Tesla (NASDAQ:TSLA), Netflix (NASDAQ:NFLX), and Twitter (NYSE:TWTR) were all down big while Dow safety stocks like Procter and Gamble (NYSE:PG) fared well. (see chart below) Couple this with volatility (VIX) index remaining fairly subdued.
Investors should reach the conclusion that the market is anticipating less liquidity in the market and not necessarily declining economic or corporate fundamentals. As the funds rate begins significant liquidity will be pulled from financial assets, contrasted with the earlier slowdown in housing sales due to the long end rate increases. As the liquidity is drained its the higher risk/less liquid names that will see the most negative impact. Investors will want to own financial assets with fundamental value. Today's market is just the first step in realigning liquidity expectations.
How should investor's adjust. It's time to rotate out of high beta stocks climbing on the excess dollars chasing returns without any fundamentals -- that music is likely to stop. Stay in stocks likely to benefit from rising short term rates like brokerages, Charles Schwab (NYSE:SCHW), Ameritrade (NASDAQ:AMTD) and floating rate ETFs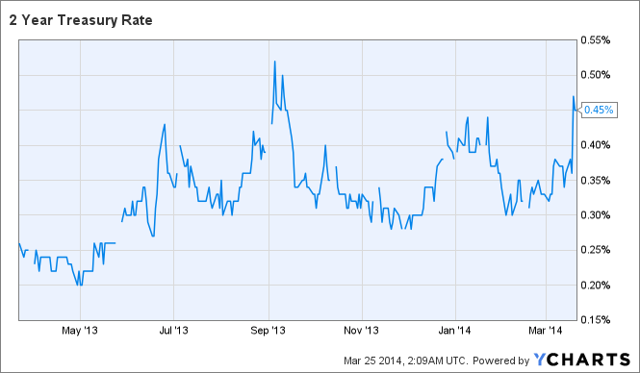 2 Year Treasury Rate data by YCharts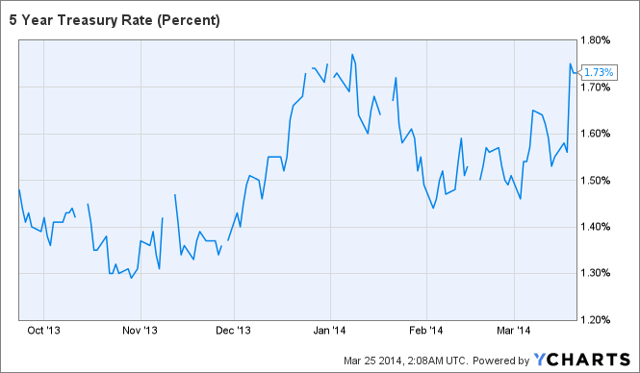 5 Year Treasury Rate data by YCharts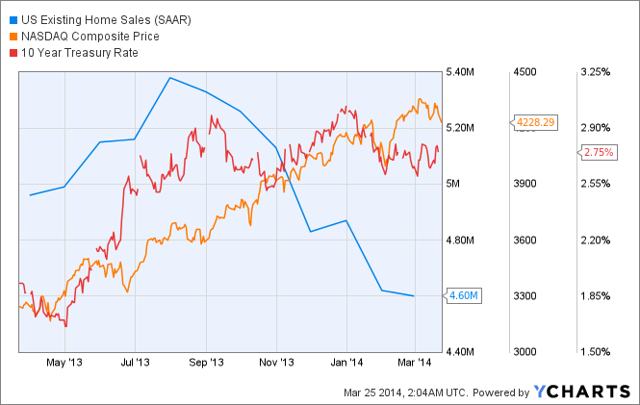 US Existing Home Sales data by YCharts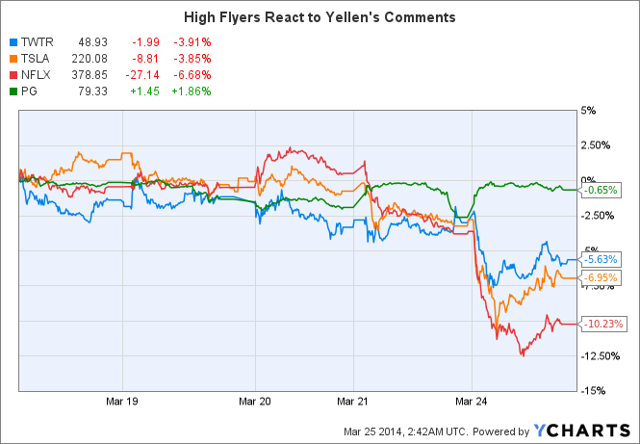 Disclosure: I have no positions in any stocks mentioned, and no plans to initiate any positions within the next 72 hours. I wrote this article myself, and it expresses my own opinions. I am not receiving compensation for it (other than from Seeking Alpha). I have no business relationship with any company whose stock is mentioned in this article.