BP Board Chairman Carl-Henric Svanberg and CEO Tony Hayward went to the White House on Wednesday. They had never played Chicago politics before, and lost. BP agreed to put up $20 billion dollars over four years in a gulf oil spill escrow fund. The escrow fund will be administered by Kenneth Feinberg. Mr. Feinberg brings his experience from the 911 Victims Compensation Fund to bear in this position.
BP also committed $100 million to pay oil rig workers laid off because of Obama's six month moratorium on drilling. Why would BP agree to everything Obama wanted? One would think that Chairman Svanberg would have some experience negotiating since he has risen to the top of Britain's largest corporation. We learned on Wednesday that Svanberg is not a poker player.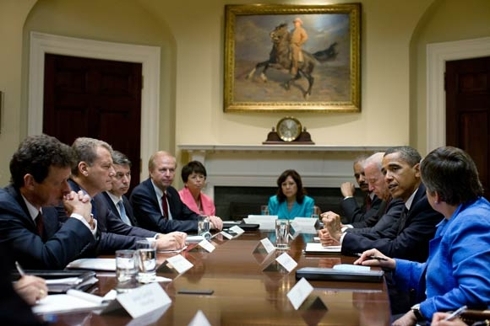 Who is the sucker at the table?
Look at the players at the table. Obama and the government vs. Svanberg and BP. BP had committed to pay legitimate claims, even beyond the $75 million statutory cap. BP has already spent over $1.5 billion in clean up costs, claims from fishermen, oil workers, the Coast Guard and other businesses from Louisiana to Florida.
Obama went on national TV and committed that he was going to make BP pay, that he was going to insist on a independent fund, and that BP should pay for idled workers from his decree of a six month deep sea drilling moratorium.
Who had their feet planted in concrete and could not move? Obama was painted into a corner by his public statements, why did BP let him have his way? News reports suggest that BP asked for the $20 billion to be a limit on their liability. Why didn't they insist on it, or no deal. BP had publicly resisted the idea of paying for idled oil platform workers, but not in a boisterous way.
BP had all the cards in this game of poker, except the ability to bully the other party. What could the White House do? They could threaten to sue BP, but that is already happening. They could threaten to seize the company assets. Wouldn't you love to see that in court. The White House could threaten criminal prosecution. That is still on the table. They could be barred from future drilling off the coast of the U.S. Who can predict that any company will be able to afford to drill off the coast of the U.S. when this is done?
What could BP have threatened? To walk away, to continue to work to contain the oil gushing out of the well and work to permanently cap it. They could have told the White House that if Obama didn't like their efforts they would be happy to hand him the keys to the rigs working above the gusher and a cell phone with everyone's phone numbers. They could have called Obama's bluff. But they did not.
Why would a company's executives who are charged with protecting shareholders agree to such a one sided deal? Why did they agree to suspend the company's dividend?
We can only reach one conclusion. BP was outwitted and out gunned by the Chicago mafia. Wednesday was a sad day for capitalism in America. BP now joins the ranks of companies corrupted by the socialist politics of the present administration. They believe they are "partners" with the government. Like the auto manufacturers and big banks, BP will discover the "partnership" is one way. They pay and the government takes.
The importance of a global liability limit (like the 911 fund for airlines) became apparent as we go to press. A class action lawsuit against BP has been filed on behalf of all Florida homeowners whose enjoyment of their property has been impaired or whose property has declined in value.
Many of the major oil companies and deep water service providers have been beaten down on the gulf oil spill. We think there is opportunity in Anadarko Petroleum (NYSE:APC). APC is a 25% owner in the Macondo well. They are identified as a responsible party. They can be held harmless if BP is found to be negligent, which appears to be the case. APC has lost 45% of their market value since the rig explosion. Be careful where you play, these can be treacherous waters!
Sources for today's piece are: Oil&Gas Journal, The New York Times, The Guardian, USA Today, and Reuters.
If you're playing a poker game and you look around the table and and can't tell who the sucker is, it's you. ---Paul Newman
Disclosure: Long APC