Introduction and Background
In general, I believe sound stock selection requires several up-front, routine expectations from any company. Let's run them down.
Premier companies:
Possess a good balance sheet

Generate much of its profits in cash

Own a strong franchise

Are well-managed and shareholder-friendly; hallmarks include rapid adaptation to change, keeping corporate promises, and a clear focus upon the creation of shareholder value
In my estimation, companies that can say "yes," to the points above may be considered "best of breed." These select companies combine leadership, experience, and vision. Management is recognized for getting results. Many of these fine businesses are marked by strong competitive moats.
Even after such companies have been identified, the selection exercise is not yet complete. An investor must then determine if the merchandise (the equity shares) are trading at, above, or below fair value. "Up paying" for a good stock is similar to determining a Lexus is an outstanding automobile, then shelling out 20% above sticker price to buy it. Great car, yes. Great deal, no.
Price and value are not synonymous.
So How Can an Investor Determine Fair Value?
Let's be clear: there is no single way to determine the fair value of a stock. Some equities trend price-to-book or price-to-sales ratios. Others may be best valued by examining multiples of cashflow or EBIT. A few are backstopped by dividend yield.
However, day-in-and-day out, one of the most reliable ways to evaluate a stock is to compare its current price and operating earnings relationship with those going back in history. Barring some seismic shift in the underlying business, investors pay for earnings and earnings growth.
Concept: Undervaluation Based Upon Historic Earnings Multiples
In Part 1 of this series, we will examine stocks that clearly trade below historic multiples of price and earnings. The underlying expectation is that over time, stock prices and earnings will "revert to the mean," thereby rising in value.
There are several ways to generate the data required to do this. The information may be found via historic stock records, SEC filings, and brokerage or corporate websites. For purposes of streamlining this work, I will incorporate F.A.S.T. graphs, courtesy of fellow Seeking Alpha contributor Chuck Carnevale.
Example 1: Aflac Incorporated
Aflac (NYSE:AFL) is an insurance company. The business is best known for providing supplemental insurance to policyholders when they become sick or injured. About three-quarters of Aflac's business is generated in Japan. The remainder comes from the United States. Notably, the company is a Dividend Aristocrat: meaning that it has increased the dividend for at least 25 consecutive years.
Here is a 15-year FAST graph highlighting operating earnings. The black line is price. The blue line represents the normalized average price-to-earnings ratio over the period. The green shaded area indicates earnings.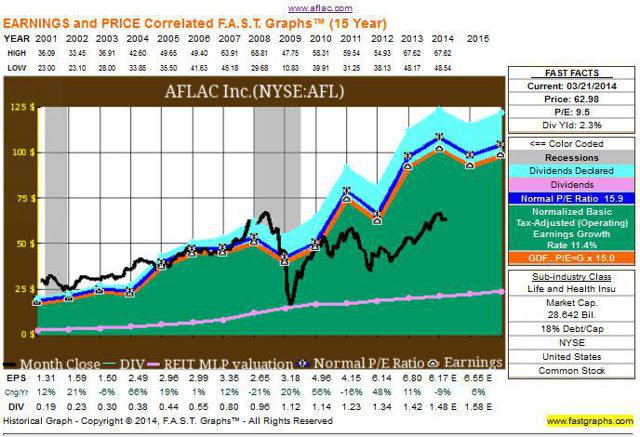 Analysis: Until the 2008-09 recession, Aflac stock price and operating earnings tracked each other closely. Whenever the black price line moved much above or below the historic blue P/E ratio line, it returned to it. However, beginning in 2010 the relationship separated and has not re-aligned itself.
This information begs an investors to make a judgment: either price and earnings should eventually harmonize once again, or "something's changed" whereas a permanent disconnect has become the norm.
Aflac ran into trouble during the EU-currency crisis when it held material investment positions in the debt of PIIGS countries. However, management fixed this problem.
More recently, fears about Japanese debt and Yen-to-Dollar currency exchange rates have worried traders. However, in reality Aflac actually exchanges very few Yen for Dollars. The dividend is comfortably supported by U.S. operations.
Over the past 15 years, operating earnings have increased by 11.4% a year. Since 2009, operating EPS has improved by 13.8% a year.
Looking ahead, Wall Street consensus forecasts expect operating earnings to grow at 7% a year. Management has promised to deliver the same long-term EPS growth rate to shareholders. Furthermore, over the past 16 quarters, Aflac management has not missed any EPS expectations. That's an excellent record of delivering on promises.
Next, here's a forward-looking F.A.S.T. graph. Even though the 15-year, normalized average price-to-earnings ratio has been nearly 16x, I have added a 13x multiple (the purple overlay line) to the chart. This reflects a somewhat lower future versus past earnings growth rate, continued investor jitters over financial sector stocks in general, and ongoing Aflac JPY/USD currency fears. This builds in a reasonable investment "factor of safety."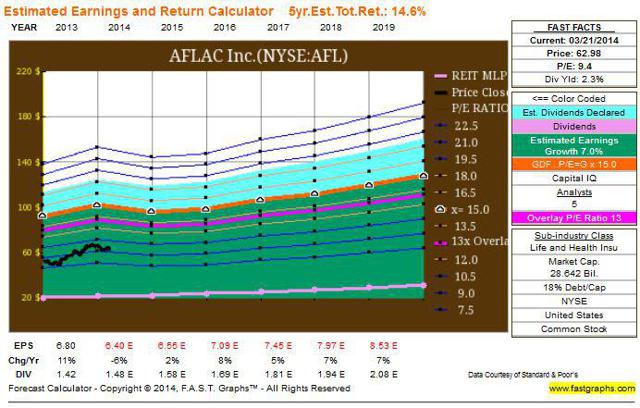 On balance, I submit Aflac is a premier company represented by an undervalued stock. Assuming 2015 earnings to be $6.55 a share and a 13 P/E, AFL may be expected to have a fair value of $85, or a 35% uplift from today's price. The 2.3% dividend is an add-on. And remember, that dividend has been increased for 31 consecutive years.
Example 2: UnitedHealth Group
UnitedHealth Group Incorporated (NYSE:UNH) is a managed healthcare service company. By revenues, it is the largest provider in the United States. UNH operates across all major healthcare lines including: care delivery, care management, consumer support, distribution of benefits and services, healthcare information technology, and pharmacy. United Health's businesses are concentrated in the United States, but have limited overseas operations, too. The internal growth engine has been the Optum Health segment. Optum provides a range of wellness management services.
Here's a 15-year FAST graph for UnitedHealth Group: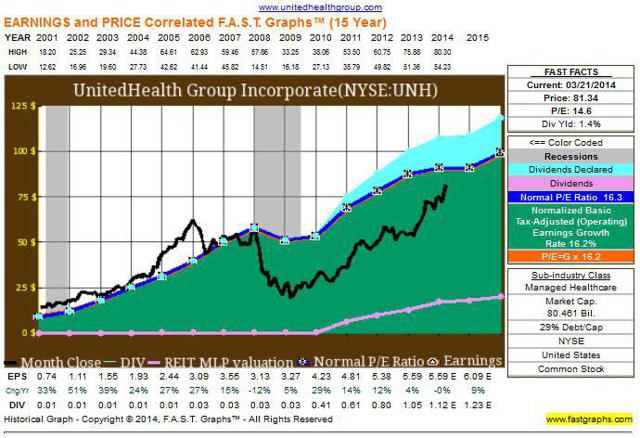 Similar to the previous example, UNH price-and-earnings tracked each other closely until the Great Recession. While the stock price has been recovering, it has yet to reach fair value based upon the normalized average or expected P/E ratios of ~16x. In 2010, the board of directors began to declare dividends. The current 1.4% yield is modest, but the 5-year annualized dividend growth rate of 103% is not.
Analysis: While the shares have appreciated rapidly since a deep 2009 trough, the stock still only stands within shouting distance of a 15x P/E ratio.
Investors continue to fret about how healthcare providers will fare under the ObamaCare rollout. However, UnitedHealth Group management took a very cautious stance towards the plan. While early, events now appear to favor UNH's "go slow" approach. Meanwhile, the shares have gradually moved up. A reversion to the mean operating multiple translates to a $99 stock on 2015 estimated EPS.
Consensus forward earnings estimates remain in the solid double-digit range (after a 2014 flat line). Building in a buffer by shaving a point off the historic P/E to a 15x multiple still yields a $91 stock, or a 14% improvement from a recent close. In the chart below, the heavy orange line marked with triangles represents that 15x multiple.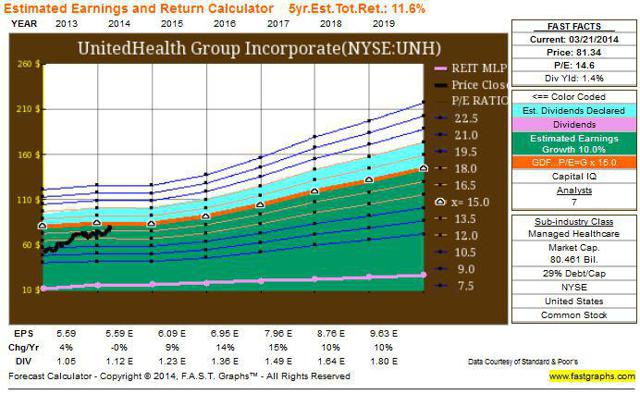 Investors should note that UnitedHealth Group management has beat earnings estimates in 11 of the past 16 quarters. This remarkable record indicates senior leadership that has managed Street expectations and effectively enlisted the UPOD principle (Under Promise / Over Deliver).
Given the aging of America, emphasis upon improving general wellness health habits, shifting healthcare delivery options, and UnitedHealth Group's size and span; I suggest the premise that this company has staying power, follow-through, franchise value, and economies of scale.
Example 3: Eaton Corporation PLC
Balancing the other side of the equation, we will review Eaton Corporation (NYSE:ETN). I believe Eaton is a premier company, but above fair value.
Eaton is an international, diversified power management company. Eaton manufactures electrical, aerospace, hydraulic and vehicle components. Electrical and power distribution, transmission, lighting and wiring is the largest segment. In 2012, the corporation acquired Cooper Industries PLC. Cooper's businesses complemented Eaton's, and resulted in a nearly 50/50 split between U.S. and international operations.
CEO Sandy Cutler is an experienced leader and visionary, guiding the business through multiple acquisitions. Corporate management is especially shareholder-friendly. Long-term returns have been outstanding.
However, this does not mean the shares are a good value right here, right now.
Take a look at a 15-year FAST graphs for Eaton PLC: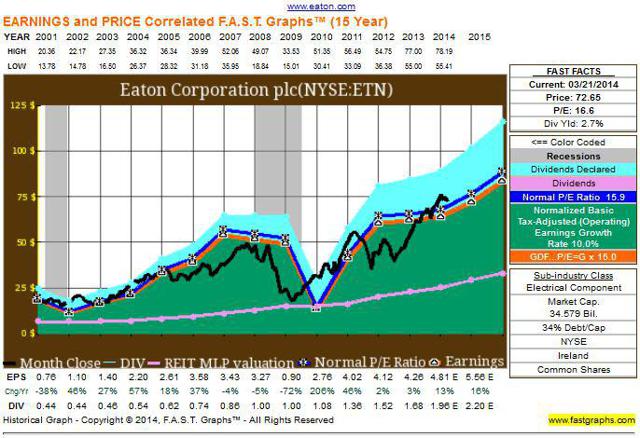 Eaton stock has exhibited a reliable price-to-earnings relationship. The 15.9x normalized average P/E is nearly the same as the expected 15x multiple. Over the years, price has never strayed far from associated operating earnings. The company pays a respectable dividend, now yielding 2.7%. What's more, over the past 5 years, the directors have increased the payout 11% annually.
Analysis: Eaton management has a long history of creating shareholder value. Frankly, nothing about current corporate operations or behaviors are likely to change the calculus. However, at the current price, ETN shares appear a bit rich.
The consistent price-and-earnings linkage indicates the probability of flat to lower prices in the near term. Notice how the black price always returns to the orange and blue expected or historic P/E lines.
Based upon 2014 Street consensus EPS of $4.80, a $72 price tag suggests fair value. Management stated their operating earnings midpoint target was $4.70. Since the current shares trade near $73, it may be best to wait for a pullback before accumulating shares. This view may be reinforced by the nearly unbroken climb by the broader averages. A "garden variety" market retreat is probable at some point. Such an occurrence may mark a purchase price point affording a greater margin of safety.
Indeed, ETN shares have slipped about 5 points from a $78 January high.
We see in a forward-looking FAST graph, the stock may need to mark some time so earnings can "catch up" with the price.
This does not diminish the excellent long-term story line or overall investment thesis.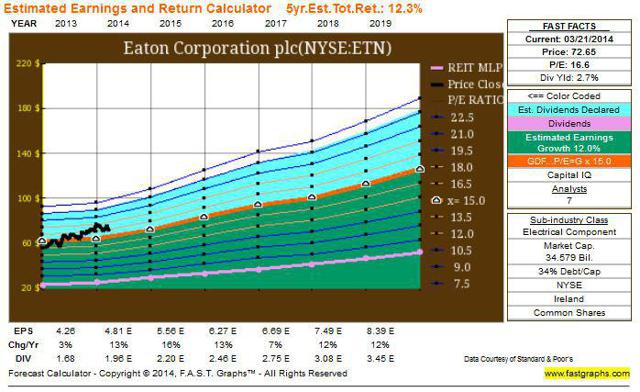 Let's conclude our study of Eaton Corporation with another 15-year FAST graph highlighting total sales and the price-to-sales ratio. The chart also illustrates the shares may be getting a little ahead of themselves. Note the historic P/Sales ratio runs between 0.75 and 1.00. Currently, the ratio stands at 1.56x.

Summing up Eaton: Outstanding company, great management, strong growth prospects, but the "merchandise" isn't on sale today. Be patient and wait.
Assuming strong 2015 EPS growth (concurrent with the ramp-up of integration synergies associated with the Cooper Industries acquisition), an opportunistic investor may wait for a general 5% to 8% pullback; or ~$67 a share. Selling appropriate cash-secured put options may be an alternative path to the same destination.
Please do your own careful due diligence before making any investment. This article is not a recommendation to buy or sell any stock. Good luck with all your 2014 investments.
Disclosure: I am long AFL, UNH, ETN. I wrote this article myself, and it expresses my own opinions. I am not receiving compensation for it (other than from Seeking Alpha). I have no business relationship with any company whose stock is mentioned in this article.