"I expect programmatic to slow down in the same way people stopped trading on exchanges and went back to handing pieces of paper back and forth for selling stocks. The Pandora's box is open..." - Rocket Fuel CFO Peter Barwick in an interview on AdExchager
Wall Street can be a fickle place. Two short months ago programmatic advertising company Rocket Fuel (NASDAQ:FUEL) hit an all time intraday high of $72. This was on the heels of an IPO of $29/share in late September of last year. On the same day shares hit their apex, the company announced a $5 million share stock offering ahead of its March 19th lockup expiration. Traders didn't like the news, and the price has spiraled downward to roughly $46, a decrease of $36% in sixty days. Although it's hemorrhaging cash, Rocket Fuel is still growing close to 80% on a revenue basis, and may present long-term investors a decent entry point at the current valuation.
Programmatic Advertising - A Secular Growth Story
Artificial Intelligence. Big Data. Machine Learning. Distributed Systems. Combine these ingredients, and you get a high octane recipe for an advertising platform know as programmatic (which includes real time bidding). Rather than focusing on data analysis by humans, it's a business practice that autonomously adapts and learns while solving multiple problems. In lay terms, it's where and when to feed that advertisement. John Henry versus the steam shovel - you know who won that battle.
Consider this:
eMarketer projects Real Time Bidding digital display ad spending in the US will account for 29.0% of total US digital display ad spending by 2017, or $9.03 billion. In 2013, it accounted for 19.0%, or $3.37 billion.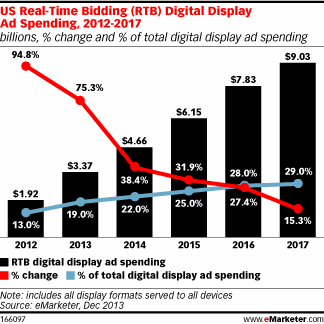 (Chart Source: eMarketer)
That eMarket extrapolation may prove to be conservative. It also doesn't take into consideration international sales, so the potential for profits increases. Although Rocket Fuel is primarily a domestic company, it's entrenched in Europe with regional offices in the United Kingdom, France, Germany and The Netherlands. It's also making a push into Japan. The company is one of the kingpins and a pioneer of programmatic advertising. It should benefit from the secular growth story of a market in its infancy.
Explosive Growth Since Launching
Most notable in the latest 10-K, released February 28th, is the 126% compound annual sales growth from 2011-1013. In the last earnings report, Rocket Fuel guided for full year 2014 of revenues between $420-$435 million. If we split the difference, that would give us approximate sales growth of 80% for this year. Yes, revenue growth is slowing, but still advancing at a compelling clip.
Drilling down with some specifics:
| | | | |
| --- | --- | --- | --- |
| Rocket Fuel statistics | 2011 | 2012 | 2013 |
| Revenues in millions: | $44.7 | $106.6 | $240.6 |
| Net Loss in millions: | $(4.3) | $(10.3) | $(20.9) |
| Active Customers: | 266 | 536 | 1,224 |
| R&D in millions: | $1.5 | $4.9 | $17.7 |
We're in a new paradigm shift where technology is concerned, and many young companies are coming public before profitability. That's certainly the case for Rocket Fuel, and may continue for the foreseeable future. If you want to invest in some of the exiting new tech pure-plays, you may have to forego earnings to get hyper-growth. Taking that into consideration with your risk/reward tolerance, the losses may be overlooked for awhile.
To accentuate the positive on Rocket Fuel, look no further than its impressive client base which doubled last year to 1,224. This includes 70 of the Advertising Age top 100 advertisers and over 50 of the Fortune 100. It has significant mindshare in an industry in its early innings. Take a look at some of the heavyweights Rocket Fuel services, a who's who in corporate culture: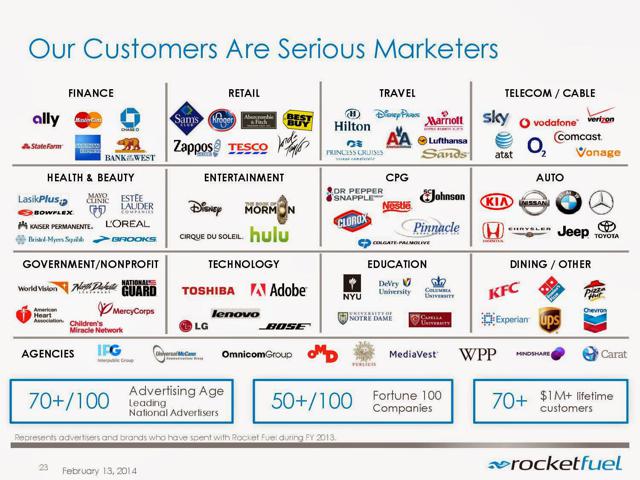 (Chart Source: Rocket Fuel)
What bothered me most about the financial filings was the R&D expenditures. With only eleven patents, and $17.7 million being poured back into R&D, the company should be doing more to widen the moat, if indeed it does have one. Criteo (NASDAQ:CRTO), Tremor Video (NYSE:TRMR) and YuMe (NYSE:YUME) are other digital advertising companies that have recently gone public, and will attempt to take market share from Rocket Fuel.
The Move Into Mobile
As smartphones, tablets, laptops, desktops and televisions become interconnected with the advent of technological advances such as seamless video streaming, advertisers want to reach as many devices as possible in one fell swoop. Rocket Fuel got ahead of the curve by launching a next generation mobile advertising suite in February. The suite integrates with 27 mobile ecosystem partners which includes Flurry, Factual, BlueKai, MoPub and Celtra. According to the company:
Mobile Real Time Bidding suppliers connect with Rocket Fuel's proprietary bid infrastructure to provide the broadest mobile reach across tablets and smartphones on all operating systems, and utilize all possible anonymous identification protocols, including cookies, device IDs and statistical matching.
I believe one formidable opponent going forward is Millennial Media (NYSE:MM), a small cap company with a mobile advertising exchange. Millennial Media is moving into programmatic with a recent acquisition of JumpTap. Although the two companies compete in the programmatic arena, they are entering the multichannel universe from two different directions. Millennial Media is going from mobile to desktop, and Rocket Fuel is going from desktop to mobile.
Full disclosure, I own shares of both Millennial Media and Rocket Fuel. Why own shares of both companies? I really don't know which organization will prevail, and because both are relatively inexpensive on a Price/Sales metric, I've got two horses in the race, at least for the next few quarters. However, Millennial Media is a turnaround play, and potential investors should be aware of this. For more information on Millennial Media, my recent article can give you the low down.
Some Rocket Fuel Valuations
Rocket Fuel is currently unprofitable because it's increasing headcount and acquiring data centers to increase product improvement. As demonstrated earlier, sales are increasing at an impressive clip with mobile comprising 19% of revenues for Q4 2013. As supplied by Yahoo Finance and the annual report:
Total Debt - $26.8 million as of December 31st
Cash and cash equivalents - As of December 31, 2013, were $113.9 million. Rocket Fuel received net proceeds from its IPO of $103.3 million during 2013. Subsequently in February 2014, Rocket Fuel received net proceeds from its follow-on offering of $116.5 million.
Price/Sales (trailing twelve months) - 6.86
Market Cap - $1.59 billion
Price/Book (most recent quarter) - 10.8
At roughly 5X 2014 sales, and a significant total addressable market, I took a flier on Rocket Fuel at $46. Eighty percent revenue growth is an opportunity that doesn't come up too often. You're never sure if you've reached the bottom of a sell-off in an equity, but if Rocket Fuel can continue to execute, it should be able to outpace the overall market in the next year.
Disclosure: I am long FUEL, MM. I wrote this article myself, and it expresses my own opinions. I am not receiving compensation for it. I have no business relationship with any company whose stock is mentioned in this article.