As someone who loves exploring the latest startup and technology trends, I've been keenly following the latest on Bitcoin startups that get funded. I must admit I still cannot entirely wrap my head around bitcoin. For example, is Bitcoin a giant bubble or not? Is it a real currency or more a commodity? What is indisputable though is that the Bitcoin phenomenon is very real, and there is a whole startup ecosystem forming around Bitcoin. Indeed, what I didn't realize until just now was how serious VCs are about Bitcoin - there is some serious money from major VCs going into bitcoin startups, as this chart from technology site Techcrunch demonstrates: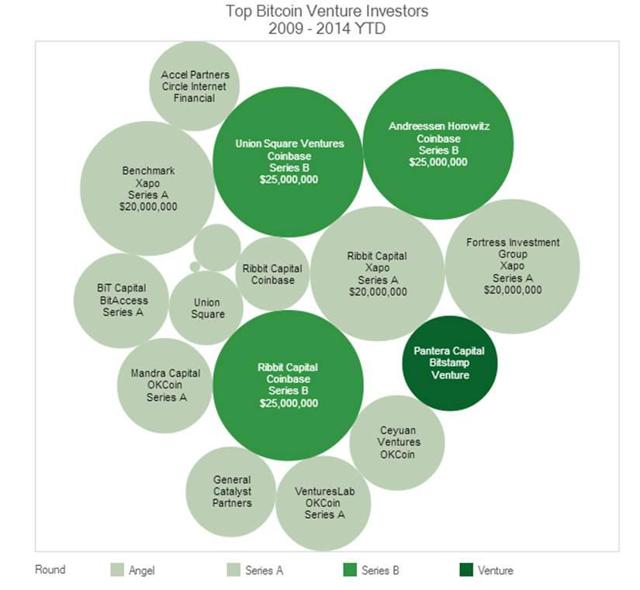 At this point in my thought process, I have genuinely come to believe that Bitcoin genuinely has potential to become the "gold of the Internet." To further understand the potential of Bitcoin, legendary VC Mark Andreessen - whose firm Andreessen Horowitz recently invested $25 million in bitcoin startup Coinbase - explained it recently in a piece he wrote in Dealbook. Says Andreessen:
"Bitcoin gives us, for the first time, a way for one Internet user to transfer a unique piece of digital property to another Internet user, such that the transfer is guaranteed to be safe and secure, everyone knows that the transfer has taken place, and nobody can challenge the legitimacy of the transfer. The consequences of this breakthrough are hard to overstate.

"Bitcoin is the first Internet wide payment system where transactions either happen with no fees or very low fees (down to fractions of pennies). Existing payment systems charge fees of about 2 to 3 percent - and that's in the developed world. In lots of other places, there either are no modern payment systems or the rates are significantly higher (Andreessen mentions rates of up to 10% for international remittances)."
Andreessen concludes this fascinating piece by noting that "Bitcoin offers a sweeping vista of opportunity to reimagine how the financial system can and should work in the Internet era, and a catalyst to reshape that system in ways that are more powerful for individuals and businesses alike."
With over $50 million of his own money invested in Bitcoin startups, as well as a track record of predicting and shaping the most innovative technologies to come out of Silicon Valley, Andreessen is a voice well worth listening to.
One thing that Andreessen does not go into much in his article - since he is not an economist - is how Bitcoin could make an excellent hedge against further currency debasement. Consider the ongoing implementation of QE, which has dramatically expanded the US monetary base, or M2. The US Monetary Base is at a current level of $3.869 Trillion, up from $3.734 Trillion last month and up from $2.874 Trillion one year ago. This is a change of 3.64% from last month and 34.62% from one year ago. The chart below from the St. Louis helps us visualize the massive amount of new money that has been - continues to be - created by the FED: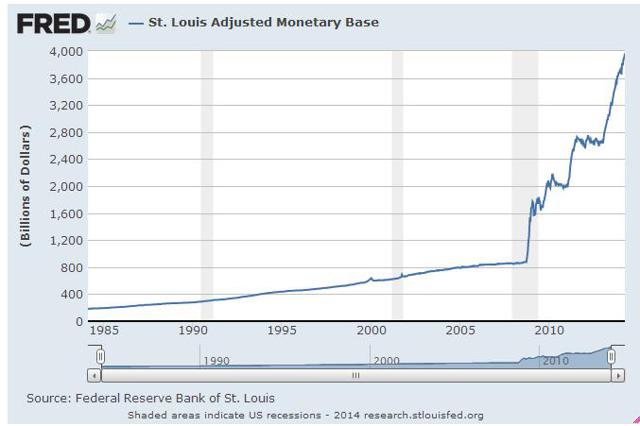 In my opinion, at some point this massive increase in the monetary base will end up feeding into the real economy. Of course, we cannot predict when this might happen with any certainty, but it certainly makes sense to have some kind of inflation hedge in your portfolio. A major inflation hedge that many investors have long used is gold, there is an argument for having a small portion of your portfolio's inflation hedge outside of gold, and with the increasing development and legitimacy of Bitcoin it might be the time for investors to begin to explore the new internet currency as an option. One excellent reason for doing so is that the original creator of Bitcoin - who used the pseudonym Satoshi Nakamoto - developed an algorithm that set a finite limit on the number of Bitcoins that will ever exist: 21 million. That means that no government or central bank can ever rev up the printing presses to create more bitcoin, the way the FED has done - and continues to do - with the US dollar.
So if you believe in Bitcoin, like I do, the next question is how can we invest in the bitcoin story from an online brokerage account? This is still not the easiest thing to do, but based on some research these are some intriguing options to consider:
Bitcoin Shop Inc, (OTCQB:BTCS) Bitcoin Shop is a pure play on the increasing use of bitcoin as an ecommerce system. BTCS - which was previously known as TouchIT Technologies Inc - is offers approximately 140,000 goods through an affiliation with Amazon. One reason BTCS intrigues me is because it is a way to invest in the Bitcoin story without the high volatility of owning Bitcoin directly. As an analogy, think of BTCS as you might think of the stocks of exchanges such as CME - the value of the investments trading on CME might fluctuate, but CME takes a tiny cut of every trade made. I believe that whatever fluctuations Bitcoin may have that it will continue to be increasingly accepted in the ecommerce world, and BTCS should be a beneficiary of this.
Overstock.com Inc. (NASDAQ:OSTK) OSTK is another ecommerce play on Bitcoin, albeit not a pure play like BTCS. OSTK recently started accepting Bitcoin as a payment mechanism and within 24 hours it had processed $130,000 worth of sales in bitcoin.
SmartMetric Inc (OTCQB:SMME) SMME is a developer of patented payment card technologies and in-card biometric products. The company just announced the creation of its SmartMetric Intelligent Card OS, which it describes as "an operating system that runs on nano-computers built into its patented SmartMetric Biometric Bitcoin Card. The card is the first biometric, fingerprint protected Bitcoin payment card in the world."
Finally, as a side note, the Winkelvoss twins of Facebook (NASDAQ:FB) fame recently announced plans to launch a Bitcoin ETF which will track the price of Bitcoin, in the same way that an ETF such as GLD tracks the price of gold. This Bitcoin ETF though has not yet been approved by the SEC and consequently has not started trading, so it is not currently an investment option.
I personally prefer not to speculate on the price of Bitcoin directly, and hence BITCN is not one I'd ever opt for. I would rather look at stocks that are a play on the overall Bitcoin story itself, and if I had to pick just one of the options described above, it would be BTCS. Needless to say, any of these stocks are extraordinarily risky, and indeed, I'd compare investing in something like BTCS as akin to investing in an early, pre-exploration stage miner - although the risk is extremely high, the payoff could be astronomical if the stock takes off. However, it goes without saying that these are not specific recommendations, but only ideas for anyone interested in exploring how to invest in the bitcoin story through an online trading account to explore further.
Disclosure: I have no positions in any stocks mentioned, and no plans to initiate any positions within the next 72 hours. I wrote this article myself, and it expresses my own opinions. I am not receiving compensation for it (other than from Seeking Alpha). I have no business relationship with any company whose stock is mentioned in this article.
Editor's Note: This article covers one or more stocks trading at less than $1 per share and/or with less than a $100 million market cap. Please be aware of the risks associated with these stocks.