PowerShares DB Precious Metals (NYSE:DBP) is showing signs of reversing its rally that began in December 2013. DBP has rallied 10% or more 32 times in the past seven years with the average period lasting 11 weeks. Last week may have signaled the end of the 33rd rally as share prices failed to trade higher than it did in the previous week for the first time in 11 weeks. Shares rose 16.77% from 12/30/13 - 3/14/14.
Since the long-term bear market for precious metals began when DBP traded at its all-time high of $69.52 on August 22, 2011, there have been 5 short-term bear markets when shares have lost 17% or greater. Today shares broke its 50 and 200 day moving averages of $42.23 and $42.55 respectively. If DBP fails to hold these support levels shares may test its 52 week low of $38.58, which would be a 14% loss since shares traded at a recent high of $45.05 on March 14, 2014.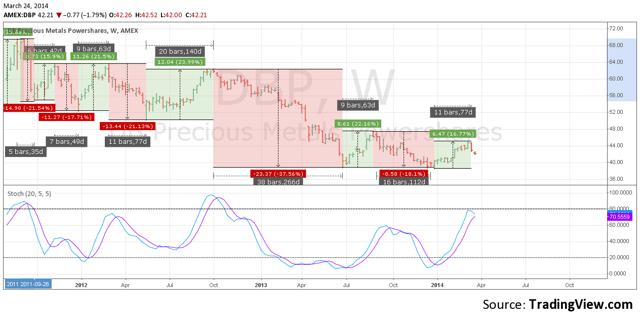 A similar picture is taking place with gold. Today SPDR Gold Shares (NYSEARCA:GLD) remained above its 50 and 200 day moving averages of $125.34 and $125.52 respectively, but just barely as shares traded as low as $126.03. GLD did not confirm the potential double bottom that had formed and is showing signs of retesting 52 week lows of $114.46.
Things could get ugly for GLD if it breaks below $114. Traders who bought in the first quarter of 2014 will close out their positions for fear that gold will trend downward as it did for much of 2013. That selling will lead to tax loss selling by those who purchased gold in the past three years as the market realizes that without inflation, which remains well below the Fed's goal, there is little reason to own gold. Gold lost nearly 30% in 2013.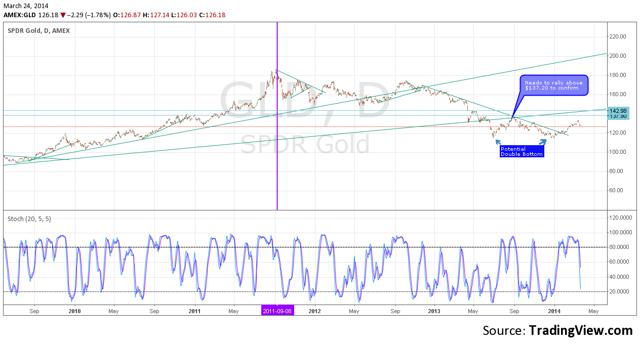 Further weakness can be seen in silver as iShares Silver Trust (NYSEARCA:SLV) is up only 1.51% for the year compared to an increase of 8.87% for GLD. The chart below shows silver as a leading indicator of gold. Silver ran up quicker than gold during the long term bull market in precious metals that ended in 2011. It also reached all-time high and began its long term bear market nearly four months before gold peaked in August 2011.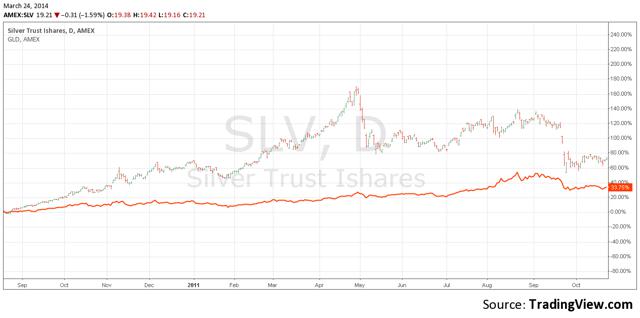 For those who are patient, another severe selloff in precious metals may create an opportunity at the end of 2014 as it did at the end of 2013. Being patient is the key. If gold and precious metals break down, selling will lead to more selling and eventually a lack of liquidity.
One way to take advantage of a breakdown in gold is ProShares UltraShort Gold (NYSEARCA:GLL). This is the two times short ETF for gold. Shares could increase 10% - 20% rather quickly if gold continues to sell off. GLL was up more than 50% in the second quarter last year. The price of gold can be extremely volatile, and using a leveraged ETF will further increase that potential volatility. If don't have the stomach for such volatility, PowerShares DB Gold Short ETN (NYSEARCA:DGZ) offers the inverse of gold without the extra leverage.
Disclosure: I have no positions in any stocks mentioned, and no plans to initiate any positions within the next 72 hours. I wrote this article myself, and it expresses my own opinions. I am not receiving compensation for it (other than from Seeking Alpha). I have no business relationship with any company whose stock is mentioned in this article.