Avago Technologies Ltd. (NASDAQ:AVGO) is another huge growth stock that resides in the Electronics Semiconductor Fabless group that is home to many great stocks that are doing very well in the stock market right now.
This Singapore designer of analog ICS for Telecom, Industrial, Automotive, and Computing markets is seeing some big growth in its EPS and sales numbers and that along with rising EPS estimates is helping launch this stock to new 52-week highs making this stock a clear leader in this listless market right now.
For the past three quarters, YOY EPS results have seen gains of 41%, 125%, and 999%. During that time sales have grown from -4%, 24%, to 58%. This kind of growth is very impressive but more impressive is the EPS estimates for 2010 and 2011 which are expected to grow 198% and 9% respectively. Not only are the EPS and sales numbers very impressive but Return-on-Equity is a very impressive 16% and the company sports a cash flow of $1.44. These solid numbers and the outlook for further growth is a main reason management still owns 67% of the shares outstanding. On top of this mutual fund growth has increased from 69 funds in the reporting period of September 2009 to 71 funds in the most reported period of March 2010.
In addition to the top notch fundamentals, exciting new products, and having gone public recently on the NASDAQ, the techncials accompanying the fundamental picture are very bullish. The stock has been under accumulation by institutions proven by the price and volume action displayed on its chart.
This stock has been in a solid uptrend since the November lows with the stock trending nicely along the 50 day moving average until the month of May when the stock market had a very rough period that it is still going through. However, while the market has been rallying on lower volume, Avago Technologies Ltd. has been rallying on very strong accumulation retaking the 50-day moving average and breaking out to a new 52-week high with the Relative Strength line leading the way to new highs confirming the strength in this stock.
I would love to get long Avago Technologies Ltd. with a pullback to either the pivot point area of the breakout from the recent base (around the 22.88 level) or a pullback to the 50-day moving average. I would like to see the pullback occur on low volume that is followed by a bounce on higher volume. If the stock does not pullback and continues to move higher I would prefer to buy it off of a strong trendline support and/or buy it with the next breakout from a properly formed base. If I do get a chance to get long this stock I would look to cut my loss with a close below the 50-day moving average, if the stock does not move higher immediately. (Click to enlarge)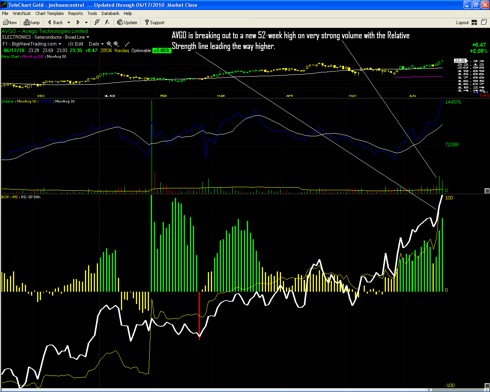 Disclosure: No Position