Late Thursday, Yara International (OTCPK:YARIY), the largest international ammonia producer in the world, settled its April ammonia supply contract with major buyer The Mosaic Company (NYSE:MOS) at Tampa, Florida, for $580/metric ton.
The key contract settlement, which always occurs towards the end of the month for next month CFR delivery, is watched carefully by fertilizer traders as it will determine the benchmark price for ammonia all over the continent.
Mosaic, the number one phosphate producer in the world, uses the ammonia to produce finished diammonium and monoammonium phosphate fertilizers in its central Florida and Faustina, LA, plants.
The contract settlement is not telegraphed or widely disclosed by either contract party and the information is only available through chemical and fertilizer news services.
I picked up the bullish ammonia news off ICIS, where analysts believe fertilizer demand could pick up after a poor fall application season in 2013.
The $580 April ammonia price is $120 higher than March's $460, up 26%, and sets the benchmark for ammonia prices farther up the river, especially in the Midwest corn belt, where retail prices were running $640-695 per short ton last week, according to the USDA.
Farm Futures magazine believes retail ammonia prices could go higher as farmers rush to fertilize their fields. I have forecasted a wet and delayed spring plant due to the extremely cold weather, which has extended into late March. However, the US Climate Prediction Center is looking for temperatures to warm up by month end, allowing field preparation and fertilization to accelerate.
On Tuesday, the USDA will release its Prospective Plantings report and March major crop storage levels. The estimates for corn and wheat acres planting intentions will foretell 2014 US nitrogen fertilizer demand.
Private surveys indicate US farmers are leaning toward more soybeans than corn this year, especially as beans can be planted later than corn and the wet cold weather could delay planting. There is also the risk of flooding due to the large snow cover in the upper Midwest.
Yet US corn acres should still come in around 93 million acres according to trade estimates. In addition, the Brazilian corn crop is likely to be smaller than expected due to weather problems in that country.
This would indicate corn prices should stay reasonably high at the current $4.88/bushel level, and anhydrous ammonia demand for agriculture should be steady. Industrial demand for ammonia, roughly 20% of the total, is related to GDP growth and manufacturing intensity.
Tampa ammonia hasn't been this high for a long time - prices ranged from $485 to $450 from September to December last quarter before dropping to $415/mt for February delivery.
The price in short tons, which is the metric normally quoted in the US inland, is $639.
The price is extremely profitable for ammonia producers, even with natural gas rising to $4.40/mmBTU summer delivery at Henry Hub, LA.
The cost of producing a short ton of ammonia from natural gas at a conservatively high estimate of 35,000 ft3 per ton is less than $200.
So a Tampa price $639 would imply very attractive margins to producers available in the second quarter of 2014.
Major merchant ammonia sellers in the US include CF Industries Holdings (NYSE:CF), with 2.43 million short tons in 2013, Terra Nitrogen LP (NYSE:TNH) with 319,000 short tons and OCI Partners LP (NYSE:OCIP) with 259,200 metric tons.
Ammonia sales represented 30.7% of CF's revenues in 2013, 24% of TNH's revenues, and 31.8% of OCI Partners.
None of these producers hedge their ammonia sales, so they are open ended on the upside which should be reflected in Q2 due to pricing lags.
OCI Partners pays (its first) 61 cent distribution for the period from the IPO date in early October to year end, and goes "ex" Thursday. The partnership was floated by the Orascom group (OCINV) and 17.5 million of the 80.5 million units are in public hands. Terra Nitrogen LP has 18.5 million common units outstanding of which about 75% are owned by CF Industries.
CF Industries is up 1.5% percent today at noon. Terra Nitrogen and OCI Partners have traded very little volume due to the small public floats, which adds to trading volatility, both up and down.
I expect the two nitrogen MLPs units to spike up once the April ammonia price hike becomes more widely recognized by analysts. Further upside could come from Russian sanctions and any curtailment of natural gas to the Ukraine, a key nitrogen fertilizer exporter. I have written about that potential in this article.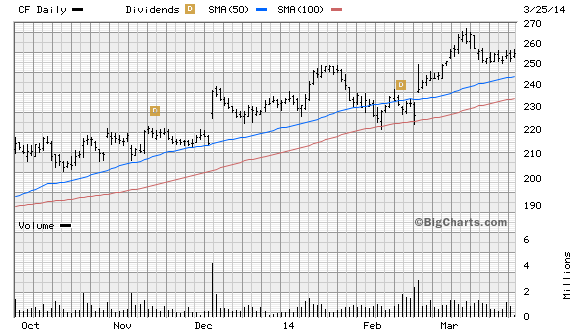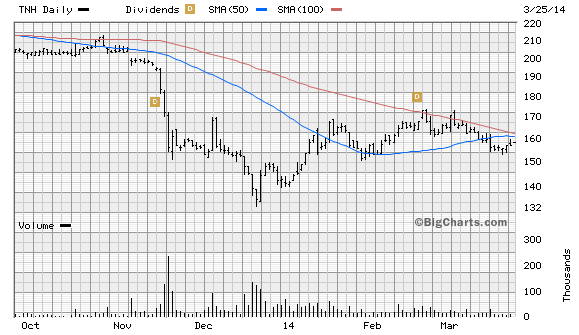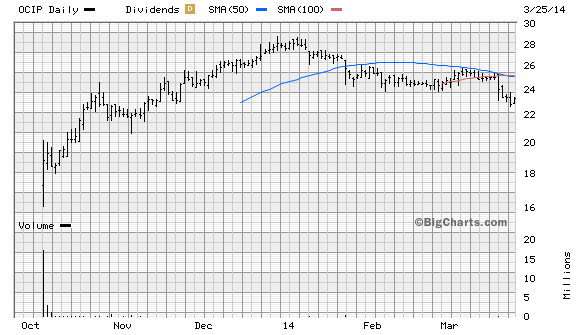 It could be investors may feel the April uptick in ammonia is not sustainable.
But it is quite likely ammonia imports to the US could be disrupted lending further support to prices. Russian and Ukrainian ammonia were 890,000 metric tons, or roughly 15% of 6 million in US imports in 2013.
Any trade sanction of Russian ammonia, or interruption of Russian natural gas flows to Ukraine, could make ammonia exports in 2014 impossible.
Another distraction for investors is the Houston Shipping Channel closure.
The channel has been closed due to a marine fuel spill since Saturday, and this has caused volatility in the energy markets, s as Houston area refineries have been unable to import crude oil or export refined products for the past few days.
Luckily, none of the three ammonia producers operates in that channel.
However, OCI Partners' Beaumont, TX, plant sells about half its 265,000 ammonia capacity to Rentech Nitrogen Partners' (NYSE:RNF) Pasadena, TX, ammonium sulfate plant. The ammonia is delivered via barge along the Gulf coastline into Galveston Bay and up the channel to the plant.
The US Coast Guard is supposed to open the channel in a limited fashion sometime this week, and it should be considered a short-term event.
All in all, I think it is likely investors have not digested the bullish squeeze in ammonia and the potential for Russian and Ukrainian supplies to dwindle.
Chinese urea exports are expected to rise in 2014 due to the lower export tax regime in that country, but dry urea is not a big substitute for ammonia.
Ammonia is more concentrated than urea and preferable on a cost of nitrogen unit per ton basis. It is traditionally applied to corn acres before planting when the soil is wet and below 50 degrees Fahrenheit to reduce fugitive emissions and nitrification losses.
Trinidadian ammonia has historically been the largest source of US imported ammonia (3.46 million mt or 57% in 2013), but production from the Point Lisas Estate production area there has also been erratic due to natural gas supply issues. These are supposed to be alleviated in 2014 to some degree.
I have been long TNH waiting for the uptick in ammonia prices, and recently bought OCIP, which expects $2.00-$2.20 in distributions in 2014.
Risk-averse investors may wish to consider these units if they are not concerned about illiquidity and you understand the MLP tax regime. CF Industries would be the choice for more growth-oriented investors requiring liquidity.
Disclosure: I am long TNH, OCIP. I wrote this article myself, and it expresses my own opinions. I am not receiving compensation for it (other than from Seeking Alpha). I have no business relationship with any company whose stock is mentioned in this article.