Chinese Hero usage has likely peaked. According to my proprietary monitoring, Chinese online game company Changyou's (NASDAQ:CYOU) new title Chinese Hero briefly surpassed 110K PCU after entering open beta on May 20, but its usage has been declining since then. For the past seven days, the game's daily PCU was around 95K. Such performance has led me to believe Chinese Hero may have already seen its peak usage, and it does not have a high chance of becoming a hit game with over 200K+ PCU. For the game to reverse the current trend, I believe Changyou has to simplify its multi-currency economic system, adjust parameters to achieve a better balance between in-game professions, and design more in-game tasks to maintain players' interest.
Duke of Mount Deer (DMD) remains the biggest driver of Changyou shares .
DMD
is a 2.5D MMORPG based on the popular novel "Duke of Mount Deer", and it shares the same development team and game engine with TLBB, Changyou's flagship game. Although DMD is still undergoing its closed beta testing (Nei Ce), it has been supporting Changyou's stock since the beginning of 2010. Based on my checks, Changyou's stock price has likely reflected the market's optimistic expectation that DMD will be a hit game that accounts for at least 20% of the company's total revenues. Considering the unexciting performance of Changyou's other new games such as Chinese Hero and Da Hua Shui Hu, I believe investors' optimism on DMD is the primary reason behind Changyou's second-best year-to-date performance among Chinese online game stocks (Table 1).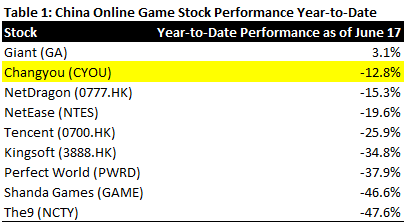 Disclosure: No positions