Last week's Commitment of Traders report, showing massive longs in the USD, made us cautious. We forget, though, how far and how quickly a market can retrace after being beat up for months. It is interesting to note in the COT report than the small spec was the first to flip their position to long in the euro. The small spec is supposed to be the uninformed rube who is normally fleeced by the big boys.

The ability of the Spanish Government to peddle €3.5B 10 and 20 year bonds was claimed to be a major catalyst for the euro's recovery. The 4.84% ten year yield, and the 5.91% thirty year return, serves as warning the new Spanish debt is a little risky.

In the US this week, three major banks proved that the euro bank contagion is not spreading, as the borrowed $7.65B to repair their recession damaged balance sheets. One of the participants, the Bank of America, paid 5.625% for $3.0B 10 year notes.

Alan Greenspan, sounding a little like a grumpy old man, had these comments in today's WSJ:

"the U.S. may soon face higher borrowing costs on its swelling debt and called for a "tectonic shift" in fiscal policy to contain borrowing. ......Yields have remained low "despite the surge in federal debt to the public during the past 18 months to $8.6 trillion from $5.5 trillion," Greenspan said.

Yields on U.S. Treasuries have benefitted from safe-haven demand in recent months because of the European debt crisis, a circumstance that may not last, said Greenspan, "

We now have Europe, Britain, and Japan, all giving lip service to austerity, jettisoning Keynesian spending as the cure to economic malaise, rather, recognizing it has been one of the causes of the massive deficits. The US with "recovery summer" is continuing to feature more stimulus spending, unveiling a $508M face lift for the Brooklyn Bridge, at a cost of $200,000 for each job 'created or saved.' In Connecticut, the Federal government will give $54M to the wealthy Mohegan Indian tribe, operators of profitable casinos. Continuing the tour on Monday, VP Biden will venture to Midland Michigan where an outlay of $161,000 per job is expected to produce 1000 new jobs.

With this apparent financial mismanagement in the US prevalent, is the USD really the safe haven place to be? Those traders paying over 1260 per ounce for gold today don't think so.

It is always risky to get too far out in front, remembering how the pioneers always took the arrows, but a USD long is losing appeal in my view. The yen is trying to take out the trend line suggesting a break into the eighties, and the C$ is chewing into the resistance in the 1.0230 area. Some ideas for those who, like me are wary of the USD.

Have a great weekend!!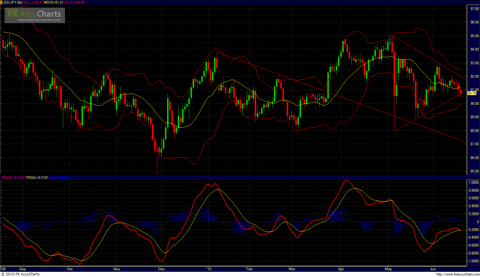 Disclosure: Long FXJ, FXA