Morgan Stanley came out with a note highlighting 44 stocks that could be ripe for a takeover. These are the types of analyst notes we abhor, especially when they come out during 'March Madness', because it is more of an attempt to grab attention and headlines rather than provide fundamental research.
We did see a few names on the list which are commodity focused companies, and we wanted to look over a few of those names and give our opinion.
Chart of the Day:
Is copper on its way back? It looks like we may have bottomed out under the $3 level, and with prices abutting that level we might see a rally as the fear around Russia and China dissipates and the bulls come back to the market as buyers.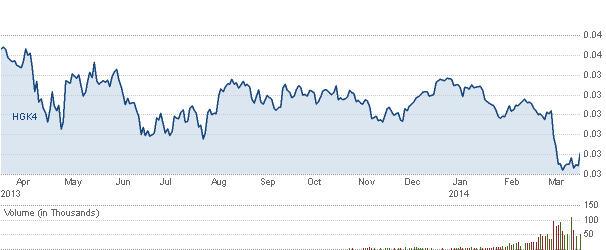 Source: CNBC
Commodity prices this morning are as follows:
Gold: $1,311.80/ounce, up by $0.60/ounce
Silver: $20.005/ounce, down by $0.052/ounce
Oil: $99.96/barrel, up by $0.36/barrel
RBOB Gas: $2.892/gallon, up by $0.0011/gallon
Natural Gas: $4.382/MMbtu, up by $0.106/MMbtu
Copper: $3.00/pound, up by $0.0545/pound
Platinum: $1,423.80/ounce, down by $7.40/ounce
Oil & Natural Gas
One of the three names in the energy sector highlighted in the report was SandRidge Energy (NYSE:SD), a name many have had tied to buyout rumors over the past few years. Speculation of a takeover increased when activist investors arrived and increased further once they took control of the company. Leon Cooperman's Omega Advisors is a large shareholder and that simply highlights the value that is present with the current assets controlled by the company.
SandRidge has turned the corner in the past year, however our view is that management will have to continue to prove the value within their acreage position before an offer materializes. There are other names higher up on the takeover list because of this.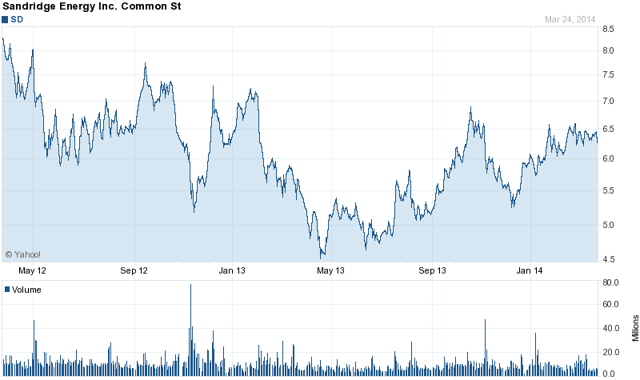 Source; Yahoo Finance
With that said, this might be one of the names on the list which is overrated as far as a buyout is concerned. Although natural gas has seen a short-term boost in recent months, the sector as a whole is more focused on liquids; natural gas liquids, condensate and oil. Instead of focusing on SandRidge Energy, we would focus on names in plays which are less gassy, such as the Bakken, Eagle Ford and Utica. In the Bakken, Oasis Petroleum (NYSE:OAS) looks like it could be a decent acquisition based on its acreage position and future growth. The name we currently like in the Eagle Ford, and it also has exposure to the Permian, is Rosetta Resources (NASDAQ:ROSE). Although we did recommend booking profits from a short-term trade in Rosetta Resources this past week, we still believe the name to be a good long-term play.
Materials
Although we do recognize there being a decent chance of SandRidge Energy being taken over at some point down the road due to our belief that the shares are worth somewhere between $8-10/share, the argument that Cliffs Natural Resources (NYSE:CLF) is a takeover target is somewhat baffling due to the shifts taking place in the industry. With the company have exposure to coal and iron ore, high cost production of coal and iron ore to be sure, there is little need for the big companies to be buyers right now, especially with all of the excess production out there. Outside of the diversified miners, there are few companies which could buy Cliffs, not change their pure-play status and have expertise in both fields. This is a business of scale, and companies like Cliffs Natural Resources do not get bought out in commodity markets such as these when they do not have large, low cost production.
Ur-Energy (NYSEMKT:URG) would be a decent buy for some of the other uranium companies out there, especially with their relatively low cost mine set to open up soon. There are a number of names which could be interested with a price tag between $225-275 million.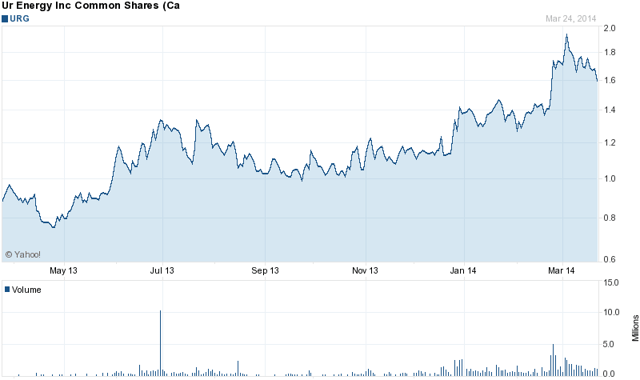 Source: Yahoo Finance
The one thing that the company does have going for it right now is the activist investors, Casablanca Capital, and their plan to split the company. Splitting the company could attract buyers for pieces of the current company, but an outright buy of the entire company seems a long shot at this point. Should the company split, we could see the international assets receiving a bid but even at a $3 billion market capitalization the entire company does not appear to be in play, in our opinion.
Instead, we would focus on companies which are bringing new production to market that is relatively low cost for their sector, such as Ur-Energy . The company's stock has been a solid performer over the past year and would be an easy purchase for one of the larger uranium producers, especially the Australian and Canadian producers and explorers. That seems a much more logical target in our opinion than a company which has long been available to the lowest bidder.
Disclosure: I have no positions in any stocks mentioned, and no plans to initiate any positions within the next 72 hours. I wrote this article myself, and it expresses my own opinions. I am not receiving compensation for it (other than from Seeking Alpha). I have no business relationship with any company whose stock is mentioned in this article.