Opening:
Recently, a report surfaced on Seeking Alpha that Google (NASDAQ:GOOG) was taking a step closer to making Google Glass much more attractive. Originally, some viewed wearing Google glasses as a Terminator look - a bad spin for the technology.
Google is closing up the loose end on its exciting product line - the aesthetics. With a Luxottica partnership, Google is now able to craft Google Glass with multiple sunglasses brands which are already highly successful.
Intertwining Google Glass into already popular sunglasses brands such as Ray Ban and Oakley can propel Google Glass in the marketplace when it is released. This is due to the fact that consumers already wear and trust these brands. The addition of Google Glass technology to their favorite sunglass brands will propel consumer adoption to a much higher level versus a Terminator look.
In the past, sunglass brands differentiated with their own individual brands and frames by offering polarized or non-polarized lenses. In addition to various styles and frames and lenses, this is a key differentiator today. If consumer will pay more money to have more protection from the sun, they are more than likely to pay extra for Google Glass - within reason. This is because Google Glass will connect them with their world in ways never before seen.
(Source)

Google Glass offers users an extremely valuable technology. Google Glass is extremely simple, while being extremely intuitive. While wearing the glasses you can simply say "take a picture" and it will be done. You can record and share what you see while also getting directions. Glass can also allow you to ask questions, translate your voice while also speaking to simply send a message. The best part, you do not have to take your phone out of your pocket, as you will be looking through your Google Glasses the entire time - making it faster and easier to use.
(Source)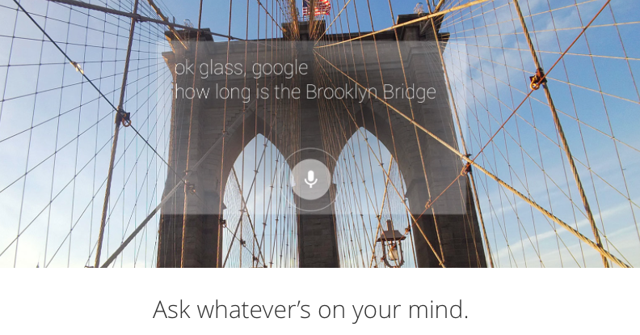 This Partnership's Effect On Google's Top Line:
Google Glass is set to be a big seller - with sales already projected to reach over 21M unit sales in 2018 alone. Over the course of 2015-2018, Google Glass is estimated to sell roughly 38M units as well.
(Source)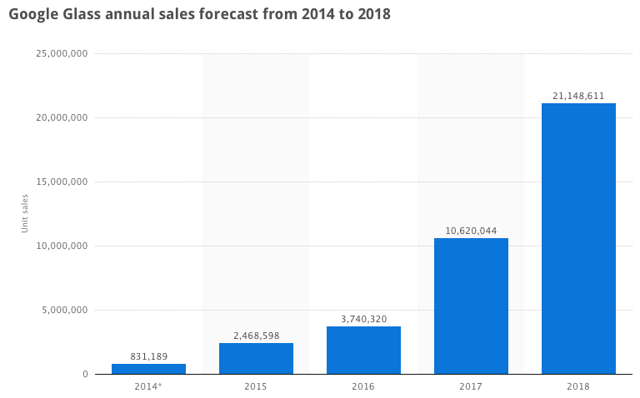 With its partnership, Google will be able to create Google Glass eyewear that is more attractive to brand loyal customer and is more aesthetically pleasing to the eye. If Google Glass's partnership can help it foster up just 10% more sales in 2015-2018, this would result in 3.8M more units.
Today, Google Glass sells for $1500, although some feel that the price will be cut to the $600 range over the next couple of years. At $1500 per unit, an additional 3.8M units could equate to $5.7B in more revenue for Google Glass. At the $600 level, this would equate to an additional $2.28B in revenue for Google Glass.
This is predicated on the belief that this partnership will be able to foster up just 10% more sales for Google Glass over the course of 2015-2018. A separate report holds Google Glass at a $10.5B product by 2018, using an even lower unit price of only $500.
I believe the 10% number is a good estimate due to the huge marketshare that Luxxotica enjoys in the market for sunglasses - a 12.4% marketshare. Google has also stated that they are a perfect partner to help enhance Google Glass moving forward.
Luxottica understands how to build, distribute and sell great products that their clients and consumers love - something we care deeply about at Glass, too. They'll bring design and manufacturing expertise to the mix, and, together, we'll bring even more Glass style choices to our Explorers. In addition, Luxottica's retail and wholesale distribution channels will serve us well when we make Glass available to more people down the road. (Source)
Another reason to estimate an increased growth rate due to the partnership is the fact that users will now not have to decide between their stylish sunglasses, such as Ray Bans or Oakleys, and their technologically advanced Google Glasses - the partnership offers users the best of both sights.
Conclusion:
Google Glass is an exciting accomplishment that is already available now - for a select few as an explorer program. One of the key items hurting the aesthetics behind Google Glass was its design. Although a partnership with Luxottica, owner of popular brands such as Ray Ban and Oakleys, can help Google augment Google Glass's design for increased consumer adoption. At only 10% more unit sales across varying unit costs, this partnership should help Google Glass garner billions in more sales during 2015-2018 for Google Glass.
Disclosure: I have no positions in any stocks mentioned, and no plans to initiate any positions within the next 72 hours. I wrote this article myself, and it expresses my own opinions. I am not receiving compensation for it (other than from Seeking Alpha). I have no business relationship with any company whose stock is mentioned in this article. This article is informational and is only in my own personal opinion. Always do your own research and intact a financial professional before executing any trades.