It's not very often that I decide to go long two names in the same sector on the same day, but yesterday I bought into Sonus Networks (NASDAQ:SONS) and added to my long position in AudioCodes (NASDAQ:AUDC) as I believe the recent pullback on the shares creates a pull back to remember.
Last week, Sonus Networks bought back 21.5 million shares or 8% of its outstanding shares from its largest shareholder thru a spot deal lead by Goldman Sachs. When most companies announce a buyback of this size, they do it over the course of one to two years; Sonus Networks did it in one shot, on one day. This makes me super bullish, not only on Sonus Networks, but also on AudioCodes as I feel that Sonus' management aggressively bought back its shares as it feels the industry is in a cyclical bull trend that will last for years. AudioCodes breached the $8 offering price of its recent spot deal as I believe that the core holders of the deal are in the process of shaking out the weak holders as they add to their position. I'm looking for both Sonus Networks and AudioCodes to reverse sharply in the coming weeks.
4 reasons to be long Sonus Networks right here, right now:
1. The CEO gets paid via stock instead of salary. This is a clear sign that he is aligned with his shareholders.
2. Jefferies analyst recently said about Sonus Networks, "it is the most underappreciated story in the Tech sector right now." He currently has a $5 price target on the shares, but he predicted that the shares could hit $10 by 2017.
3. Sonus Networks has now repurchased approximately 45 million shares or 15% of the company's outstanding shares in the past 6 months.
4. VoIP networks are being redefined in the global market place and Sonus Networks has key technology and service provider relationships to benefit from the strong momentum that it is building.
4 reasons to be long AudioCodes right here, right now:
1. AudioCodes recently raised $29.7 million bringing its cash pile to $91 million or $2.20 per share.
2. AudioCodes' institutional ownership of 13.01% is less than a quarter of Sonus Networks' 56.64% institutional ownership. The recent deal has commenced a large institutional push into the shares of AudioCodes. This trend will only strengthen it over the coming months.
3. AudioCodes should garner Wall Street coverage in the days and weeks to come.
4. AudioCodes' focus on the enterprise is similar to Sonus Networks' focus on to the service providers allowing it to see strong visibility into the Microsoft Lync roll out.
Charts: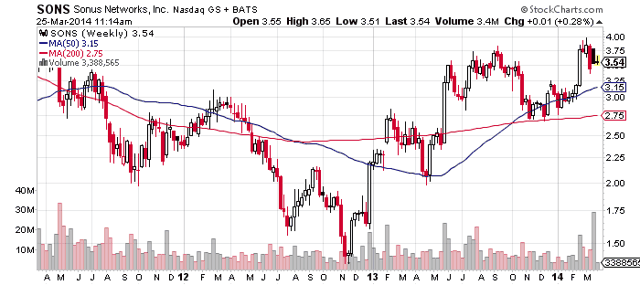 Looking at Sonus Networks weekly chart, we can see that its upward trend is still intact. The recent pullback has seen it find support at $3.50. I would look for Sonus Networks to reverse here and break out to new highs on its way to $6.50 - $7.00.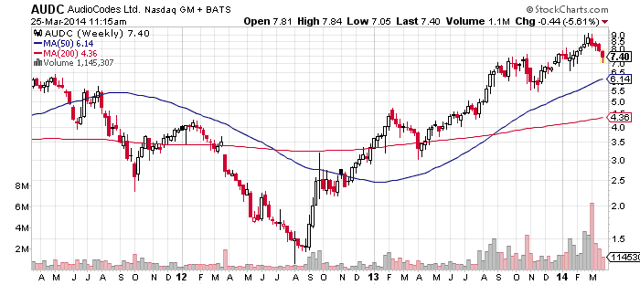 Looking at the weekly chart we can see that AudioCodes' recent pullback is in line with the types of pullbacks it has made on its move higher. I believe that the week will end with a bullish hammer pattern on the chart and the beginning of its next leg higher which should see it test $12 - $13 in the coming weeks.
Valuation:
Sonus Networks' 21 million share repurchase last Friday screams that it sees strong trends in both the short and medium term, otherwise it wouldn't have exhausted $75 million of its $245 million cash on the balance sheet. I believe that Russian Geopolitical noise and the Biotech meltdown on the Nasdaq has Wall Street missing Sonus Networks' bullish message to the markets. I believe it's the most bullish indicator for AudioCodes and Sonus Networks and we will eventually see investors comfortably pay up for these two names in short order.
Disclosure: I am long AUDC, SONS. I wrote this article myself, and it expresses my own opinions. I am not receiving compensation for it. I have no business relationship with any company whose stock is mentioned in this article.