It has been disappointing to see the decline over the past three years in the gold (NYSEARCA:GDX), silver (NYSEARCA:SIL) and the uranium miners (NYSEARCA:URA). Corrections and bear markets do not surprise me as I have witnessed them before and sat through the 1997-2001 junior mining bear market which preceded the huge rally from 2001-2007.
We are living in volatile, chaotic times when governments and banks will do whatever they can to disguise price inflation through shorting, margin and manipulation. Eventually, these irrational downturns in the resource markets end and when they do massive rebounds begin. We may be at that time right now.
When you see record shorts like we saw in gold in 2013 it usually signals a major bullish turning point imminently ahead as the masses are usually wrong at major turning points. Notice the record short position in gold bullion reach an astronomic level in 2013. This comes at a time when many of the Western nations such as EU, US and Japan are using whatever inflationary tools at their disposal to pay for their record debts.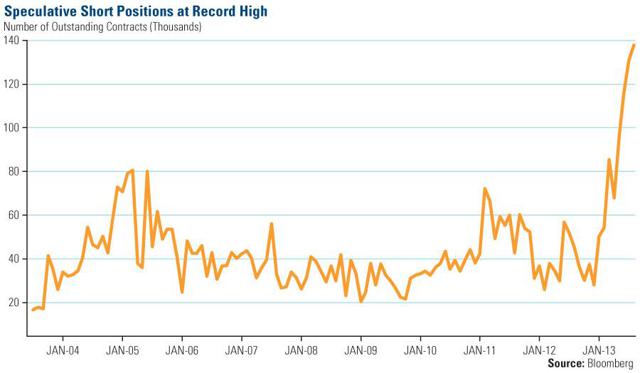 We must put this decline precious metals in proper perspective and realize that this is a counter-trend deviation from the long term secular uptrend that occurs every few years. Long term investors should continue to accumulate gold (NYSEARCA:GLD), silver (NYSEARCA:SLV) and the miners exploring and developing new discoveries.
The end of 2013 marked 100 years of the Federal Reserve System. What have they accomplished? The debt of the country has soared resulting in a major loss in the purchasing power of the U.S. dollar. It has caused the few to get rich and the masses to get poorer through a hidden tax called inflation.
Gold has soared exponentially over the past 100 years especially the past twelve before 2013. The dollar has lost over 95% of its purchasing power over the past century. Last year marked the first annual decline in gold since 2000, which may prove to be a rare buying opportunity.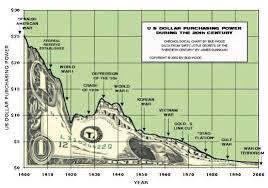 The taper may not be a signal to sell junior miners (NYSEARCA:GDXJ) but to possibly buy. Inflation should start to pick up as interest rates rise. Why should the junior miners rise? Gold, silver and the junior miners have rallied nicely since the surprise December Taper. The taper which many thought would serve as an uppercut knocking out precious metal and mining investors. However, exactly the opposite occurred.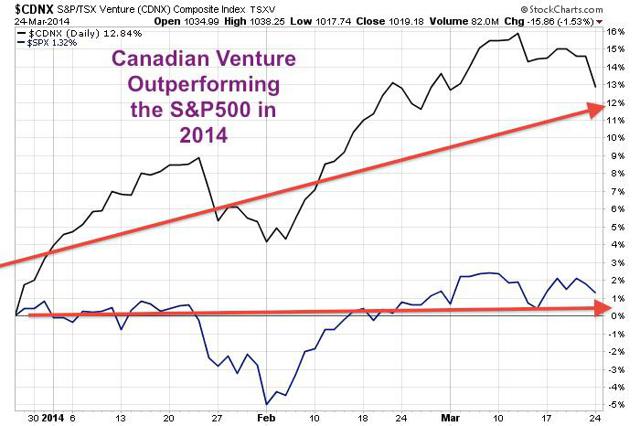 Notice the TSX Venture Index which represents the small junior miners outperforming the large cap S&P500 (NYSEARCA:SPY). This trend may continue in 2014. The overbought housing and equity market could correct, while the junior miners could outperform. Notice gold and silver are still holding the summer 2013 lows despite the taper. A bullish golden crossover of the 50 and 200 day on gold and silver bullion could soon take place.
The small junior miners are a leading indicator and may be signaling the smart money is expecting gold to hold the $1200 bottom and possibly reverse higher. This technical reversal may forecast increased interest of smart capital into the sector.
We have already seen some of the majors make impressive returns and the mining ETFs outperforming the S&P500 which is only up around 2%. The Junior Miners ETF is up 24%, while URA is up close to 18% and the Large Gold Miners is up 15%.
Gold and silver may soon see a technical reversal and a bullish golden crossover of the 50 and 200 day. Many of the junior miners are on the verge or have recently broken out on huge volume after this golden crossover signaling that the entire sector may be on the verge of secular bull market.
This improving technical landscape in the junior mining sector highlighted by the TSX Venture and outperformance of the GDXJ and URA may signify that the recent taper and improving economy may actually be the beginning of a coming boom to the entire resource complex.
Gold and silver may be ending a healthy correction which triggered sell stops and shook out the momentum and marginal players in 2013. Gold and silver could be putting in bottoms over the next few trading days or weeks.
This period reminds me of the late 90′s when everyone was chasing high priced tech stocks and ignoring the deeply discounted junior miners. Over the next decade great wealth was made in the resource sector and dot com and biotech investors were destroyed.
Precious metals are way undervalued. Gold is still cheaper than the 1980 high when inflation is factored in, yet debts are exponentially higher. Discoveries are few and far between and producers are shutting down mines. These are the ingredients to lead to the next leg higher in gold and silver.
My job is to position my readers on the long term trend in real assets which over time should protect them from inflation and the loss of purchasing power of the dollar. Many banks and brokers have been shorting the resource sector and getting their retail accounts to short miners. Margin debts are reaching record highs. This may indicate a major market correction in equities and a rise in commodities similar to early 2000.
Notice the Venture making a strong rally and the junior gold and silver miners outperforming even as gold and silver prices are basing. Same thing with uranium. Denison (NYSEMKT:DNN), Areva (OTCPK:ARVCF) and Cameco (NYSE:CCJ) are breaking out and the uranium spot price is still below $40.
Don't short resource stocks especially when they are hitting three year lows and historically discounted valuations. This has got to be probably the worst possible time to sell, short or to exit the resource sector and possibly the best time to buy high quality junior miners in one's lifetime.
Governments around the world have been printing fiat currency through quantitative easing and manipulating a negative interest rate policy. Is the Euro Debt problem really solved? Is China's banking system in trouble as well? Is Russia and China's land grab to control natural resources over? Investors around the world must be prepared for inflation and protect themselves from situations like Cyprus where depositors were slaughtered to pay the debts of the banks.
Although many investors are ignoring precious metals and the junior miners, I continue to encourage you to not follow the masses and the media. Do you really believe that the U.S., Japan or the indebted European nations will ever pay back its debts? Or that Bitcoin is an alternative to gold and silver?
All these indebted countries are devaluing their currencies and forcing interest rates to extremely low levels to pay back their out of control debts. I am continuing to buy gold, silver and rotating into the high quality junior miners trading literally for a penny of a penny on a dollar. Gold and silver has been a form of money for thousands of years. Who knows where Bitcoin will be in two or three?
When the debt storm returns like in 2010 and 2011, we may see a major move into tangible assets especially gold, silver and some of the high quality junior miners in safe jurisdictions like Nevada, Alaska and Canada. This move in precious metals and uranium could come rapidly at anytime.
Don't try to time the bottom as only liars can ever catch it. One could easily miss the powerful upswing where investors can make exponential gains on their money.
In 2011, equities were cheap compared to the overvalued gold miners. Now two year later the cycle is the reverse, gold miners are cheap compared to equities. Now is the time to pick up the mining shares on the cheap when the masses are short and sell the overvalued equities which the herd are taking out margin to buy.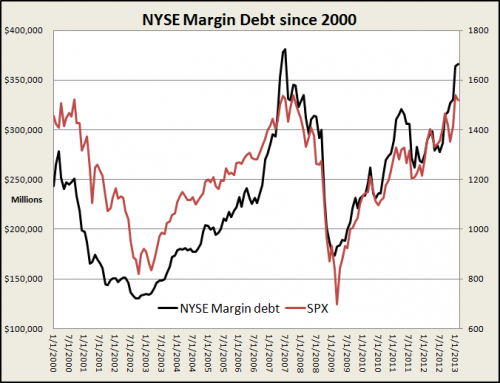 We know these margin fed rallies usually end with a lot of pain and these sell offs in the miners provide the best buying opportunities.
With regards to gold and silver, I believe we are very near a bottom. I see the downside risk as maybe $50 and the potential upside of thousands of dollars. The time to buy is when funds are facing redemption and marginal players face capitulation. We may have seen that at the end of 2013.
I recently returned as an invited speaker from PDAC, the world's largest mining conference. Experienced players I spoke to have never seen the shares at such bargain prices and are continuing to accumulate. The majors are already beginning to make major changes, selling assets and cutting expenses. We may be near a major secular bottom that comes around maybe once in a lifetime.
I never thought we would see this buying opportunity happen again in my lifetime but the correction has wiped the marginal investor out and forced them to sell assets for pennies on the dollar.
This is the law of the casino. Many go home empty handed, while only a patient few come out winners. I believe the selling capitulation now is giving value investors a major gift that may soon enter this beaten down sector big time.
Look for savvy investors come swooping in to pick up shares in early 2014 as they may see unbelievable opportunities in this space. Smart investors are on the lookout for assets trading at significant discounts to what major investors paid recently.
For instance, one company I like is a junior that Hecla (NYSE:HL) invested in at much higher prices. Hecla has one of the best technical teams and they do plenty of due diligence before making an investment. Looking to see if a junior is owned by a major can help a simple investor as myself to see that the project has merits. One can buy a junior at a discount to what a major paid for it. It doesn't take rocket science. Look at the corporate governance and see if a major is represented on the Board.
Bottoms of bear markets in junior equities like this are absolutely crazy as many institutions have abandoned the space. In a regular resource market high grade results, PEAs and Feasibility Studies mattered. Now many companies are trading at discounts that fundamentally could be much higher in a healthier market. This is the ideal market situation for takeover targets by astute investors who can buy assets at a discount to book value. That is why instead of watching the news on TV, I follow the money and look for assets which the majors or institutions are investing in even during this downturn. Look for the juniors that are able to attract capital and the attention of the majors to breakout in 2014.
Disclosure: I am long DNN. I wrote this article myself, and it expresses my own opinions. I am not receiving compensation for it (other than from Seeking Alpha). I have no business relationship with any company whose stock is mentioned in this article.