The shares of IBM (NYSE:IBM) are trading up quite briskly in today's late market action. What has me so excited is the shares are finally trading above the $190 level, which seems to have offered significant resistance since the fall of 2013. In the article below, I will examine the bullish case for IBM.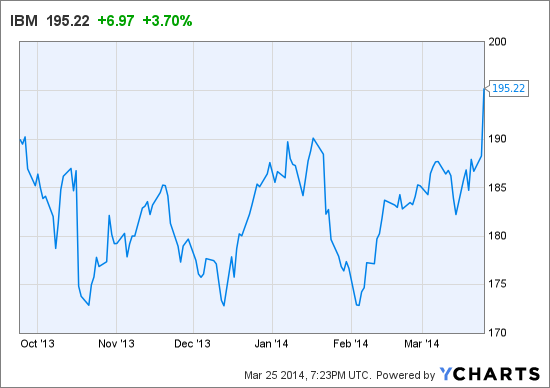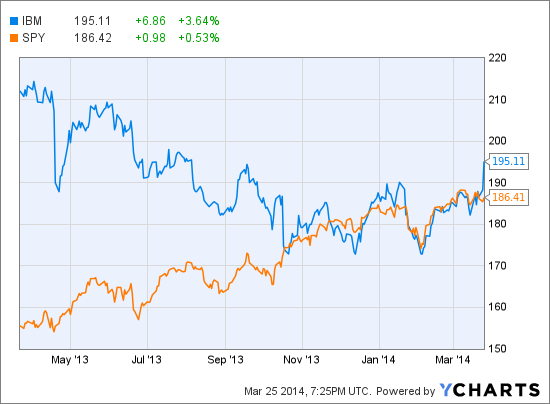 As we can see from the charts above, IBM has underperformed the overall market for the past year as it has undertaken the difficult task of transforming itself to a more service and software based company. In my view, the undertaking will eventually bear fruit as the margins as shown in the chart below for software and services are far higher than those found in its legacy hardware division.
Global Technology Services Gross margins 38.8%
Global Business Services Gross margins 30.7%
Software Gross margins 90.5%
Systems and Technology Gross margins 38.6%
Global Financing Gross margins 43.3%
Operating margins total is 52.6%
Info taken from the 4th Quarter Earnings Slides.
The naysayers will continue to bad mouth IBM stating they will continue to be killed by the cloud as corporations will move away from their more expensive systems. I suspect they will be proven wrong as the rollout into the cloud continues. For an early tell on how the transformation into the cloud is going, I looked at Oracle's (NYSE:ORCL) recent earnings release.
"In constant currency, our Cloud Software Subscriptions revenues grew 25% and our Engineered Systems revenue grew more than 30% in the quarter," said Oracle President and CFO Safra Catz. "Oracle Cloud Applications and Engineered Systems are both rapidly growing, billion dollar run-rate businesses. Those two high-growth businesses helped us deliver record year-to-date operating cash flow, and a record $15 billion of operating cash flow over the past twelve months."

"Sales of Oracle's Cloud Applications accelerated sharply in the quarter with bookings growth of over 60%," said Oracle President Mark Hurd. "Our quarterly Cloud Application revenue is now approaching $300 million. All of our strategic Cloud Application Suites, including Fusion Enterprise Resource Planning, Fusion Human Capital Management and Fusion Customer Experience, posted triple-digit revenue growth."
As we can see from the comments above, the growth of the cloud is certainly not leaving some of the existing legacy players such as IBM and ORCL behind as they continue to transition clients over to this format. In IBM's case, I suspect they will also announce similar outstanding cloud revenue growth as the investments they have made in this space continue to bear fruit. The wild card here for IBM's shareholders will be the performance of its hardware division, dubbed the systems and technology division. For further clues on the possible performance I will add a further quote from the ORCL earnings report.
"Oracle's Engineered Server Systems, including Exadata and SPARC SuperClusters, achieved over a 30% constant currency growth rate in the quarter, while throughout the industry traditional high-end server product lines are in steep decline," said Oracle CEO Larry Ellison. "Our Engineered Systems business is growing rapidly for the same fundamental reason that our Cloud Applications business is growing rapidly. In both cases, customers want us to integrate the hardware and software and make it work together, so they don't have to."
My take away from the above statement is the traditional server market continues to decline rapidly which validates IBM's decision to exit this area via their sale of the division to Lenovo (OTCPK:LNVGY). The question that will undoubtedly be answered during the next conference call revolves around whether IBM's remaining assets in the hardware division will be able to replicate the success ORCL's division announced. In my view a mere moderation of the bloodletting in the systems and technology division combined with growth in the software division should add to the appeal of the shares.
From a pure valuation perspective, IBM is undervalued as exhibited by its current valuation of roughly 2 time sales and 11.5 times 2013 earnings. The shares are currently offering a shareholder yield (dividends plus share repurchases) of over 7%, which I find to be quite appealing. I wrote a previous article in late December, nominating IBM as my pick for the best performing holding of the Dow 30. I still maintain that this is a distinct possibility with a mere good earnings report as the proper tonic for what ails the shareholders of IBM. A positive earnings report in my view may serve as the catalyst to ignite a rally to new heights, which very well may touch $250 this year for a gain of roughly 30 with dividends included. If this is not the case, I don't foresee much downside risk here as the shares are trading at a very depressed level that is being propped up by IBM's relentless reduction in shares outstanding.
Disclosure: I am long IBM, ORCL. I wrote this article myself, and it expresses my own opinions. I am not receiving compensation for it (other than from Seeking Alpha). I have no business relationship with any company whose stock is mentioned in this article.
Additional disclosure: Investors are always reminded that before making any investment, you should do your own proper due diligence on any name directly or indirectly mentioned in this article. Investors should also consider seeking advice from a broker or financial adviser before making any investment decisions. Any material in this article should be considered general information, and not relied on as a formal investment recommendation.