By Todd Shriber & Tom Lydon
As the search for income stretches on, issuers of exchange traded funds are coming up with new ways of spinning the previously bland concept of the dividend ETF.
One of the newest entrants to the dividend ETF fray is the First Trust RBA Quality Income ETF (NASDAQ:QINC), which debuted earlier this month. QINC tracks the Richard Bernstein Advisors Quality Income Index. According to First Trust:
The index attempts to control the risks associated with investing in higher-yielding stocks, yet maintain attractive current income. RBA believes stocks with extremely high dividend yields should be viewed cautiously.
Home to 52 stocks, QINC is essentially an equal weight fund as no single holding accounts for more than 2.46% of the ETF's weight. The new ETF eschews an emphasis on dividend increase streaks and other methodologies employed by payout funds in favor of risk control in an effort to avoid dividend cuts.
Richard Bernstein Advisors screens for debt levels and for consistency of earnings/cash flow to lower the chances of potential dividend cutters finding their way into QINC's lineup. With a median market cap of $3.91 billion, QINC differs from standard dividend ETFs that are typically large- and mega-cap heavy.
As a result, the new ETF is not excessively allocated to many of the stocks, such as Coca-Cola (NYSE:KO) and Procter & Gamble (NYSE:PG), investors are accustomed to seeing in dividend ETFs. That said, P&G, PepsiCo (NYSE:PEP) and Johnson & Johnson (NYSE:JNJ) are found in the fund's lineup.
However, QINC is not diverse at the sector level as financial services and utilities combine for 65% of the ETF's weight with no other sector receiving a double-digit allocation. The 24% weight to utilities is triple that of the next largest sector allocation, that being health care.
A more than 41% weight to financials might seem excessive, but that could work in QINC's favor going forward. The new ETF features a solid allocation to regional and community banks that could soon provide income investors with enhanced dividend growth, should the Federal Reserve allow more banks to boost payouts and buybacks later this week. Additionally, many of the banks held by QINC would stand to benefit from increased net interest margins as interest rates rise.
However, QINC can be seen as a versatile play on interest rates. The ETF's ample exposure to real estate investment trusts and utilities ensures the fund is an avenue for exploiting more sanguine rate environments.
QINC Top-10 Holdings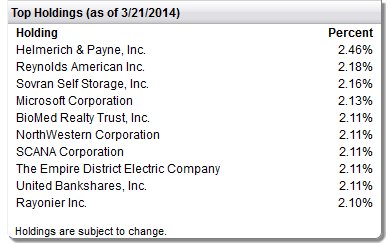 Table Courtesy: First Trust
Disclosure: I have no positions in any stocks mentioned, and no plans to initiate any positions within the next 72 hours. I wrote this article myself, and it expresses my own opinions. I am not receiving compensation for it. I have no business relationship with any company whose stock is mentioned in this article.