By Todd Shriber & Tom Lydon
There is no refuting that emerging market dividends are on the rise and are playing an increasingly important role in compensating investors as they wait for moribund developing world equities to rebound.
The proof is in the pudding on multiple fronts. Last year, emerging markets companies accounted for $1 of every $7 paid in dividends and payouts in developing economies have more than doubled over the past years, according to Henderson Global Investors.
Not only that, but as is the case in developed markets, emerging markets dividends can help damp volatility. Just consider the case of the WisdomTree Emerging Markets Equity Income Fund (NYSEARCA:DEM). According to WisdomTree research:
Relative to the MSCI EM, WTEMI (DEM's underlying index) has experienced lower volatility as measured by both its since-inception beta and standard deviation. Since inception, WTEMI's standard deviation has been 237 bps lower than the MSCI EM's, with a beta of 0.90.
Indeed, DEM was less volatile than rival diversified emerging markets ETFs last year. Dividends can also reduce volatility and enhance returns with emerging markets small-caps, as highlighted by the WisdomTree Emerging Markets SmallCap Dividend Fund (NYSEARCA:DGS).
Last year, DGS outperformed DEM, the Vanguard FTSE Emerging Markets ETF (NYSEARCA:VWO) and the iShares MSCI Emerging Markets ETF (NYSEARCA:EEM) while being less volatile than all three. This year, DGS is the only member of that quartet to trade higher, buoyed in part by exposure to resurgent Southeast Asian markets. Malaysia, Thailand, Indonesia and the Philippines account for nearly a quarter of the ETF's weight. According to WisdomTree:
We believe that small-cap stocks offer a different risk profile and return potential that at times can be complementary to large-cap securities. Some of the long-term research on equity markets suggests that small-cap value is one of the best-performing segments across long periods, and we think this strategy is very well represented in the emerging markets with a focus on small-cap dividend payers.
While it has often been said that active management is the way to go with emerging markets equities, the WisdomTree Emerging Markets SmallCap Dividend Index (WTEMSC), the underlying index for DGS, says differently. Over the three-year period ending Dec. 31, 2013, the index outperformed two-thirds of active managers. Over the five-year period, the number jumps to 94.3%, though it was about 50% last year, according to WisdomTree data.
DGS has over $1.7 billion in assets under management. Taiwan, one of the top emerging markets dividend destinations, and South Korea combine for 38% of the ETF's weight.
WisdomTree Emerging Markets SmallCap Dividend Fund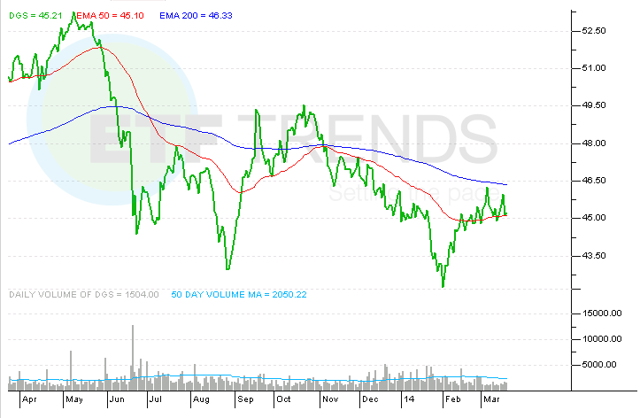 Tom Lydon's clients own shares of DEM and EEM.
Disclosure: I am long EEM, DEM. I wrote this article myself, and it expresses my own opinions. I am not receiving compensation for it. I have no business relationship with any company whose stock is mentioned in this article.