While it's fun for commentators to speculate on the direction of long-term Treasuries, the duration of the aggregate bond index is actually in the tame 4-5 year range, creating a stable overall bond market index. So what have been the extent of corrections in some major bond segements over the past 10 years?
The Vanguard Aggregate Bond ETF (NYSEARCA:BND) is a share class of the Vanguard Aggregate Bond Mutual Fund – a fund with a significantly longer history than the ETF. (BND and the mutual fund track each other very, very closely). Note that a 'normal' correction has been in the -2 to -3% zone with a maximum drawdown of -5.4%.
The second series is the longer-term investment-grade bond mutual fund from Vanguard as a proxy for the longer-duration investment-grade corporate bond ETFs. Most of the corrections in the past 10 years have been in the -5% to -10% range -- with a max drawdown of -17.9% in 2008 during the worst of the credit crunch.
images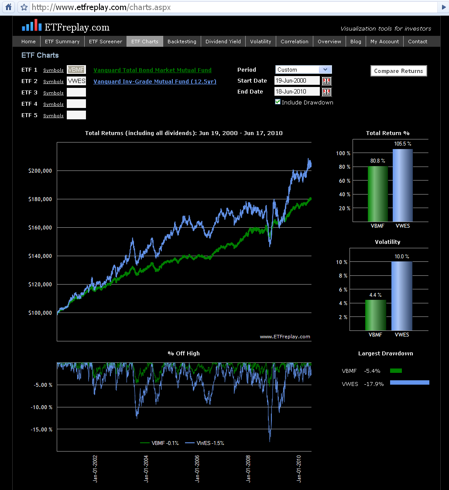 For a larger image click here.
Then there is the more interesting segment of the bond market: high-yield. High-yield bonds have in the past few years had drawdowns that are on par with some of the equity sector SPDR ETFs (as of June 18, 2010).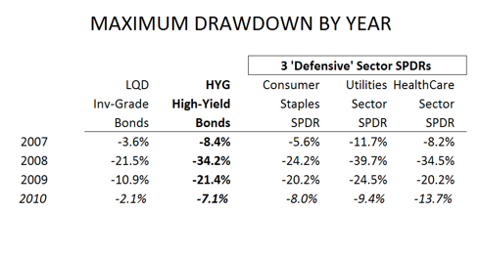 While credit spread charts – such as that below are often cited as indicative of sentiment in the bond market, watching the bond indexes through ETF total return charts is a much easier way to intuitively understand the extent of credit market movements in terms of profit & loss to your portfolio. Below is the credit spread chart of the iShares High-Yield Bond ETF (NYSEARCA:HYG) -- and then HYG total return plotted with the Consumer Staples equity sector SPDR.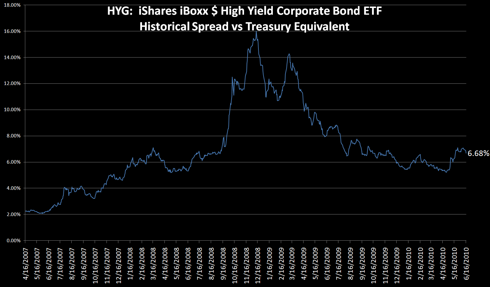 For a larger image click here.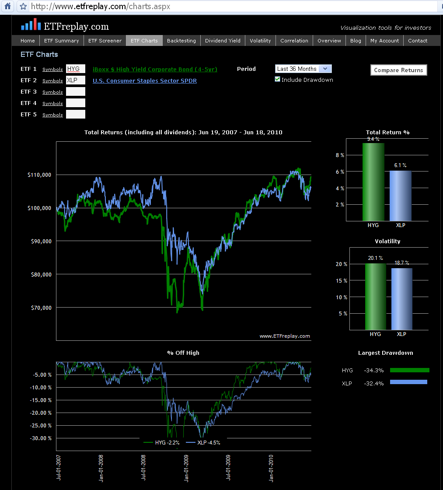 For a larger image click here.
The Consumer Staples ETF (NYSEARCA:XLP) is the most defensive of the Sector SPDRs -- this chart highlights the 'hybrid' nature of high-yield bonds -- these bonds correlate with equities more so than treasuries --- but these securities are not nearly as volatile as the financial or energy Sector ETFs.
Disclosure: Author is long BND