Yum! Brands, Inc. (NYSE:YUM), based in Louisville, Ky., has more than 37,000 restaurants in over 110 countries and territories and more than 1 million associates. Yum! is ranked #239 on the Fortune 500 List, with nearly $11 billion in revenue in 2009. Four of the restaurant brands – KFC, Pizza Hut, Taco Bell and Long John Silver's – are in the chicken, pizza, and Mexican-style food and quick-service seafood categories. The Yum! System includes three operating segments: U.S., International (Yum! Restaurants International) and China Division (includes mainland China, Thailand and KFC Taiwan).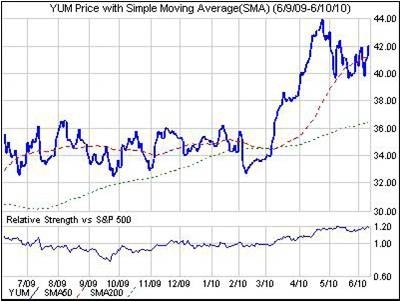 Yum! Brands Inc. Reports First Quarter 2010 EPS of $0.59, 23% Growth Excluding Special Items Driven by 37% Profit Growth in China; Expects Full Year 2010 EPS Growth of at Least 10%, Excluding Special Items. Yum! Brands Inc. Declares Quarterly Dividend of $0.21 per Share

It seems YUMs keeps growing ahead of the competition with great brands and a growing market. On March 24, 2010, they announced the grand opening of the first Taco Bell in India by its international division. KFC is the fastest growing quick-service restaurant brand in India with 72 restaurants in 13 cities as of year-end 2009. As of year-end 2009, there are also 158 Pizza Huts in 34 cities offering a range of localized products. By 2015, the Company expects to have at least 1,000 restaurants in India, up from 230 restaurants as of year–end 2009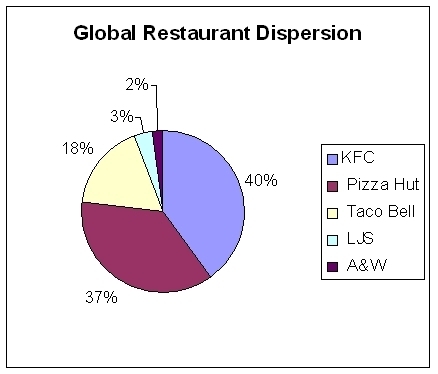 With globalization and a growing economy are pressures that come with expansion and the American way. After a six-month negotiation, U.S. fast food giant KFC on Thursday signed its first collective contract on the Chinese mainland with its employees in Shenyang, the capital of Liaoning province. According to the contract, more than 2,000 workers at the 66 KFC and Pizza Hut outlets under Yum! Brands Inc in Shenyang will get a minimum monthly wage of 900 yuan ($131.70), up from the existing 700 yuan.
Negative indicators for some:The Price/Book Value ratio is 17.00. The average Price/ Book for this Industry Group (Restaurants) is 8.85 The Price/TTM Sales ratio is 1.79. A stock with a low Price/Sales ratio indicates a stock is not overvalued. The Price/Sales ratio is significant since it is harder to manipulate sales than earnings. The Price/TTM Sales ratio for this Industry Group (Restaurants) is 0.89. This may indicate that the stock is overpriced to some. The Long-Term Debt/Capital is 74.02%. This indication of financial leverage measures the extent of a firm's capital that is provided by lenders. Below 25% reflects well on a company's financial stability. The average LT Debt/Capital for this Industry Group (Restaurants) is 38.91%.
Commodity prices for Beef, Chicken etc... affect this sector as well. Currently according to Barclays, most in the industry have provided guidance for commodity costs for 2010 as well as limited directional color for 2011. They compiled guidance based on company conference calls and conversations with management. For 2010, most restaurant companies have guided to a flat to favorable commodity basket, with very few forecasting an inflationary basket y-y, despite pressures likely returning in the back half of 2010. The biggest and most relevant concern for the remainder of 2010 is beef, with burger meat the greatest culprit (50's trimmings currently up 30% y-y & 90's up 15% y-y), leading to greater pressure on the burger chains. As for 2011, the early read is for modest inflation, but manageable.
On the bright side Cramer reported - 150 Million People Need to Eat, Right? Cramer expects growth in the restaurant business, especially in fast food. Yum! Brands will be one to watch, he said. The company is growing at a 37% clip in China, where it opened 96 restaurants in the first quarter alone. The TTM (Trailing Twelve Month) Price/Earnings (P/E) ratio is 18.50. This ratio is lower than the average P/E for this Industry Group (Restaurants) which is 33.66. The P/E of the S&P 500 is 21.83.The Return on Assets (ROA) is 18.63. A high ROA is a good profitability measure since it reflects the ability of management to produce profits from each dollar of company assets. The average ROA for this Industry Group (Restaurants) is 4.46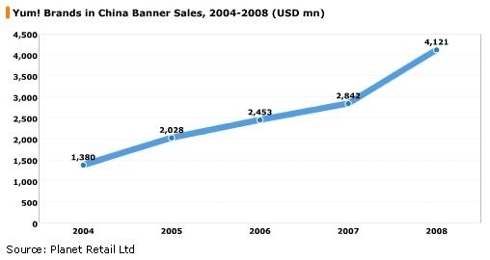 YUMs has a wide variety of popular foods in almost all corners of the fast food industry with Brands like A&W Restaurants (global, limited in Canada), KFC / Kentucky Fried Chicken (global), Pizza Hut (global), Taco Bell (global), WingStreet (United States, Canada and Germany), Long John Silver's (United States, Puerto Rico, Taiwan, New Zealand, Australia and Singapore), Dong Fang Ji Bai 东方既白 (East Dawning) (People's Republic of China). From a market perspective, Yum faces its fiercest competition in the US. This is due in large part to the fact that US market is extremely saturated with Quick Service Restaurants. Overseas, Yum has a very strong position and plans to expand its already very successful International division into continental Europe, Russia, and India.

Its value is a far distant #2 in market cap at almost $16 billion. The revenue estimates for 2010 are about $11.1 billion and for 2011 are about $11.46 billion. JP Morgan analysts have reviewed their ratings and price targets on McDonalds (NYSE: MCD) and Yum Brands (NYSE: [[Yum]]). They like both stocks at current prices but understand investors will use macro thoughts for increased/decreased exposure based on concern/confidence in Europe's major consumer economies for MCD and China for YUM. MCD remains their best low risk/absolute return idea, while YUM presents China consumer opportunity rare in US consumer companies.
While it may be less of a value play at its current price, I agree with Cramer, it represents a large area for continued growth.

Disclosure: Long YUM