By Jeff Pietsch
Markets continued their march higher on falling volatility with a growing slate of tracking indices recapturing their ten-month moving averages. In fact, the week's action left the S&P 500 (NYSEARCA:SPY) higher by +2.4%.
(Click Image to Enlarge/ ETF Rewind Glossary)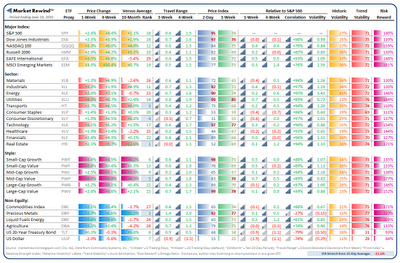 While this has been a very nice recovery, the number of short-term overbought readings has also increased and those falling fifty-day moving averages may be tempting for short-sellers to re-initiate positions just overhead. Lastly, looking at the ranks underlying our rotation models, I see that the current US Dollar (NYSEARCA:UUP) safety position just merely missed being eclipsed by small-caps (NYSEARCA:IWM). That would be a bullish development indeed -- but we aren't quite there yet.

Nearing the mid-point of the year, Week Twenty-Five of 2010 brings housing, durable goods and a Wednesday Federal Open Market Committee Rate Statement, as follows:
I hope you have a terrific weekend!
Disclaimer: Never Investment Advice