The delay in the completion of Nokia (NYSE:NOK) and Microsoft (NASDAQ:MSFT) deal is painful. While there's little chance of it being cancelled, I'm convinced that Nokia can still prosper even without the $7.2 billion from Microsoft.
While it is not an indication of true sales, JD.com did say that the Nokia X got 10 million pre-orders in a week from Chinese buyers. The first batch of Nokia X units that was available for sale on March 25 sold out in 4 minutes. Of course, this might just be hype and not accurate figures.
However, even if only 500,000 Chinese customers buy the Nokia X, it will already be more successful than most Windows Phone 8 Lumia models. The low price tag is a winning formula considering the Nokia X supports dual-SIM and has decent technical specs.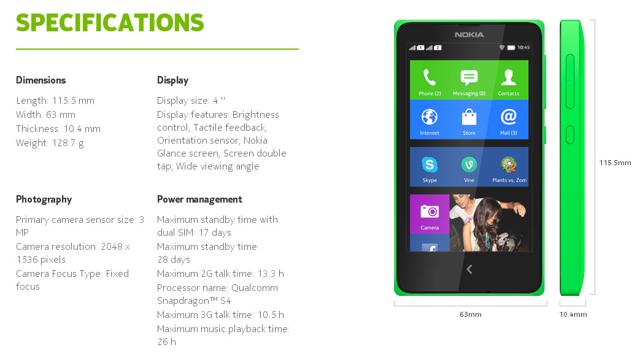 Source: Nokia
10 Million for Just 1 Nokia X Android Phone Is Possible
A total global 10 million sales for the Nokia X is not farfetched. The low $100 to $120 retail price of this Nokia Android phone makes it very attractive to low-income people in China and other emerging markets. Some greedy sellers at eBay Philippines are already bidding out pre-orders of the Nokia X with minimum bid prices 30% higher than the MSRP of $120. I fell for this trick yesterday, I thought I was bidding for a unit that's already in stock but the eBay seller clarified that the Nokia X unit will be delivered only after it arrives from his China supplier.
There it is, there are many non-Chinese customers who are also eager to own the first batch of Nokia X. The Nokia brand used to be the must-have phone in the Philippines, not Apple (NASDAQ:AAPL), not Samsung (OTC:SSNLF), not BlackBerry (NASDAQ:BBRY).
I'm convinced that the Nokia X AOSP smartphone is already more popular in China and can be more successful than any Windows Phone 8 Lumia model. Nokia managed to sell around 30 million Windows Phone 8 phones last year mainly because of the entry-level Lumia 520.
No matter how much Microsoft offers marketing subsidies, Nokia will have an easier time selling Android phones in emerging markets. The Android OS has a bigger app store which is a big reason why low-income people buy cheap Android phones.
Nokia can even offer really cheap variants of the Nokia X by using cheaper components. Instead of using Qualcomm SoCs, Nokia can perhaps approach MediaTek for cheaper processors so that $80 Nokia X variants are made profitable.
Of course, Nokia can also go head to head with Samsung on high-asp phablet and premium phones. The Nokia X platform is not limited to low-entry phones. Nokia can make an Android OS version of the Lumia 1620 and Lumia 1020, same hardware, different OS.
Nokia Has The Money For Nokia X Saturation Campaign
Nokia is not cash-poor that it is desperately in need of the $7.2 billion money from the D&S sale to Microsoft. Based on its latest financial report, Nokia has a decent net cash flow position. The cancellation of the Microsoft deal is not a catastrophic event for Nokia investors.

Source: Screenshot from here.
Net cash of 2.3 billion euros means Nokia doesn't even need to borrow money to support a saturation crusade to make the Nokia X as popular as the Nokia Asha. The distribution network is already in place. Marketing money and incentives to a few select distributors will not severely constraints Nokia's cash flow.
The handset division is still a formidable revenue generator for the company. Perhaps Nokia can make a little net profit from selling Android phones than Windows Phones. Making and selling phones used to be the company's biggest cash cow. Elop's switch to Windows Phone did not help the company catch up with Samsung and Apple. Granted, Lumia's robust sale last year did help Nokia reduce its D&S division's losses.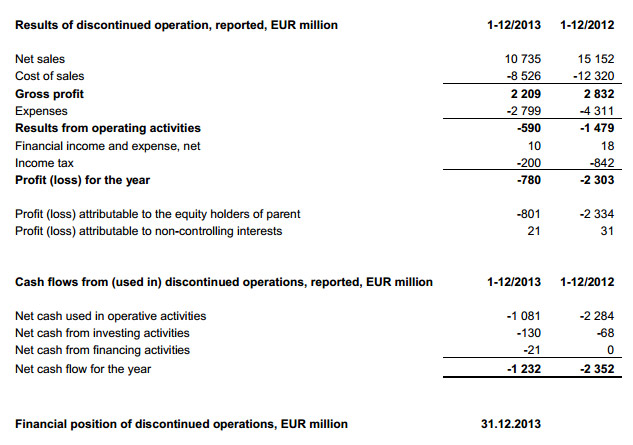 Nokia, along with BlackBerry, was the biggest casualty of poor management. A historical perspective shows Nokia's missteps in the smartphone business precipitated its decline. If only Nokia's management was smart enough to join the Android bandwagon along with Samsung and others, the big losses could have been minimized.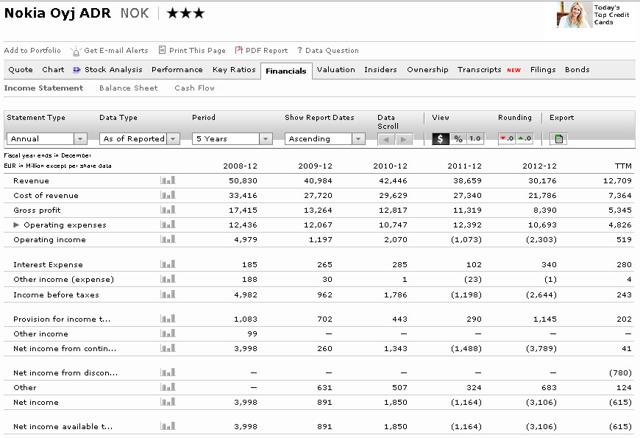 Source: Screenshot from Morningstar.com
It is never too late, some naysayers that Nokia is late to the Android party but I disagree. Android phone customers do not have the same crazy loyalty that iPhone users have. Nokia can certainly win market share from Samsung, LG, Lenovo, and HTC. Nokia sold more than 30 million WP8 Lumia phones last year. The bigger appeal of Android apps should help Nokia sell more than 30 million Nokia X phones every year.
Even John Chen of BlackBerry did not abandon the money-losing handset business. BlackBerry's phone business suffered greater losses than BBRY did. Nokia is in a better position to recover its former glory in the phones business.
Selling Android Phones Helps HERE Maps
I also believe that HERE's dominant presence in the car navigation system might also get a helping hand from Nokia selling Nokia X Android phones. The more people using Nokia smartphones, the more valuable HERE Maps can be to mobile advertisers and data miners.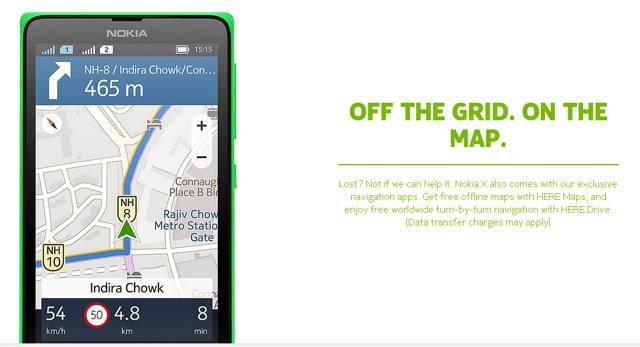 Source: Nokia
Nokia needs HERE Maps to have more users so that it contributes more to the company's bottom line. HERE Maps should not only rely on car makers or navigation/infotainment companies, mobile advertising players are also good source of licensing fees.
Conclusion
Let me make it clear, I prefer that Nokia sells its D&S division to Microsoft. But do understand that my bullish outlook for Nokia will not waver even if Microsoft walks away from the deal. In fact, I'll even buy more NOK shares if Nokia stays in the phone business with the Nokia X as its priority platform, not WP8.
NSN is winning a lot of contracts worldwide and Nokia can always generate more money from its patent portfolio to offset any early losses during the early stages of Nokia's comeback. I'm long and strong on NOK.
Nokia used to be very efficient and profitable. Being careless, Nokia got knocked out of the smartphone ring like Marquez knocked out Pacquiao. I lost a big bet on that 6th round knockout.
I believe D&S and its 30,000 employees are better off staying under Nokia. Microsoft has no real winning record in the mobile arena. Elop running Devices at Microsoft may prove to be another losing preposition.

Source: Screenshot from Morningstar.com
Disclosure: I am long NOK. I wrote this article myself, and it expresses my own opinions. I am not receiving compensation for it (other than from Seeking Alpha). I have no business relationship with any company whose stock is mentioned in this article.