When BlackBerry (BBRY) first announced and released BBM, or BlackBerry messenger across several devices - there was fireworks in the air. iPhone and Android users rushed to secure their place in line. Now, BBM is not as highly talked about. The spike is evident in late October, when news struck regarding the release of BBM on iPhone and Android devices.
(Source)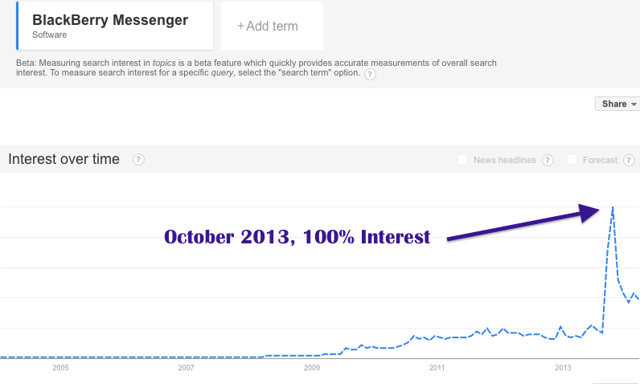 Looking into a BBM monetization value could be difficult. Recent parallels have surfaced though. Facebook (NASDAQ:FB) recently acquired WhatsApp for $42 per monthly average user - based upon 450M MAUs for a $18B price tag.
Another messaging application, Viber was also recently acquired by Rakuten for $900M, equating to $8.57 per user based upon 105M MAUs.
Based upon WhatsApp's valuation, BBM could be worth $3.4B. While using Viber's valuation, BBM would be worth around $686M if sold. BlackBerry does not seem to eager to sell off BBM - as it is a key part of their business and a determining sales factor driving their phone sales. In the past, BBM has received its value through the comparative sale of other messaging applications, although it doesn't look like BlackBerry is looking to sell BBM anytime soon.
BlackBerry has instead moved to monetize BBM. The real question is whether or not it will be a substantial help to the company's bottom line.
Monetization:
WhatsApp charges $0.99 per user after the first year - a model that has worked well for them although may be hard for other applications. This is because WhatsApp is a market leader, so they can dictate a small price after a free year of use, and enjoy success in doing so. I doubt BlackBerry has pushed off a sale of BBM to enjoy the meager $20M in revenue WhatsApp enjoys. WhatsApp could also be trying to increase their market reach before a full out monetization scale though. Any plans will be set by Facebook , the recent buyer of the company.
As such, BlackBerry will need a different way if it wants to monetize BBM successfully.
BlackBerry has recently released its plans for monetization of BBM moving forward. The company has stated that BBM will be monetized using several methods.
Sponsored channels for brand looking to reach out to consumers.
The sale of stickers and virtual goods through the new BBM store.
Sponsored channels is an area that is generally new in the market, while virtual stickers are already being used to monetize messaging applications like Naver's Line and Tencent's WeChat. Stickers work relatively easily. Instead of sending a smiley face, you can send a sticker of your favorite sports team or T.V. character. Sponsored channels is an area that is relatively new, and if differentiated successfully can help BBM stand out from other messaging applications on a marketing standpoint. Especially since there are so many messaging applications available today.
Some of these private messaging applications do not disclose their income, but some do. For example, Line stated that its revenue jumped to $120M from roughly $20M the year before. Obviously the sale of stickers is paying off.
BlackBerry is competing in a very competitive messaging marketplace. The only reprieve to having multiple messaging applications is that users can download each one with relative ease, but they are likely to stick to their favorite to save time.
In addition to WhatsApp's 450M MAUs and Viber's 105M MAUs, Kakao Talk has 130 MAUs and is planning an IPO. While KIK has 100 MAUs and is not planning an IPO. Line has north of 300M MAUs and is set to seek a $30B IPO this June if they can reach 500M MAUs. Lastly, WeChat also has around 300M MAUs as well. The point is that BlackBerry is far from the only messaging application around - and if they are hoping that their past prowess will hold it afloat against many innovational companies, they are going to have to strive to be better.
One key aspect in monetization of messaging apps is that Western users are worth more than international users. Here is where the divergence in BBM comes into play, and why it can be a make or break scenario for BlackBerry.
Nomura has calculated that WeChat's MAU is worth $231, granting it a $70B valuation. With 300M MAUs this is less than WhatsApp's 450M MAUs, although the MAU is higher since WeChat is better at monetizing its user base. if Facebook for example can monetize WhatsApp's 450M user base the way WeChat does - you can do the math on the value. It all comes down to how these applications are monetized.
Unlike in America, where the only way we seem to monetize a consumer app is through shoving ads at us constantly, over there, WeChat and Line make money through selling stickers, games, and also buying things. For example, you can now pay for taxis and food in China through the WeChat app. In Thailand recently, Line did a group-buying flash sale which was incredibly successful. It turns out, if you aggregate the users, you can sell to them. Ads are not really part of this equation. - Eric Jackson, Forbes.
As we can see, messaging applications like WeChat and Line have higher MAUs due to their increased ability to monetize their user base. Specifically though selling stickers in addition to other things - much like what BlackBerry has announced.
The same view of "gaining a large messaging application user base to then monetize" is what Mark Zuckerberg has in store at Facebook. If he is able to monetize the giant userbase of WhatsApp the way other companies have, it can ad considerable value to FaceBook. The purchase of WhatsApp cost Facebook 11% of its company - a large price for a potentially giant future value.
BlackBerry is not slowing down with the growth of BBM either. The company is expected to launch an enterprise version of BBM, named eBBM, designed for regulated industries. This can help BlackBerry distinguish between its consumer user base using BBM and its more corporate side using eBBM - it will also help from both a marketing and targeted advertisement standpoint as well.
eBBM will also feature end-to-end encryption, although it should be noted that other companies already offer this feature without stating it openly. Apple's iMessage for example offers end-to-end encryption already.
Risks:
Facebook is a major application in the smartphone app world. If Facebook is able to link WhatsApp with its popular Facebook application, this could prove to be a deadly combination due to Facebook's popularity.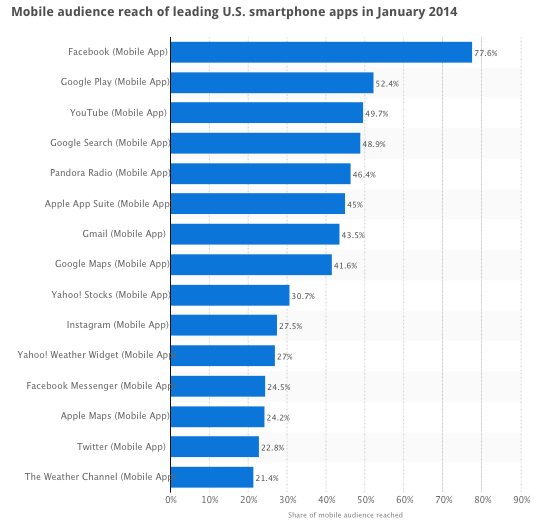 (Source)
Also, other messaging applications already have large user bases (described earlier). As such they are still growing and have significant reach in the marketplace. Their massive reach can prove to be harmful to messaging applications with smaller user bases, such as BBM.
(Source)
Conclusion: Make Or Break
BlackBerry is at a make or break period with BBM. The company competes against many other companies who have much larger user bases - a key competitive threat to BBM. On the other hand, if BlackBerry is successfully able to monetize BBM in the spirit of companies such as WeChat and Line, it can explain why BlackBerry has not sold off BBM. If successful, BBM could be worth a lot of money if monetized successfully.
If BBM's channels prove a key differentiator from a marketing standpoint, to help BBM stand out from other applications, this can really help BBM's monetization value. Stickers and other monetization items will also have to prove successful. BBM and the coming eBBM is also a move in the right direction, targeting consumers and professionals. If you do not have the stomach to see if John Chen can pull off a successful monetization of BBM, you can always put your money in Mark Zuckerberg's plans to monetize WhatsApp.
Disclosure: I have no positions in any stocks mentioned, and no plans to initiate any positions within the next 72 hours. I wrote this article myself, and it expresses my own opinions. I am not receiving compensation for it (other than from Seeking Alpha). I have no business relationship with any company whose stock is mentioned in this article.
Additional disclosure: This article is informational and in my own personal opinion. Always do your own research and contact a financial professional before executing any trades.