My last article on Wells Fargo (NYSE:WFC) was written on 27 December of last year, when the company was trading at an adjusted closing price of $45.20. In that article, I argued that the bank's solid financial position relative to its peers would stand it in good stead in terms of future growth. Almost three months later, I have yet to be disappointed with the stock posting (at the time of writing) a 2.55% gain in one day to $49.03. That's an 8.5% return in three months, and more broadly the stock is up over 15% since I purchased it at an adjusted closing price of $42.47 on July 15 of last year.
Undoubtedly, a major event in the banking industry that sets much of the tone for the year's proceedings is performance in the Federal Reserve's annual Dodd-Frank "stress tests". Simply put, a bank stress test seeks to identify how a banking institution would perform under a series of adverse economic scenarios. If performance continues to be robust and it is determined the firm would have sufficient capital to absorb losses under tough financial conditions, then the bank is deemed to have passed the stress test.
The Federal Reserve's "Severely Adverse Scenario" sets out the following conditions to test whether a financial institution can maintain sufficient capital reserves under the following conditions:
Federal Reserve - Adverse Economic Condition Scenario

By far one of the most important measures of a bank's stress test performance is its Tier 1 Common Equity Ratio; the ratio of a bank's core equity capital to its risk-weighted assets, excluding preferred shares or non-controlling interests. Using this ratio, a firm's capital adequacy can be ranked as follows:
Capital Adequacy Rankings
| | |
| --- | --- |
| Well-Capitalised | 6% or more |
| Adequately Capitalised | 4% or more |
| Undercapitalised | Below 4% |
| Significantly Undercapitalised | Below 3% |
| Critically Undercapitalised | Below 2% |
According to the Federal Reserve, Wells Fargo's lowest and ending Tier 1 Common Equity ratio under Basel I is 8.2% for the nine-quarter test horizon ending December 31, 2015. The bank's own stress tests are slightly higher, for lowest and ending results coming out at 9.7% and 11% respectively.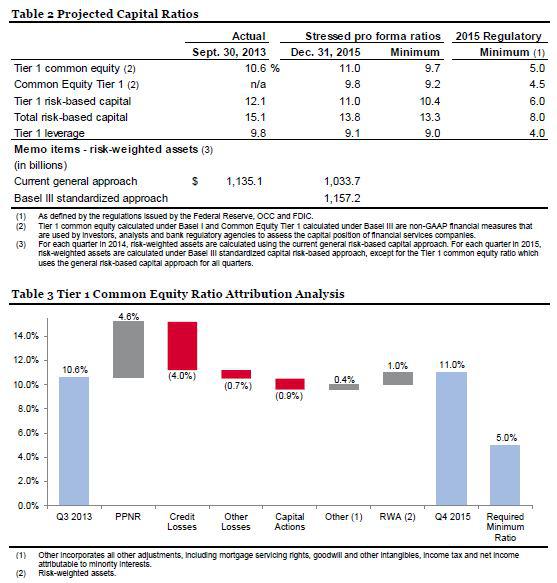 In terms of market capitalization, JP Morgan (NYSE:JPM), Bank of America (NYSE:BAC) and Citigroup (NYSE:C) are Wells Fargo's largest competitors. From the below, we can see that the Federal Reserve has deemed three of the four banking institutions to be "well-capitalised", with Bank of America falling under the "adequately capitalised" bracket with a score of 5.9.
Federal Reserve Tier 1 Common Ratio Rankings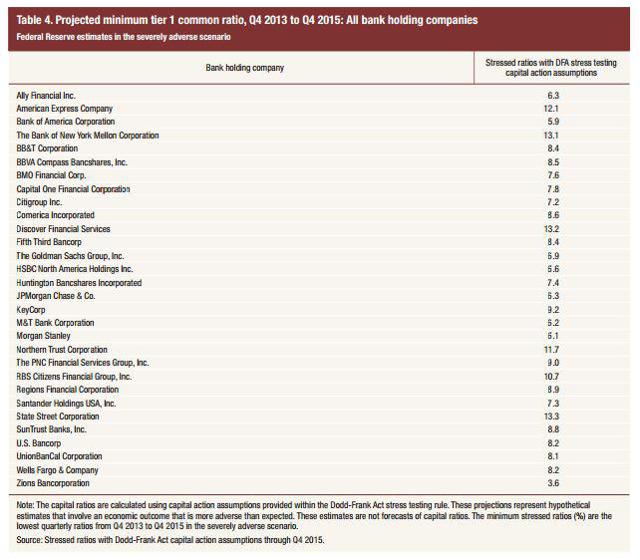 Wells Fargo Earnings Performance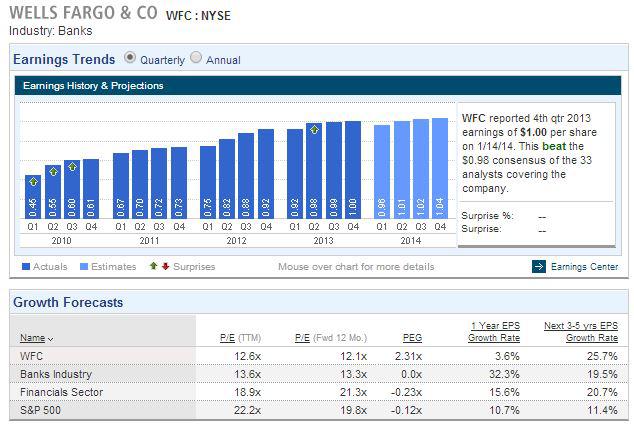 In addition to the firm's strong Tier 1 Common Ratio performance, Wells Fargo also seems to be in a prime position to manage the financial risks inherent to the banking sector; market risk, liquidity risk and credit risk. In this regard, banking revenue is highly dependent on market interest rates, as this determines the revenue spread banks earn in terms of the difference between interest paid on deposits and interest charged on financial services offered. An important distinction must be made between interest and non-interest income. The latter represents income earned from sources that generate revenue independently of interest rate directions, most commonly through a range of fees for banking products. This aids the firm's liquidity and creditworthiness, ensuring that the bank will be able to meet its debt obligations in times of financial distress. It can be seen that Wells Fargo has a very nice blend between interest and non-interest income on its balance sheet, which positions it quite favourably in terms of meeting financial obligations under adverse economic conditions.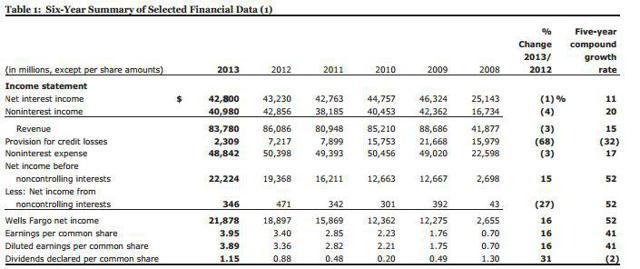 Conclusion
It is clear that Wells Fargo leads the pack among the major banking institutions; receiving one of the highest scores for all banks tested. The firm continues to have one of the lowest debt levels among its competitors, along with continued growth in earnings (with its $1.00 EPS in Q4 beating the $0.98 analyst consensus as illustrated above). For all of these reasons, I am staying long on Wells Fargo.
Disclosure: I am long WFC. I wrote this article myself, and it expresses my own opinions. I am not receiving compensation for it (other than from Seeking Alpha). I have no business relationship with any company whose stock is mentioned in this article.