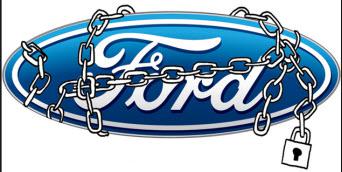 As my followers know, I have been a Ford (NYSE:F) bull for most of my career. Yet, I have written some bearish pieces in the past when I see risks to the stock mounting. This is one of those times. If you review the chart, it actually underpins my bearish thesis. The stock is in a well-defined downtrend and down over 10% over the past six months.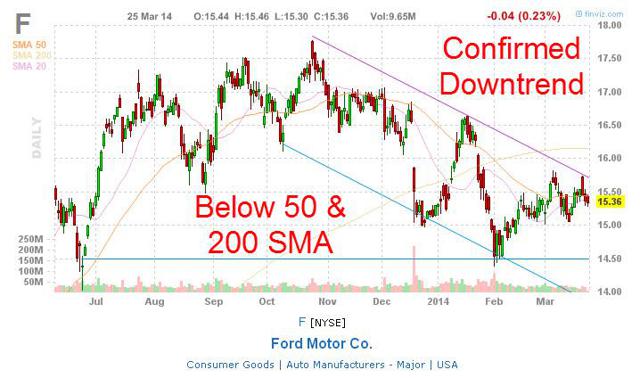 (Chart Provided by Finviz.com)
In the following sections I will lay out the reasons why I posit the stock's performance is weak and heading lower for at least the rest of 2014.
March sales miss may be catalyst for further downside
Ford will release March sales data on April 1st 2014. Early indicators are that auto sales are lagging in March. Kelley Blue Book analyst Alec Gutierrez recently stated,
"If we're going to reach our expectation of 16.3 million sales for the full year, we need to see a SAAR of 16 million or so in March. Based on the first 14 days, we're closer to 15.6 million."
J.D. Power and Associates indicates sales for March are tracking at an annual selling rate of 15.6 million. The mark is slightly below the research firm's forecast of 15.8 million. Auto industry analysts see March as a make or break month for the industry if it hopes to reach full-year expectations. Extreme weather events during the first quarter haven't helped either. March inventory levels are currently running high which could squeeze revenues due to potential sales events. These developments do not bode well for the stock in the near term.
2014 profit margins set to suffer due to a myriad of issues
I posit profit margins will be under extreme pressure in 2014 due to a myriad of issues. Please review the following list of potential threats to 2014 profit margins.
Substantial expense increases from record number of new products being introduced this year
Increased costs at Chinese facilities where Ford is greatly increasing capacity.
Increased production down time as Ford transitions to the new aluminum F-150 trucks.
Losses in Europe may continue to narrow, but will still be significant.
Investment expenses related to all these initiatives may pressure margins as well.
Competition is intensifying which may pressure sales prices.
Higher raw materials costs
Many of these potential profit margin pressures are related to investments Ford is making for the future. The stock may be in for a rebound due to these initiatives, but not until at least 2015 in my view.
Geopolitical climate is a negative
Ford has three auto factories in Russia. The company is closely monitoring the sanctions against Russia due to the Ukrainian dilemma. Mark Fields, Ford's chief operating officer recently stated,
"Some new sanctions were announced yesterday and we're trying to understand what those are. At this point, we don't believe it's going to hurt our business. The issue we've been looking at is the overall health of the economy in Russia right now with the ruble weakening."
I would say the focus on Russia alone is a myopic view of the situation. A backlash in Russia towards US products would be trouble for Ford no doubt. Yet, I postulate the bigger question is what happens to Europe if the situation exacerbates? Europe is already in a weakened state. If the rhetoric turns to reality between the EU, US and Russia, the company is in for a much bigger hit than just Russian operations. Regardless, the current state of geopolitical affairs is a negative for the stock.
The brighter side
Investing in the future
Ford is investing in its future. The increase in the company's capital spending plans for mid-decade from $6 billion to $7.5 billion should improve future sales opportunities.
Possible increase in return of wealth to shareholders
Ford's recent comments about potential special dividend payments and share repurchases bode well for the stock.
Finance segment projected to stay on track
The financial services division should remain profitable and continue to contribute to the bottom line.
Conclusion
Ford is investing greatly in its future. Nevertheless, this will weigh the stock down throughout the remainder of 2014 in my view. I see better buying opportunities ahead for the stock. There is too much uncertainty in the air for me to pull the trigger at this point. I would wait at least until after the next earning announcement prior to starting a position. It is not written in stone that all these investments will pay off either. I am on the sidelines for now.
Disclosure: I have no positions in any stocks mentioned, and no plans to initiate any positions within the next 72 hours. I wrote this article myself, and it expresses my own opinions. I am not receiving compensation for it (other than from Seeking Alpha). I have no business relationship with any company whose stock is mentioned in this article.