Potash Corporation of Saskatchewan Inc. (NYSE:POT) was recently upgraded to a market perform rating by research analysts at Cowen and Company. The company has an average rating of hold and operates as the biggest integrated fertilizer and associated industrial and feed products provider in the world. The company extracts agricultural and industrial nutrients from its five potash mines in Saskatchewan and one in New Brunswick. The three key crop nutrients produced by the company include potash, phosphate, and nitrogen.
Analysts, such as those at Zacks Equity Research, are concerned about the adverse effects of lower prices for all three nutrients traded by the company as they impact the company's financial performance materially. Therefore, I will analyze the company's outlook for the coming year accounting for these factors.
The company generated 41% of its total sales of $7305 million in FY 2013 from potash products, 31% of its total sales from nitrogen products, and 28% of its total sales from phosphate products. As far as contribution to the company's bottom line is concerned, the company's potash product segment contributed 57%, nitrogen products contributed 32% and phosphate products contributed 11% to the company's total gross profit in FY 2013. This reflects the fact that the company's potash operations are its major top and bottom line drivers followed by nitrogen. Therefore, I will begin my analysis by determining the outlook of potash and nitrogen demand and prices.
Potash and Nitrogen Outlook
Potash is the namesake of the company and its principal business. With 20% of global capacity at the company's Canadian operations the company has more potash than any of its peers.
The following pie chart illustrates the fact that the company generated 39% of its total potash sales volume from North America while a majority of its potash sales volume, 61%, was generated offshore. Therefore I will discuss the global outlook of potash for the coming year.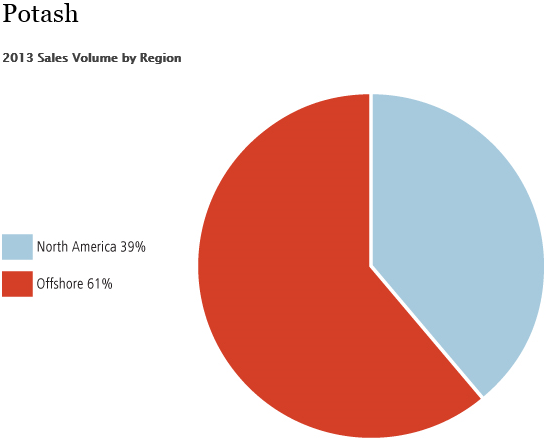 Source: POT
After recording weak prices over the past two years, the potash prices seem to have found a bottom and have started to recover in some regions. It is forecasted that demand for potash will increase considerably in 2014 due to the need to replenish thin distribution pipelines in some countries. It is projected that the global Muriate of Potash (MOP) shipments will rise to a record 57 to 59 million tons in 2014 from around 52 million in 2013 as shown in the chart below.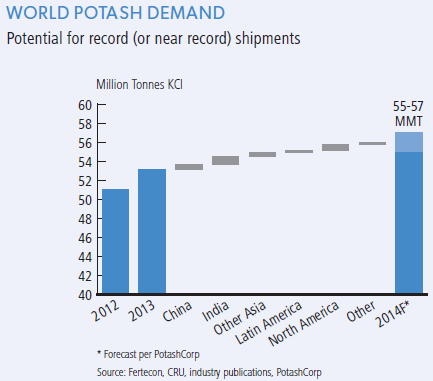 Source: POT Annual Report
The "Big Six" will lead the rebound in 2014. These "Big Six" countries include North America, Brazil, China, India, Indonesia and Malaysia and account for approximately two-thirds of the world's MOP shipments. Although each region is projected to record a gain this year India is of note with MOP imports expected to rise from around 3.2 million tons in year 2013/2014 to 4-4.5 million tons in 2014/2015. Brazil is also likely to spread out its strip of record imports again this year with MOP imports of approximately 8 million tons reflecting a rise from 7.7 million in 2013. North American MOP shipments are projected to be around 9.92 million tons in 2013/2014 further rising to 9.97 million in 2014/2015.
The forecasts above are in line with the medium-term supply/demand fundamentals accounting for the agricultural consumers' shift to more balanced diets, urbanization, and the need to grow crop yields as less arable land is available according to TD economist Sonya Gulati.
As a result, there are forecasts of reasonable demand recovery that will benefit the potash industry allowing it to conclude 2014 with a positive pricing note. Some speculators also believe that Western sanctions on Russia could cause a gain for non-Russian potash suppliers.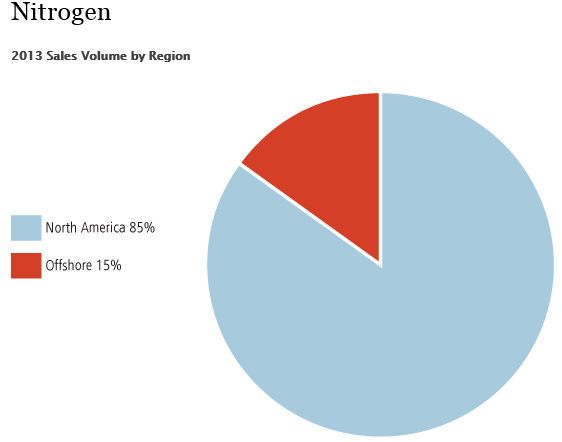 Source: POT
The pie chart above illustrates the fact that the company generated a majority (85%) of its total nitrogen sales volume from North America. Hence, I will discuss the outlook of nitrogen demand and prices in North America.
The 2014 outlook for the crop nutrient industry in North America remains promising supported by record 2013 corn production, attractive corn prices, and the highest stated level of U.S. farm income in four decades. As a result, cultivators maintain substantial incentives to plant corn to cater to the growing world population and provide for the production of renewable fuels.
As a prominent supplier of nitrogen-based plant nutrients CF Industries expects that U.S. farmers will cultivate 92 million acres of corn in 2014. Along with other crops this level of corn cultivated acres should turn to aggregate U.S. nitrogen demand of 13.3 million nutrient tons in 2014 with domestic nitrogen manufacturers operating near full capacity and imports will fulfill around half of this demand. The profit potential from cultivating corn, wheat, and other nitrogen-intensive crops back vigorous planting intentions and reinforces very positive nitrogen demand in the year 2014.
Now that we have determined that the demand and prices of the company's two major top and bottom line drivers will improve in the coming years let's discuss other factors that will benefit the company's bottom line and returns to shareholders.
Factors that will Benefit the Bottom Line
Cost-Cutting Initiatives
Potash Corp. reduced around 18% of its workforce in FY 2013 due to soft product demand. This resulted in severance-related costs of $60 million related to workforce reduction in Q4 FY 2013. This is a one-off item and the impact of this will be positive for the company's bottom line in the coming periods as costs are reduced.
Additionally, the company has set targets to reduce its cash cost of production for potash as shown in the chart below.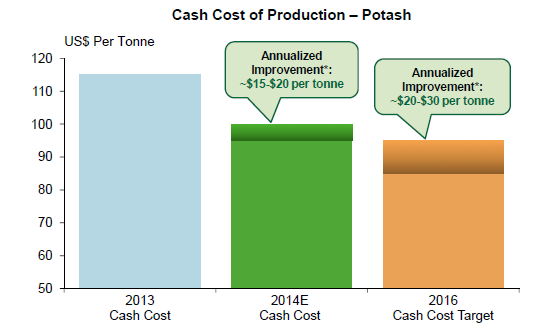 Source: POT 2014 JPMorgan Presentation
This reduction in costs will be achieved through investing in projects that are more cost effective and improve the company's margins in the coming years.
Effects of Natural Gas Prices on Margins
Natural gas is fundamental for most of the world's nitrogen production and can account for 70-85% of the cash cost of producing a ton of ammonia, the feedstock for downstream nitrogen products. Long-term supply of cheaply-priced natural gas is consequently crucial to maintaining success in the nitrogen industry. The U.S. is in an advantageous natural gas cost position because its growing shale gas supply has decreased prices for domestic natural gas.
The EPS of Potash Corp is sensitive to natural gas prices. The company recorded $0.03 positive impact on its EPS of $2.04 for FY 2013 due to the decreased cost of natural gas. A $1/MMBtu increase in NYMEX gas prices reduced the company's EPS generated from Nitrogen by $0.06 and $0.01 from Potash.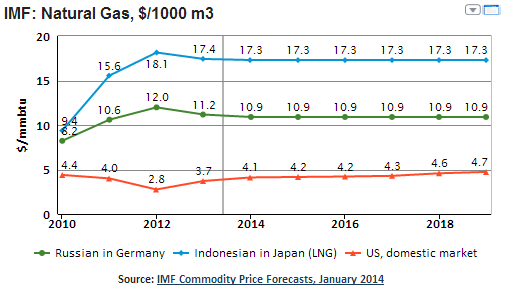 Source: Knoema
The chart above projects relatively stable natural gas prices for the coming years and the company uses derivatives to hedge against the volatility of natural gas prices. The U.S. natural gas futures reached a five-year high of $6.27 per million metric British thermal units (or MMBtu) in February 2014 due to cold weather in the U.S. and then retreated to $4.42 per MMBtu in March 2014. Citigroup anticipates natural gas price to average $5 per MMBtu in 2014.
Canadian Dollar Depreciation will Support Bottom Line
The Canadian dollar (CAD) is forecasted to fall to US 85 cents by mid-2014 according to TD bank after depreciating more than 4% against the U.S. dollar (USD) since the beginning of 2014 when it reached a low of $0.89 in January 2014.
This decline in the value of the CAD against the USD is due to the ordinary outlook for commodity prices and underperformance of the Canadian economy in comparison to the U.S. economy. Potash Corp's EPS is sensitive to the strength of the CAD against the USD as its potash manufacturing facilities are established in Canada. The company's EPS increased $0.02 with the $0.02 depreciation of the CAD against the USD. This depreciation of the CAD against the USD can partially offset the adverse effects on the company's EPS in case of volatile natural gas prices.
Returns to Investors and Final Take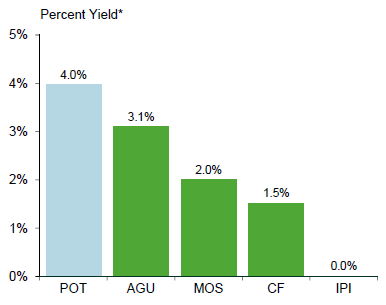 Source: POT 2014 JPMorgan Presentation
The company has an attractive yield of 4% in comparison to its competitors as shown in the chart above. The company has an ongoing 5% share repurchase program worth $2 billion announced in July 2013 that will expire in August 2014.
The company's stock rating has been upgraded and there are factors that will contribute to improving the company's financial performance in the coming years. The company's top line will benefit from the recovery in prices of crop nutrition products as the demand improves. The company's bottom line will improve due to the cost-cutting initiatives enacted by the company along with less volatile natural gas prices and depreciation of the CAD.
Disclosure: I have no positions in any stocks mentioned, and no plans to initiate any positions within the next 72 hours.
Business relationship disclosure: The article has been written by a Gemstone Equity Research research analyst. Gemstone Equity Research is not receiving compensation for it (other than from Seeking Alpha). Gemstone Equity Research has no business relationship with any company whose stock is mentioned in this article.