Valuentum's equity research covers a lot of ground. Not only do we assess fundamental components such as revenue and earnings growth and technical considerations such as relative pricing strength in the 16-page stock reports, but the one-page supplemental dividend reports showcase each firms' dividend yield, strength and track record. In this article, let's assess the prospects of Campbell Soup's (NYSE:CPB) dividend.
As a partner for financial advisors, we rely on the weight and depth of our research and analysis, which goes well beyond historical data, to arrive at a pertinent and relevant fundamental free cash flow measure of dividend health, the Valuentum Dividend Cushion. We're one of the few independent companies that provide full financial statements and forecasts of free cash flow of a company long into the future to determine just how safe a cash dividend truly is.
The Valuentum Dividend Cushion tool, which is used by financial advisors, is based on a company's future fundamental cash-flow generation and the health of its balance sheet, helping avoid the two major factors that cause dividend cuts. The score is forward-looking and meaningful. For example, in the case where one of your dividend-growth holdings has a score of 2, an investor can confidently say the following:
Company XYZ can cover its future cash dividends and embedded growth rate in them (as shown in the dividend report) with traditional free cash flow (cash flow from operations less capital expenditures) and after considering the obligations of its balance sheet by 2 times during the next 5 years.
Financial advisors find this tool quite valuable as a supplement to their in-house research that they perform for their income clients. The Valuentum Dividend Cushion score can easily be compared to those of other firms -- it offers a safety ranking system, to a degree. In finding a great dividend growth stock for their income clients, we help advisors look for firms that have an excellent combination of a high dividend yield and a Valuentum Dividend Cushion score comfortably above 1 (preferably above 1.25). The beauty about the assessment is that it is completely independent.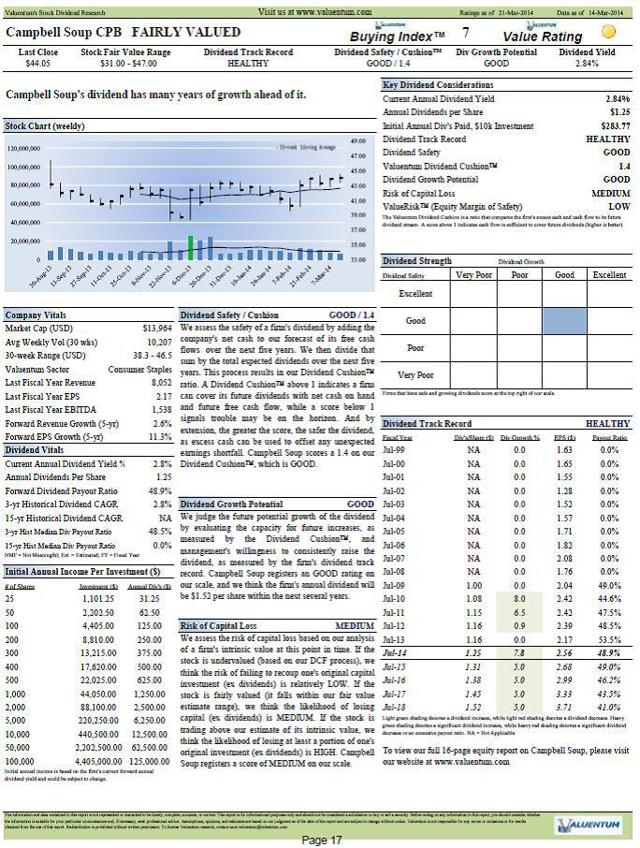 With that said, let's get started in the assessment. First, please take a look at the one-page tear sheet above. It addresses dividend safety, dividend growth, and a firm's dividend track record. Under the framework, the safety of Campbell's dividend is good (please see the rating in the report above), as Campbell's Dividend Cushion score is materially over 1 (it is 1.4). This indicates to us that the company can cover its dividend and even increase it at a level slightly higher than our forecasts before we would even start growing concerned about its safety.
Now on to the potential growth of Campbell's dividend. As we mentioned above, we think the larger the "cushion" the larger capacity a company has to raise the dividend. Such dividend growth analysis, however, is not complete until after considering management's willingness to increase the dividend. Capacity and willingness are two key concepts for dividend growth to materialize -- you can't have one without the other. We evaluate the company's historical dividend track record to assess willingness. If there have been no dividend cuts in many years (see history here), the company has a nice growth rate, and a nice dividend cushion, its future potential dividend growth would be excellent. Though its recent track record is solid and its cushion is decent, the company's dividend expansion in recent years hasn't been gangbusters. We assign its dividend growth a 'good' rating as a result.
Campbell Soup's dividend has years of growth ahead of it, and with a 2.8% annual yield, the firm should be on any dividend growth investors' watch list. We estimate its fair value to be $39 per share (see our landing page of the company here), so investors could still be a bit patient for an entry point. In any case, the prospects for the company's dividend have improved since our last update on Seeking Alpha's website.
Disclosure: I have no positions in any stocks mentioned, and no plans to initiate any positions within the next 72 hours. I wrote this article myself, and it expresses my own opinions. I am not receiving compensation for it (other than from Seeking Alpha). I have no business relationship with any company whose stock is mentioned in this article.