We're watching for signs of strength and weakness as the major indexes test key moving averages.
Two weeks of solid advances for the indexes from key technical levels has been backed up with a Follow Through Day of institutional buying, giving us reason to believe recent lows may stick. For this trend to continue, we also want to see sell-volume drop off to show less aggression from bears.
The fate of our Buyer's Caution bias will ultimately be decided by the way the semiconductors (NYSEARCA:SMH), retail (NYSEARCA:XRT) and finance (NYSEARCA:XLF) sectors trend. The trio makes for key components of sustainable rallies. While the leading SMH sector gives encouragement as it trades above its 50-day moving average, the XRT gives us pause with a slightly negative week, down .5%, and the XLF remains a relative strength loser under its 200-day moving average.
A watchful eye on Europe should also be held, as the EUR/USD has served as a leading indicator for stocks over recent weeks. Sideways action in the currency over the last couple of days has been similar to what the broad market for U.S. stocks has done.
The market's ability to rally on negative news tells a lot about its strength.
A return in Leadership is also encouraging as Apple Inc. (NASDAQ:AAPL), up 8% for the week to an all-time high, is paving the way for others.
Stocks with top fundamentals listed as breakout candidates on our report have also been on fire:
Mercadolibre (NASDAQ:MELI), a second tier Matrix stock of ours, has clocked new highs for the last two weeks when it broke out of its two-year long technical base.
Lulumon Athletica (NASDAQ:LULU), a first tier Matrix selection, broke out of a two-and-a-half-year base.
Akamai Technologies (NASDAQ:AKAM), has been on for new highs for three weeks since breaking loose from its year-and-a-half long base. The company doesn't have strong enough fundamentals to qualify for our Matrix, though has been listed in this report for weeks as an 'A' grade stock.
Chipotle Mexican Grill (NYSE:CMG), also hit a new high this week. As an 'A' grade stock it's held a volatile, upward trend toward its recent all-time high.
Deckers Outdoor (NASDAQ:DECK), another 'A' stock, has also hit a new all-time high since breaking out of its year-and-a-half long base two weeks ago.
Aruba Networks (NASDAQ:ARUN) and Ulta Salon (NASDAQ:ULTA) also join the list after being listed here with the others last week.
There are a number of other growth stocks poised to do the same, as long as the market remains buyer friendly.
Technically Speaking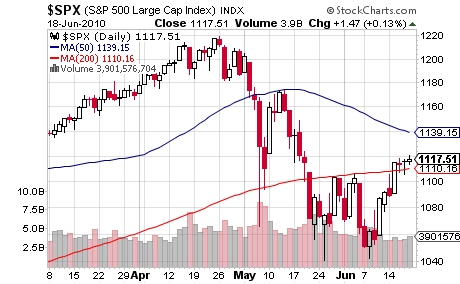 Major Indexes – Weekly Price Action ()

Major Indexes – Weekly Volume Action ()

Primary Indexes (ETFs) – Weekly Price Action ()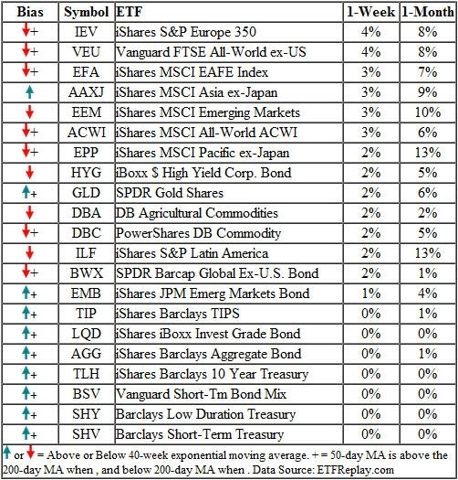 Sectors (ETFs) – Weekly Price Action (click to enlarge)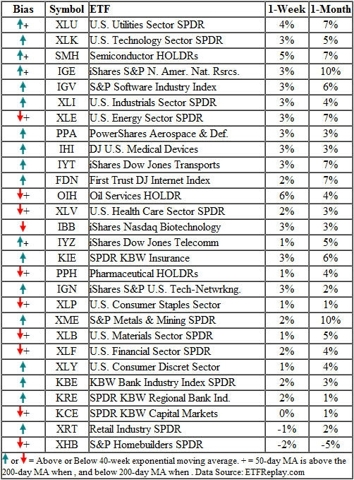 News To Watch This Week
Earnings:
Economic:
MONDAY – none
TUESDAY – Existing Home Sales , FHFA Housing Price Index
WEDNESDAY – New Home Sales , Crude Inventories, FOMC Rate Decision
THURSDAY – Durable Orders , Initial Claims , Continuing Claims
FRIDAY – GDP Third Estimate, U Michigan Sentiment
The Word On The Street
"We're in the area that I call the "dead zone." I've been here before, and it's not easy to write in the dead zone. The dead zone tends to appear after a period of dramatic and clearly-defined action. After such periods the market will often act like an exhausted prize fighter who has been knocked down to the canvas. He gets to his feet, but he is unsteady on his feet, and he's playing for time — until his head clears. He's fending off the other fighter as best he can, and he's depending on his experience. Will he make it to the end of the round? But what kind of shape is he in for the next round? -- Richard Russell of the Dow Theory Letters newsletter, as reported by benzinga.com