The current bull market in US equities is now five years old. The median bull market since 1871 has historically lasted 50 months (about 4.17 years). The median bull market has delivered 124% gains. Using the SPDR S&P 500 (NYSEARCA:SPY) ETF as a reflection of the S&P 500 (overall market), it has risen from a low of $67.10 on March 2, 2009 to a high of $189.02 on March 17, 2014. That's about a 182% gain from the bottom to the top. One would have to say this bull market has already over-delivered. It is getting very tired and overpriced.
The median bear market sees losses of 38%; and it lasts about two years. Yes, you could see more gains in equities markets, but the odds are now solidly against you. That in itself is a good reason to put more of your money in bonds at this time. If you avoid the inevitable downturn in equities, you will be much richer when it is over. You will also be in a position to invest more in stocks at or near the market bottom, when they are much cheaper.
Unfortunately, investors are also being presented with the likelihood of a rising interest rate environment. We saw this in 2013, when the 10-year US Treasury yield rose from 1.63% on May 2, 2013 to a high of 3.03% on December 31, 2013 (140 bps in about 8 months). During this period, the 10-year US Treasuries lost value as the yields increased. That begs the question, why am I suggesting you invest in bonds at all? Most agree that the Fed is going to keep tapering QE3. That may lead to an increase in interest rates. Further, the Fed is saying that it will likely start raising the Fed Funds rate beginning in about mid-2015. Won't this cause yields to rise? Yes, it will.
How do you then invest in bonds, if they are likely to lose value? One answer is to buy intermediate-term (3-10 years to maturity) corporate bonds. Probably 3-7 years to maturity bonds are a better definition to use for this case. If you then hold these bonds to maturity, you will collect the interest for the bonds; and you will get your money back at maturity. You will have taken little-to-no risk of losing your money. For those who don't want to select the bonds themselves, the SPDR Barclays Capital Intermediate Term Corporate Bond (NYSEARCA:ITR) ETF may provide an adequate substitute. It has a yield of 2.75%. Morningstar rates it of medium credit quality and medium interest rate sensitivity. It tries to track the performance of the Barclays US Intermediate Corporate Bond Index. Perhaps as importantly, it has an annual holdings turnover of only 16%. This means the ITR ETF is essentially buying and holding its securities long term. Therefore, it will have few "trading" losses.
Further, as the bonds the ITR ETF owns get nearer to maturity, they will then trade at a premium to their stated yields. This should mean that investors should be able to sell the ETF without sustaining a substantial loss, even if interest rates have risen. For example, the 10-year US Treasury is yielding 2.75% as of this writing March 26, 2014. The 5-year US Treasury is yielding 1.73%. The 2-year US Treasury is yielding 0.47%. If a corporate bond yielding 4% is only one year from maturity, it will trade at a substantial premium to par. It will by then be a very short-term bond. The ITR fund will have a variety of corporate bonds bought at a variety of times. If almost all are kept until near maturity, the fund should appreciate over time. Probably the 16% of the bonds that are sold each year are the ones that are selling at a premium to par. If interest rates stay the same or go down, the appreciation will be higher. If interest rates rise, there should still be appreciation as the bonds near maturity; and the bonds sold will be replaced by longer-dated bonds with higher interest rates.
Of course, investors can accomplish this same thing themselves with their own bond buys; and they may be able to more fully control the situation. The chart below shows the overall performance of the ITR ETF over the last five years. During that time, the ITR ETF has gained almost 15%, in addition to its trailing twelve-month yield of 2.75% per year. It has a low annual expense ratio of only 0.15%.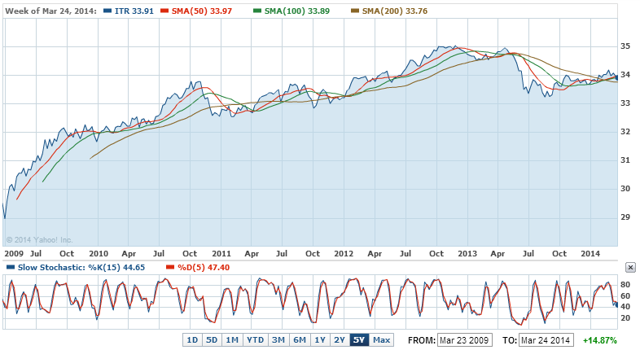 Of course, some people will want to garner a higher yield than the 2.75% yield of the ITR ETF. The SPDR Barclays Capital High Yield Bond (NYSEARCA:JNK) ETF is a good alternative or combination ETF. It has a four-star Morningstar rating. It has a 5.90% trailing twelve-month yield. It has low credit quality and medium interest rate sensitivity. However, JNK has an annual expense ratio of 0.40%; and it has an annual holdings turnover of 49.00%. This means it can sustain "trading" losses. However, it does seem to be well-managed. The five-year chart below gives an idea of JNK's performance.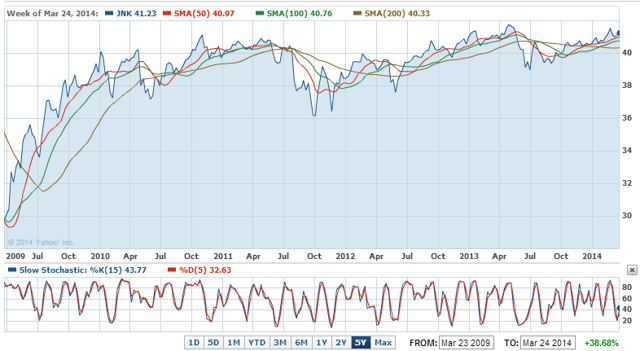 The JNK ETF has gained 38.68% in the last five years, in addition to the approximate 5.90% yield annually. Due to the relatively low credit quality, a prudent investor will probably not want to have a huge proportion of their money in the JNK ETF; but such an investor may want to put some of his or her bond money in it in order to raise the overall bond investments yield.
For those who wish to buy the individual bonds themselves, it is probably a good idea to buy the bonds of a company with improving fundamentals. Two companies that I have identified that fit my criteria in this area are Chesapeake Energy (NYSE:CHK) and Weyerhaeuser (NYSE:WY). Morningstar agrees with my assessment of CHK. It gives CHK a four-star rating. Yet, its bonds have terrific yields and only a B+ rating. For example, a callable CHK 6.775% coupon bond that matures on March 15, 2019 trades at 100.5% of par. This means it has a yield to maturity of 6.67%. This link goes to the Morningstar description of these bonds.
Morningstar only rates Weyerhaeuser as three stars. Generally, WY bonds are much longer-dated. Plus, they have generally lower yields to maturity. The bonds have the lowest investment-grade rating at BBB-. Still, the company has great assets; and the North American lumber industry is expected to flourish over the next 5-10 years. That should mean that WY's bonds should be safe investments. An example bond matures September 15, 2023. It trades at 104.0% of par; and it has a yield to maturity of 4.12%. The following link goes to the Morningstar description of these bonds.
If you want more risk with higher yield, some investors may wish to consider one of the better Bakken junior E&P companies, Magnum Hunter Resources Corp. (MHR). Morningstar doesn't rate this stock or its debt; but it is one of the better Bakken juniors; and it should be a relatively good investment. MHR has a mean analysts' recommendation of 2.2 (a buy). It isn't profitable yet. This is part of the risk. However, it has an average analysts' next five years' EPS growth estimate per annum of 65.04%. If it comes close to that growth, it should be successful quickly; and it should be able to get adequate financing for itself. It has a 9.75% bond on the market that sells for 111.1% of par. This is non-callable; and it has a yield to maturity of 7.46%. This could turn out to be a good investment; and unless you think the company is going to fail, MHR should make its bond payments.
For those who want to read more about the likely troubles that may cause the US equities market to fall in the near future, the following articles should provide further elucidation (you can follow the highlighted links if you want to read them):
"When Momentum Favorites Netflix, Tesla, Amazon, Et Al Sell Off, It May Signal A Market Turn"
"Evidence Is Piling Up That The Market Is In For A Downturn."
For those who want to read more about Chesapeake Energy or Weyerhaeuser , you can read the following articles:
"Chesapeake Energy: Glass Half Empty? Or Almost Full?"
"Worried About This Market? Knock On Wood! Invest In A Secular Growth Story"
NOTE: Some of the fundamental fiscal data above is from Yahoo Finance.
Good Luck Trading.
Disclosure: I have no positions in any stocks mentioned, but may initiate a long position in ITR, JNK over the next 72 hours. I wrote this article myself, and it expresses my own opinions. I am not receiving compensation for it (other than from Seeking Alpha). I have no business relationship with any company whose stock is mentioned in this article.