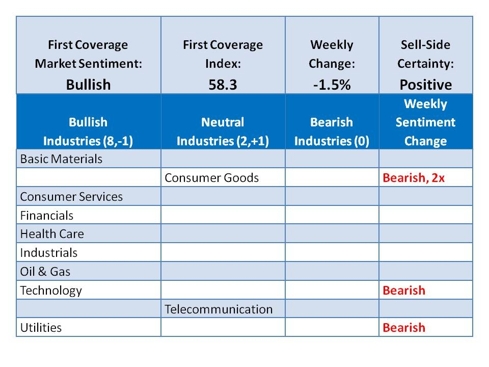 Market Faring Well, Sentiment Slipping From Recent High

After two weeks in a row of market gains, the correction that began in late April may have been broken. Most of the major market indexes showed a gain between 2% and 3% last week. The Utilities industry led the parade with a 4.1% price gain, but that led to a drop in sell-side sentiment for the industry. Three of the four highest ranked industries in sell-side sentiment had the next biggest price gains for the week. Technology came in at 3.5%, with Oil & Gas and Industrials each at 3.0%.
Sell-Side Sentiment Shows an Across the Board Decline
First Coverage Market Sentiment fell 1.5%, the largest drop since mid-March. It ended last week at 58.3, not far from the 60.0 peak set in each of the last two weeks of May. However, a similar decline again this week would be enough to change the flattish trend line established at the beginning of May to one headed downward.
The declining sentiment showed up in nine of the ten industries. Only Financials managed to show a gain, and it was a mere one-half percent. Seven of the nine decliners were down by only 3% or less. Sentiment for Consumer Goods fell 4%, and Utilities fell a whopping 11%, with the latter decline influenced by the sharp rise in the price index for Utilities last week.
Economic News Last Week Mixed
The dilemma for investors is that production data continues to be strong, indicating a continuing recovery, while housing and most other consumer spending data look much weaker, possibly indicating a double-dip recession is in the cards.
Wednesday brought more bullish reports on manufacturing, with both industrial production and capacity utilization for May showing big gains that beat expectations. Industrial Production rose 1.2%, following a gain of 0.7% in April. The Philadelphia Fed Index appeared to be an exception. After a number of months at about 20, the headline number fell to eight in May. But the detail numbers indicated that manufacturing continued on a strong pace.
The picture was totally different in housing, with very negative reports on homebuilder sentiment last Tuesday and starts and permits on Wednesday. The obvious problem was expiration of the homebuyer tax credits. Buyers had to sign a sales contract by April 30 and close the sale by June 30. It would appear the tax break created a bigger mini-bubble in housing than most thought, and that the underlying growth is less than most think. Very ominous.
The NAHB index on builder sentiment (we're partial to sentiment indices at First Coverage) fell to 17 in June from 22 in May. It was the biggest drop since November 2008. The market was expecting a drop to only 21. The index hit a peak of 72 in June 2005 and bottomed in January 2009 at eight.
As we indicated a week ago as likely, May housing starts fell more than expected, even with April sales being revised downward. Total housing starts fell 10% from April, but more significantly, single-family starts were down 17% to the lowest level in a year.
Further evidence of a mini-bubble was provided by the 6% fall in building permits. Because of the big end-of-the-bubble drop of 10% in April, most economists had expected a gain from April to May. Single-family permits were down 10% for the second month in a row. The number of homes under construction has now fallen to the lowest level since the database was created in 1970. It has shown a decline in every month of the past four years.
Among the companies singled out a week ago as bellwethers to watch, Best Buy (NYSE:BBY) rang off key with its earnings reports. Best Buy, the leading retailer of electronic products, fell short on earnings and sales estimates for the quarter. Most disturbing was that U.S. same-store sales for the quarter gained only 1.9%. FedEx (NYSE:FDX) had a very good quarter, but its earnings guidance for the rest of the year was disappointing.
Industry Sentiment Leaders Retain Top Rankings
For the second week in a row, the same four industries remain at the top and in the same order. However, each of the top four fell 2% to 3% last week. Industrials continue to lead the closely bunched pack, followed by Oil & Gas, Health Care, and Technology. Unfortunately, after a big sentiment spurt in early May, sentiment for Industrials has been in a short-term downward trend. After a sharp jump in May, Oil & Gas sentiment seems to have fallen into a downtrend. Sentiment for Health Care rose in both April and May, but now also appears on a downtrend. Remaining intact is the gradual two month rise in the sentiment trend line for Technology. That two-month rise followed two months of bottoming may be reestablishing a longer upward trend line that began in January 2009.
Financials Continue to Rise up Industry Sentiment Ladder
Financials continued to move up in the industry rankings of sell-side sentiment. With sentiment falling last week for the other nine industries, Financials moved up to fifth from the top. Even though the gain for Financials was only a trivial one-half percent rise last week, the declines of more than 2% in each of the four leaders left Financials within striking distance of the top group.
Home Sale Reports This Week Could Move Market, Fed Meeting Unlikely To
It's another week of key reports on the all-important housing sector, featuring May existing home sales on Tuesday and May new home sales on Wednesday. With all the uncertainties about housing and the fact that it normally leads the U.S. economy out of recession, housing reports are now on center stage. There are usually three weeks of any month when there are multiple housing reports that can be market moving. Of course, much of the housing data has been distorted upward because of the nearing of the expiring tax credit for home buyers.
Existing home sales for May will still have that benefit included, because they are based on closings, which get the tax benefit if completed by June 30. New home sales will not be seeing the positive effect of the mini-bubble, since new home sales are based on sales agreements and agreements had to be concluded by April 30. The market is looking for a modest rise in existing home sales and a big drop in new home sales. Wednesday also brings the weekly purchase mortgage applications. They've been in a down trend for 53 months, and fell off a cliff in recent weeks.
The key economic worry is jobs, and the Thursday weekly report on jobless claims is a very important number to watch. It is the last weekly report that covers the period included in the June employment survey to be released next week. Recent weekly reports are showing at least a temporary leveling out in weekly claims, after twelve months of falling from the March 2009 peak. Another consumer-related report comes on Friday, when the University of Michigan final consumer sentiment numbers for June are released. No change is expected from the earlier June reading.
On the manufacturing side, May durable goods orders come out on Thursday and are likely to continue their favorable trend. In the unlikely case the FOMC should change the stance cited in its last meeting statement, one should pay attention to the Wednesday statement on its two-day meeting. We can be sure the media will hype the run-up to the announcement.
Earnings pre-announcements for Q2'10 start to heat up this week, but the big weeks will be next week and the first two in July. Bellwether companies reporting earnings this week and whose comments may be worth watching include homebuilders Lennar (NYSE:LEN) on Thursday and KB Home (NYSE:KBH) on Friday; in the Tech industry, Oracle (NYSE:ORCL) reports on Thursday; and a major subcontractor for production of tech products, Jabil Circuits (NYSE:JBL), reports on Tuesday.
Stocks to Watch
Over the last week, the following stocks had the largest bullish and bearish sentiment shifts amongst the sell-side.
Until next week …
About The First Coverage Weekly Street Sentiment

Derived from the aggregated analysis of thousands of actual trade ideas and data being sent in real-time from the sell-side to the buy-side, the First Coverage Weekly Street Sentiment provides a snapshot of market trends and a unique perspective of the mindset of the Street for the week ahead. The following data has been extracted directly from all information transmitted in the past week by sell-side representatives from more than 300 firms submitting information to portfolio and asset managers worldwide via the First Coverage platform.
Disclaimer: First Coverage's Weekly Street Sentiment ("WSS")is derived from sources believed to be reliable, but which we furnish "AS IS" and "WITH ALL FAULTS." We do not warrant or guarantee the suitability, timeliness, sequence, accuracy, or completeness of WSS. THERE ARE NO WARRANTIES OF ANY KIND, EXPRESSED, IMPLIED OR STATUTORY(INCLUDING, WITHOUT LIMITATION, SUITABILITY, TIMELINESS, TRUTHFULNESS, SEQUENCE, ACCURACY OR COMPLETENESS), ANY IMPLIED WARRANTIES ARISING FROM TRADE USAGE, COURSE OF DEALING, OR COURSE OF PERFORMANCE, OR THE IMPLIED WARRANTIES OF MERCHANTABILITY OR FITNESS FOR A PARTICULAR USE OR PURPOSE. THERE ARE NO WARRANTIES, EXPRESSED OR IMPLIED, AS TO THE RESULTS TO BE OBTAINED FROM USE OF WSS. Any analysis, observation or other opinion that WSS may contain is, and must be construed solely as, a statement of opinion and not a statement of fact, indication of preference or recommendation of any nature. Content contained in WSS is not intended to and does not constitute investment advice and no investment adviser-client relationship is formed.
Disclosure: No positions