Barring a double dip recession, which in our view is a real possibility, CBS is our top Media pick for the next six months.
The media conglomerate is more widely known for its TV Network and TV Stations, which together only comprise slightly above a third of company revenues. CBS actually has a diverse collection of businesses including Radio stations, an outdoor advertising business, a film studio, a publishing business - Simon & Schuster, a thriving Internet business through CNET , CBS Sports, and Lastfm, TV production and the resulting syndication business, and pay TV networks Showtime and CBS College Sports.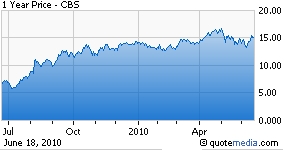 CBS is becoming more diversified with the 60% of total revenues from advertising dropping overtime due to an increasing mix of affiliate and licensing fees. In addition, the company is likely to see a dramatic improvement in EBITDA margins, currently 15%, over the next two years owing to $500 million in annual 100% margin retransmission fees and reverse compensation and improvements in margins at the Radio, Outdoor, and TV Station businesses. Margins at those businesses deteriorated over the past two years due to the recession. To top it off, free cash flow is growing and should top $1.5 billion in 2010 leading management to most likely increase the dividend, which was cut during the height of the recent economic collapse. CBS is unlikely to return value to shareholders through resumption of the share repurchase program at this time.
The shares trade 7.2x 2010 consensus EBITDA and should increase 20% over the next six months to $18 or at a 8.0x multiple. Our DCF value points to a $19 fair value.
The risks are a double dip recession which could impact the advertising businesses and selling of shares by National Amusements, which is controlled by CBS Chairman Sumner Redstone.
I had previously highlighted CBS as a top pick in the cyclical ad recovery in a previous write-up in September 2009.
We also like NewsCorp (NASDAQ:NWS) for some of the same reasons as CBS but the attempted acquisition of BSkyB is likely to consume management's time and the shares could remain range bound until a resolution is reached. Sister company Viacom (NYSE:VIA) is too exposed to advertising. Time Warner (NYSE:TWX) is still in a show me mode, in our view, and Disney (NYSE:DIS) has too many economically sensitive businesses. We also like the cable stock's positioning within the media ecosystem and will report on them at a later date.
Disclosure: None