I have been looking at the Lodging REITs over the past few months and I'm beginning to warm up to the sector. As much as I like the Net Lease REITs (for their stable income characteristics) I have been searching for a favorable sector that would complement my bond-like net-leased portfolio.
Given the strong fundamentals - favorable supply and demand, improvement in the overall economy and an anticipated sustained low rate environment - 2014 should be a period of growth and opportunity for investors in the hotel industry.
According to industry experts, the outlook for the US lodging industry is very positive for the next 18 months. The industry has favorable drivers and conditions that are positioned to see attractive RevPar growth. Supply growth will increase by around 1.1% in 2014, below the long-term average of 1.7% - that should produce robust RevPar growth of over 6% in 2014.
Hotel construction activity, while rebounding, is still limited and demand continues to outpace supply growth, and as economic conditions strengthen, growth in occupancy and ADR will continue. According to the STR Pipeline Report, the total active US hotel development pipeline includes 2,807 projects totaling 339,602 rooms. That is a 13.5% increase in the number of rooms in the active pipeline a year ago.
Given the lack of capital and lack of construction financing (without meaningful equity), the Lodging REITs appear to be in a terrific position to benefit from the growth trends. Well-capitalized investors will be positioned to acquire (and develop) quality assets in greater scale.
Ashford Hospitality Prime
Late last year, Ashford Hospitality Prime, Inc. (AHP) announced the completion of its spin-off from Ashford Hospitality Trust, Inc. (NYSE:AHT). The spin-off REIT will began trading as an independent public company on the New York Stock Exchange starting tomorrow, November 20, 2013.
Ashford Prime has a strong foundation on which to build, with an initial 8-hotel portfolio totaling 3,146 rooms (2,912 owned rooms) and a trailing 12-month RevPAR of $147. The company has no debt maturities until 2017, and all debt is non-recourse. Ashford Prime is externally advised by Ashford Hospitality Advisors, a subsidiary of Ashford Trust.
Further, Ashford Prime's external advisory agreement differentiates it from other external advisory agreements in the REIT industry. The agreement's unique structure is designed to reduce the G&A expense burden by avoiding duplication, and provides for management incentives only in the event of outperformance versus a defined peer group; enabling investors to benefit from the management team's extensive experience and tenure together.
Earlier this week I caught up with Ashford Prime's Chairman and CEO, Monty J. Bennett, to discuss both Ashford-named REITs and also to gain valuable insight into the demand drivers for the lodging sector. Bennett is a member of the American Hotel & Lodging Industry's Real Estate Finance Advisory Council (IREFAC) and the Urban Land Institute's Hotel Council. He holds an MBA from Cornell's Graduate School of Management and received a Bachelor of Science degree with Distinction from the School of Hotel Administration also at Cornell.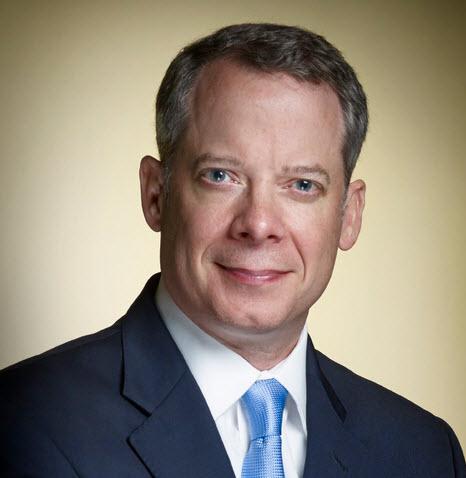 Thomas: How has Ashford Prime performed as a standalone REIT since spinning-off from Ashford Hospitality last November?
Bennett: We have been pleased with the performance of Ashford Prime since the spin-off as we have been able to successfully execute on the strategy we outlined for the company. To this end, we recently completed an equity raise that not only raised significant capital but also served to increase our float by approximately 60%.
The cash we raised in the offering was immediately put to use to fund two acquisitions - Sofitel Chicago Water Tower and Pier House Resort & Spa in Key West, FL. As well as being accretive to our shareholders, these properties are in strong markets, will increase the overall portfolio RevPAR, and will broaden our portfolio by market, brand and manager.
Thomas: Ashford Prime is unique to other spin-off REITs as the company has an externally-managed platform with very little G&A costs. Can you tell us about that?
Bennett: Ashford Prime is externally-managed by a subsidiary of Ashford Trust. Pursuant to our advisory agreement, Ashford Advisors is responsible for implementing our investment strategies and decisions and the management of our day-to-day operations, subject to the supervision and oversight of our board.
The advisory agreement calls for Ashford Prime to pay Ashford Advisors a base fee that is calculated by multiplying 0.70% by the Total Enterprise Value of Ashford Prime and an incentive fee which is based on outperformance of Ashford Prime versus its defined peer group over the course of the year.
This advisory agreement is revolutionary in that the fees paid are performance-based rather than being based solely on the size of assets being managed, which has been one of the main criticisms of externally-managed companies. This structure, coupled with Ashford Prime's high inside ownership of 14%, demonstrates that this advisory arrangement is highly aligned with shareholder interests.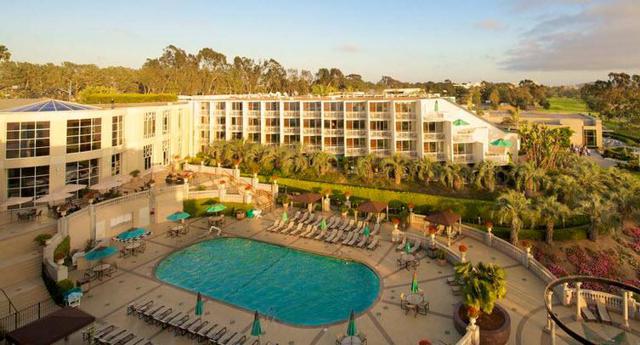 Thomas: Ashford Prime has a secured credit line of around $150 million and the company was capitalized with around 8 million shares of common stock. Can you tell us about your balance sheet today?
Bennett: As of the end 2013, Ashford Prime had approximately 24.9 million fully diluted common shares outstanding. We also had $144 million of cash and cash equivalents on hand as of that time. On the liabilities side, we had approximately $622 million of property-level, non-recourse debt outstanding on our properties as well as the $150 million credit facility which has not been drawn on to date. Ashford Prime does not currently have any preferred equity.
Thomas: Are there any other Hotel REITs with a similar portfolio to Ashford Prime?
Bennett: Ashford Prime has a defined set of peers that it is measured against for purposes of calculating the incentive advisory fee discussed above. We believe these companies have portfolios that most resemble the type of portfolio that Prime has and is targeting. Those peers are: Strategic Hotels & Resorts (NYSE:BEE), Chesapeake Lodging Trust (NYSE:CHSP), Diamondrock Hospitality (NYSE:DRH), LaSalle Hotel Properties (NYSE:LHO), Pebblebrook Hotel Trust (NYSE:PEB) and to a lesser extent, Sunstone Hotel Investors (NYSE:SHO).
Thomas: What are the benefits to Ashford Hospitality Investors related to the recent spin-off transaction?
Bennett: Ashford Hospitality Trust investors will benefit from the Ashford Prime spin-off in a few ways. First, Ashford Trust continues to hold an approximately 19% interest in Ashford Prime, so growth and positive performance from Ashford Prime will be realized by Trust investors through that ownership position.
Second, if Ashford Trust investors hold the shares of AHP they received in the spin-off, then they will benefit from any positive performance at Prime.
Third, Ashford Trust currently receives advisory fee income from Ashford Prime, so to the extent that Prime continues to accretively grow its business and outperform relative to peers, that fee income will continue to grow.
Thomas: How does Ashford Prime's dividend compare with Ashford Hospitality's dividend?
Bennett: Ashford Prime's board of directors recently approved a dividend policy for 2014 of $0.05 per share per quarter. This dividend policy will be reviewed by the board throughout the year and is subject to change. Ashford Trust currently has a 2014 dividend policy of $0.12 per share per quarter.
Thomas: Broadly speaking, how are you seeing the supply and demand fundamentals for Hotel REITs today?
Bennett: The supply and demand fundamentals for the hospitality sector are currently very positive and should continue that way for the next couple of years. PKF Consulting forecasts supply growth to be 1.0% for 2014 and 1.3% for 2015, both well below the average trendline. This lack of new supply growth combined with the increased growth of the US economy is resulting in strong forecasted RevPAR growth in the US.
PKF Consulting is currently forecasting RevPAR growth for the US for 2014 and 2015 to be 6.6% and 7.0%, respectively. We believe these fundamentals bode well for continued positive results for both the Ashford Trust and Ashford Prime portfolios.
Thomas: How are you preparing for rising interest rates and what do you see as the biggest threat to lodging over the next 12 months?
Bennett: We manage our capital structure very diligently. At Prime, approximately 68% of our outstanding debt is fixed-rate debt, so rising interest rates will not have an impact there. Our one floating-rate loan has a LIBOR cap in place, so our exposure to rising rates on that loan are limited by that cap.
Additionally, rising interest rates are usually associated with an improving economy and most likely higher inflation. Given the short-term nature of our leases - room nights that we can set the rates on every day - we are better able to capture the benefits of economic growth as it is occurring or keep step with inflationary pressures by moving our rates correspondingly. We believe this gives us great flexibility and an advantage in that type of environment.
Given our portfolios at Trust and Prime, the biggest threat we had seen was the Washington, DC market due to the impacts of curtailed government spending and its ripple effects in the area. However, it now appears that the demand contraction in DC has stopped, and it's starting to build again.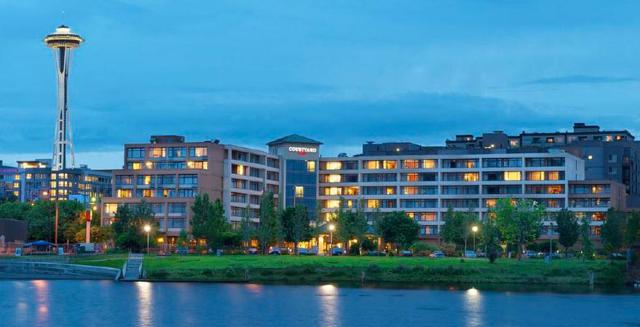 Thomas: You own and operate hotels all over the US. What are your favorite markets and do you intend to expand outside of the US?
Bennett: Our west coast hotels continue to outperform the national average. We continue to look for accretive investment opportunities in these markets as well as other gateway markets in the US. We have also been following many international gateway markets very closely over the last several years and feel that we are in a good position to take advantage of investing internationally should the right opportunities arise.
Thomas: I recall that you and your family own substantial stock in Ashford Hospitality. Do you have similar "skin in the game" with Ashford Prime?
Bennett: Yes. Prior to the Ashford Prime spin-off, Ashford Trust had the highest insider ownership of any of its peers and at 19% was approximately 10 times the peer average insider ownership. After the spin-off and post the recent equity raise at Ashford Prime, we still have 19% insider ownership at Trust and approximately 14% at Prime, so obviously our interests as a management team are very aligned with those of our shareholders and we think that is an important differentiator for our companies.
It's a Prime Time to Buy Ashford Prime
Since listing last November, Ashford Prime shares have fallen by around 28% to a close of $15.14. The company has a Total Capitalization of around $1.14 billion. The shares are trading at an attractive discount of 11.7x P/FFO with a current dividend yield of 1.32%. It's clear that the market has ignored Ashford Prime's potential and I'm strongly considering a few shares in the newly created REIT. Ashford Prime appears to be trading at a satisfactory "margin of safety".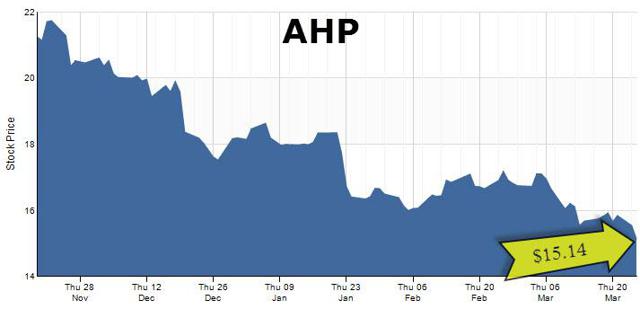 REIT Newsletter: The author is also the Editor of a monthly newsletter called The Intelligent REIT Investor. For more information or to subscribe click HERE.
Sources: SNL Financial.
Disclaimer: This article is intended to provide information to interested parties. As I have no knowledge of individual investor circumstances, goals, and/or portfolio concentration or diversification, readers are expected to complete their own due diligence before purchasing any stocks mentioned or recommended.
Disclosure: I am long O, DLR, VTR, HTA, STAG, UMH, CSG, GPT, ARCP, ROIC, MPW, HCN, OHI, LXP, KIM, BX. I wrote this article myself, and it expresses my own opinions. I am not receiving compensation for it (other than from Seeking Alpha). I have no business relationship with any company whose stock is mentioned in this article.