In 2009, Gartner forecast that BlackBerry (NASDAQ:BBRY) would sell 79 million phones in 2012 and that Android would have 49% market share. How did that work out?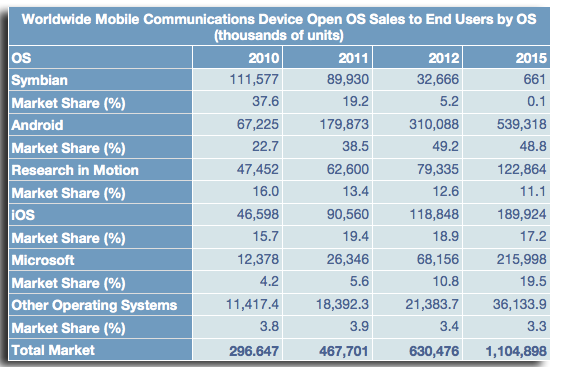 Source: Gartner, as reported on Apple (NASDAQ:AAPL) Insider
Forecasters draw least squares trend lines through past data to come up with future estimates as if all the causality was built into the trend. But it is not.
In early 2013, IDC reported preliminary estimates that 2012 smartphone shipments totaled 545 million.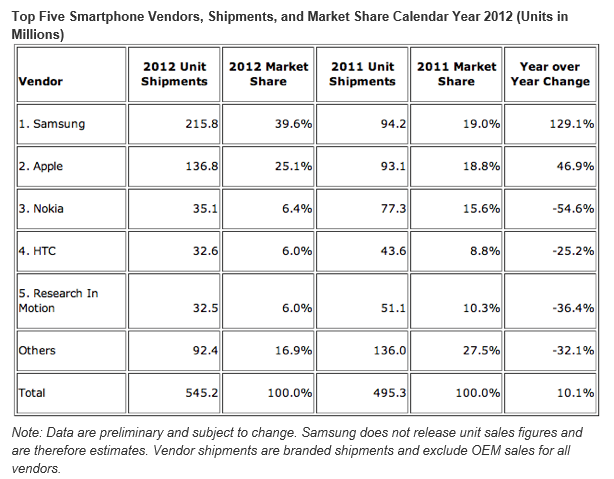 Source: IDC
IDC did say the data were preliminary. Good thing, because shortly thereafter they released another version of 2012 market data showing that 724 million smartphones were sold worldwide. The first estimate included only branded shipments and excluded OEM sales. OEM sales by whom and to whom? We are left to guess that one.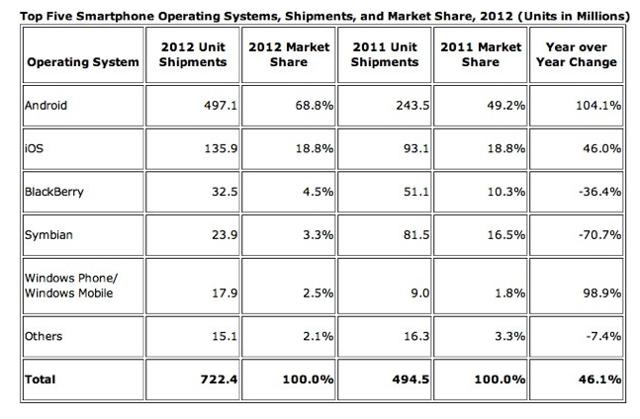 Source: IDC
The point of this exercise is that neither Gartner nor IDC are really all that accurate at either forecasting or reporting although widely relied on and perhaps the best available. Data on the total market assembled from reports from each carrier are probably more reliable but those seem to be in short supply and putting together the data from the number of carriers in the world is a bit of a chore.
The data are fascinating nonetheless. What they show is that the competitive arena for smartphones is a lot more volatile than most would think; that vendors can have their day in the sun and quickly fall from grace; and, that data from Apple and BlackBerry are the most reliable since it would seem they are the only vendors who reported what they actually sold.
Making investments based on forecasts by Gartner or IDC seems like a risky venture in my opinion.
While the absolute numbers are not much value, changes in the direction of each vendor's relative performance can be pretty telling. Reversals like those experienced by BlackBerry and Nokia's (NYSE:NOK) Symbian offering were worth one's attention, beginning with the periods when their growth was outpaced by the market as a whole followed by periods where they had absolute declines in volume in a growing market. At that point, the jig was pretty well up.
If you take the sales history for each vendor or OS and create a curve that shows launch, growth and in some cases ultimate decline, you will not be surprised to see the curve has an S shape before turning into something more like a Bell curve as volume starts down. The flattening of the growth curve is the best indicator that the vendor is finding it hard to grow and may enter the declining phase.
This June 2011 chart of BlackBerry sales is a good example.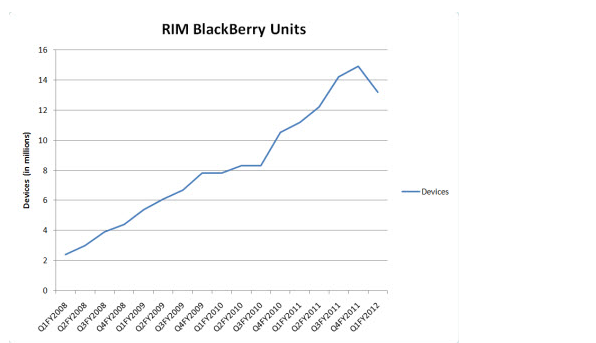 Source: Money Watch June 16, 2011
You could have shorted BBRY stock in June 2011 at about $30 a share and been very happy with the result, since the stock fell 80% through October 2012.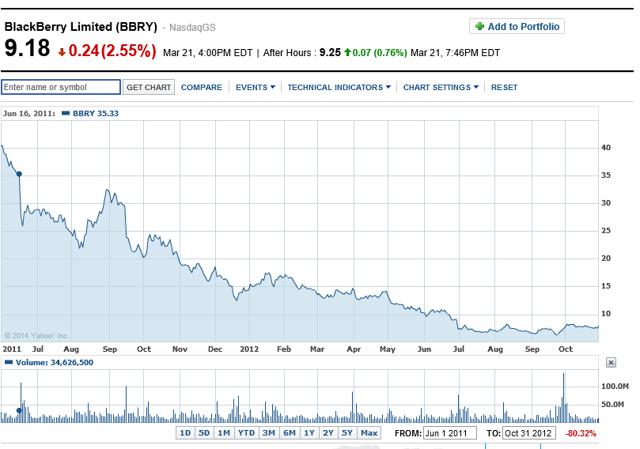 Source: Yahoo.com
In a similar vein, a mid-2010 drop in Symbian unit sales by Nokia was a pivotal moment.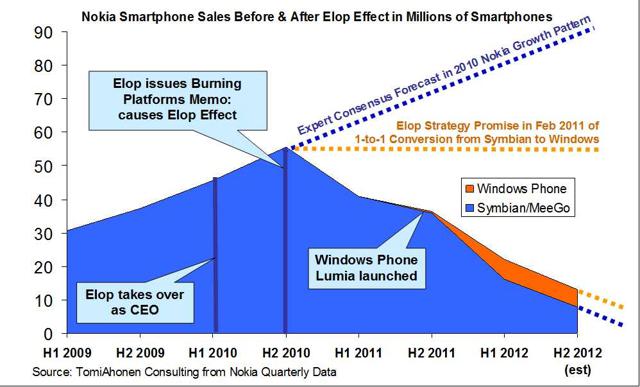 A Nokia short position put on in the $10 per share range in the summer of 2010 would have been quite successful with the stock dropping about 75% through July 2012.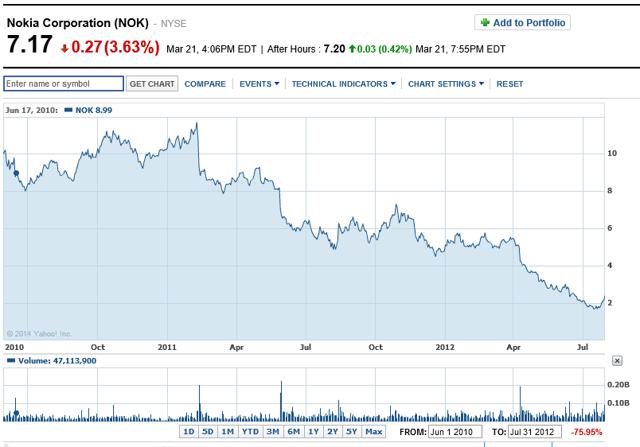 Source: Yahoo.com
While still growing, the growth rate in sales of Apple's iPhones rolled over in the summer of 2012 as shown in this chart of unit sales by quarter published by Marketing Land in September 2012.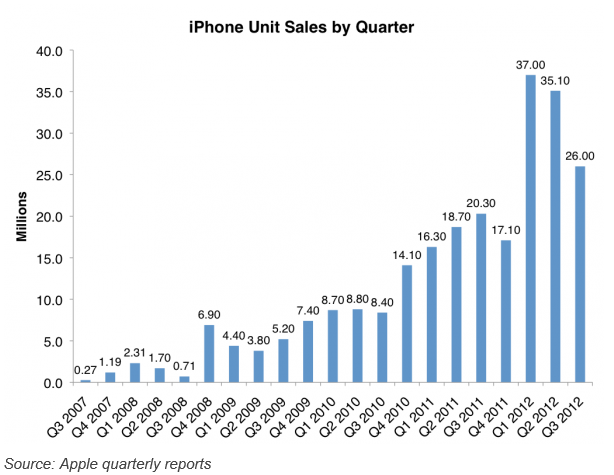 Apple stock followed the same pattern as BlackBerry and Nokia, tumbling about 40% in the following 6 months.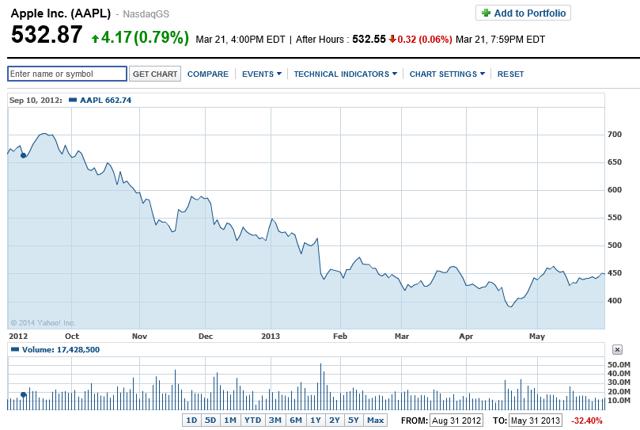 Source: Yahoo.com
Unlike Nokia or BlackBerry, Apple has done a pretty good job of trying to rebuild momentum. Since mid-2013, introducing a line-up of very successful new iPhones and iPads in the second half of 2013 which have given the stock a bit of a bounce to the $540 range since last May.
Early indications are that 2014 might be a tough year for Apple. The much anticipated China Mobile (NYSE:CHL) deal has come and gone and there is scant evidence it made much difference, although it might yet. On the other hand there is a lot of enthusiasm for the iPhone 6 expected later this year, with some observers predicting it will boost Apple shares to $650.
Short investors don't have to be early. If you buy into my argument that a quarter or two of declining year over year unit sales will presage a major drop in the stock, you can watch and wait. Q2 sales figures will be out in mid-April. I think they will disappoint but what I think does not matter. But if they show a year over year decline, you might want to think about the benefits of a short position. If we see two quarters of decline, the trade will be more compelling. And if the iPhone 6 is a flop, the short sellers will likely be out in spades. It is for sure that I will.
I have a small short position in Apple.
Disclosure: I am short AAPL. I wrote this article myself, and it expresses my own opinions. I am not receiving compensation for it (other than from Seeking Alpha). I have no business relationship with any company whose stock is mentioned in this article.