In a previous article or two I looked at the performance of the top 10 holdings of Vanguard's Dividend Appreciation ETF (NYSEARCA:VIG). VIG is a dividend growth fund that invests in companies with a 10-year history of increasing dividends. It also applies proprietary value metrics as per the index that it tracks.
For those looking to use dividend growth's greatest offering, that is total return that historically has beat the market, this may be the fund to hold. Why? Because it places that emphasis on value along with dividend growth history. In search of the dividend growth holy grail, research has shown that the formula for the greatest total return is likely dividend growth along with a low payout ratio. You'll find more on that subject, in this article entitled "Finding Alpha with Dividend Growth: The Stocks."
From inception VIG has a decent beat on the broad market index, the S&P 500 (NYSEARCA:SPY). Vanguard VIG was launched in May of 2006 and from that inception date has delivered a return above 78%, while SPY delivered a total return of 65.1%. Figures to December 2013, according to low-risk-investing.com.
VI beats the Seeking Alpha dividend growth stock pickers who have public portfolios that I've tracked as well.
VIG has a management expense ratio of .10%, meaning that for a $100,000 balance you would pay $100 in fees. That's miniscule for sure. That's just 10-12 trades for most. It's likely more cost effective that a stock pickers portfolio if they have some 30-50 holdings and are reinvesting those dividends via new stock purchases.
That said, if you have a $500,000 portfolio, you'd be paying a whopping $500 in fees. If you skim or copy a certain portion of VIG and lower your fees, and obtain the same results, you might be able to beat the market by more of a percentage than VIG (assuming that VIG continues to beat SPY).
Given that, I did some research to try and discover how many of VIG's holdings we need to replicate the index. The initial research also began because I thought the top 10 in 2012 looked like a tidy large cap or dividend growth portfolio.
Here are those ten companies with their yield at the time of writing in November of 2012:
| | |
| --- | --- |
| Company | Yield |
| Wal-Mart (NYSE:WMT) | 2.10% |
| Coca-Cola (NYSE:KO) | 2.75% |
| IBM (NYSE:IBM) | 1.77% |
| Chevron (NYSE:CVX) | 3.24% |
| PepsiCo (NYSE:PEP) | 3.12% |
| Procter & Gamble (NYSE:PG) | 3.20% |
| Exxon Mobil (NYSE:XOM) | 2.52% |
| United Technologies (NYSE:UTX) | 2.77% |
| McDonald's (NYSE:MCD) | 3.52% |
| 3M (NYSE:MMM) | 2.69% |
| Average Yield | 2.77 |
I went to Vanguard and was given the list of top Ten holdings from inception. That top ten had minor changes here and there, but the top 10 had an incredible market-beating performance.
Here's the VIG top ten history - calculated by total return (including dividends and their reinvestment).
May 2006 to Dec 07 30%
Jan-Dec 08 minus 12%
Jan-Dec 09 12%
Jan-Dec 10 13%
Jan-Dec 11 14%
Jan-Dec 12 7.3%
From Inception: Top ten 77% Total Return for VIG from May 2006 to December 2012.
Those numbers outperform the VIG Total return of 37.8% during that period, and SPY's Total return of 25%. The VIG top 10 had a good run due to its large cap bias that performed well over that period. But the top 10's luck had run out in 2012. The market had delivered 16% beating the top ten by more than a double, and beating up on the total VIG as well. In a previous article, I then went looking for the "magic" number of stocks that would (more closely) approximate the total VIG, choosing from the largest companies in the cap weighted index. I examined the next top 5 (11-15) and then the next top 5 (16-20).
Here were the results.
| | |
| --- | --- |
| Portfolio | Total Return |
| VIG 2012 Top 10 | 7.3% |
| VIG 2012 11-15 | 16.7% |
| VIG 2012 16-20 | 23.4% |
| VIG Top 20 Combined | 13.9% |
| VIG Total Return | 11.1% |
| SDY | 11.6% |
| S&P 500 | 16.0% |
As we can see, the next two quadrants beat the VIG top ten and the market. The combined total top 20 still underperformed the S&P 500, but beat the total holdings of VIG and SDY.
So what happened to the top ten and beyond of VIG in 2013? First off, let's have a look at the VIG top 20.
| | |
| --- | --- |
| PepsiCo | PEP |
| Procter& Gamble | PG |
| Abbott Laboratories | (NYSE:ABT) |
| Wal-Mart | WMT |
| Coca-Cola | KO |
| Chevron | CVX |
| Exxon Mobil | XOM |
| McDonald's | MCD |
| United Technologies | UTX |
| IBM | IBM |
| 3M | MMM |
| Occidental Petroleum | (NYSE:OXY) |
| Colgate-Palmolive | (NYSE:CL) |
| Walgreen | (WAG) |
| Nike | (NYSE:NKE) |
| Lowe's | (NYSE:LOW) |
| Monsanto | (NYSE:MON) |
| Medtronic | (NYSE:MDT) |
| Caterpillar | (NYSE:CAT) |
| EOG Resources | (NYSE:EOG) |
Well history repeats itself. The top 10 had another off year. The top 10 delivered 20.2% while the market had that banner 32.3% total return year.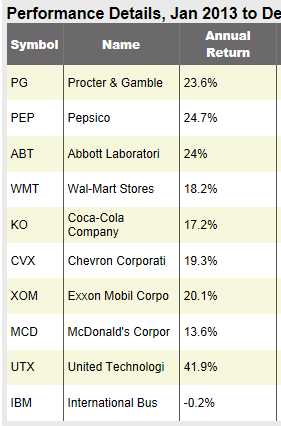 IBM had a very off year hurting the top ten. McDonald's was the main culprit to the weak side in 2012, and in 2013 McDonald's delivered very soft results. Once again, when one holds too few stocks the obvious lesson of too little diversification plays out.
Once again, I took a look to see how much diversification we might need to closely replicate the index. Here's the performance of 11-15 in 2013.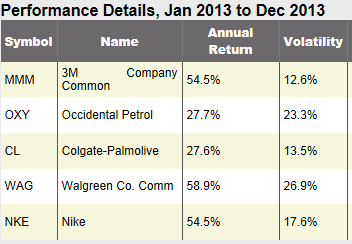 That group had an exceptional year of outperformance delivering 44.7%.
And here's the next 5, 16-20.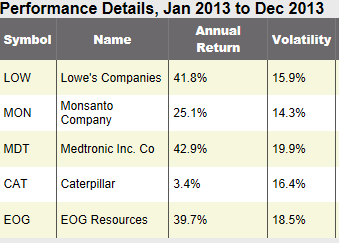 That group delivered some very nice returns as well with 30.6% for the year. Here's the returns by quadrants compared to the broader market, and a few dividend ETFs, plus Vanguard's managed dividend growth fund, VDIGX.
| | |
| --- | --- |
| Portfolio | Total Return |
| VIG 2013 Top 10 | 20.2% |
| VIG 2013 11-15 | 44.7% |
| VIG 2013 16-20 | 30.6% |
| VIG Top 20 Combined | 28.9% |
| VIG Total Return | 28.9% |
| VYM Total Return | 30.1% |
| SDY Total Return | 30.1% |
| Vanguard VDIGX | 31.5% |
| S&P 500 | 32.3% |
Most interesting, from the above is that the 2013 top 20 matched the returns of total VIG. In 2012, the top 20 had a slight outperformance of total VIG.
So how much is enough when it comes to diversification? This from a Morningstar article ...
Let's hear from the experts. In their book Investment Analysis and Portfolio Management, Frank Reilly and Keith Brown reported that in one set of studies for randomly selected stocks, "…about 90% of the maximum benefit of diversification was derived from portfolios of 12 to 18 stocks." In other words, if you own about 12 to 18 stocks, you have obtained more than 90% of the benefits of diversification, assuming you own an equally weighted portfolio.

Essentially, the theory says that if you are properly diversified, on average, you will get the same return in the market as if you had bought a passive market index. So if you want to obtain a higher return than the markets, you increase your chances by being less diversified. At the same time, you also increase your risk.

It is also important to note that if you own more than 18 stocks, you will have achieved almost full diversification, but now you will just have to keep track of more stocks in your portfolio for not much marginal benefit.
This article certainly seems to confirm the research from the Investment Analysis book. 15 companies and 20 companies got us quite close to the VIG total return. The outlier would be the 2012 top 20 that outperformed VIG by over 10%.
It also holds true that holding fewer companies provides the opportunity to outperform with increased risk. The Vanguard top 10 still has a considerable outperform of VIG from May of 2006.
Conclusions
Have a look at your number of holdings. Are you over-diversified? It may make sense to hold fewer companies. With less companies to cover and research, perhaps it's more advantageous to know fewer companies "better" compared to spreading out your time covering 30-40 stocks. There's only so much time in a week.
For indexers, the lesson maybe that we can at some stage save greatly on fees by index skimming and purchasing the individual companies. That's something I always personally have in the back of my mind. But I would then fear that I would start to watch the companies and perhaps start to think. The key would be to follow your methodology without emotion, be passive.
RISK!
Always know your risk tolerance level. And if you are index or ETF skimming or replicating, pay attention to sector diversification. Over allocating to one sector could of course increase your risk. Case in point, holding too many financials in 2007.
Happy investing, and be careful out there.
Disclosure: I am long SPY, DIA, VYM. I wrote this article myself, and it expresses my own opinions. I am not receiving compensation for it (other than from Seeking Alpha). I have no business relationship with any company whose stock is mentioned in this article.
Additional disclosure: Dale Roberts is a Streetwise Coach at ING Direct Mutual Funds. The Streetwise Portfolios offer index-based complete portfolios to Canadians. Dale's commentary does not constitute investment advice. The opinions and information should only be factored into an investor's overall opinion forming process.