Introduction
Ever since I started following Seeking Alpha closely, I have seen a lot of contributors, including myself, adopt the Dividend and Growth Investing (DGI) approach. Many investors that started investing in recent years have yet to experience a market pullback in the past few years. For new investors that just started investing, it was not difficult to achieve positive financial results by buying dividend stocks and watching the dividends come in with capital growth. Since the market crash of 2007, average investors have achieved great financial return with the DGI strategy.
"Everyone is a genius in a bull market while everyone is a fool during the bear market…"
Complacency
The market had an average annual increase of 15%+ since the lowest point in 2009 [Source: Google Finance]. This extended period of market expansion could give some investors the false impression that investing is easy and when investors think investing is easy it makes them complacent. There are different lessons to learn about an unpredictable market during a bull vs. bear market. It is easy to buy a dividend stock that pays 3% dividend a year while the price has been increasing for a while. However, it is much harder to buy the same stock while the price has been decreasing for few years. Part of the reason I am writing this article is to continue to remind myself that wealth gained from the stock market is not "Easy Money."
"Complacency - marked by self-satisfaction especially when accompanied by unawareness of actual dangers or deficiencies." Merriam-Webster
As an inexperienced investor with basic knowledge of the economic and finance market, I cannot time the market; however, I do understand that it is only a matter of time before the stock market plunges. With this self awareness, I believe it is time to get "defensive." Somewhere around the corner is another recession just waiting to crush unsuspecting investors and it is up to each investor to prepare for it.
Every investor has his or her own approach and comfort zone on how aggressive they set their investment strategies, with many elements that factor in, including: investing experience, time period for investment growth (short vs. long term), importance of investment (retirement, college funds, saving for wants such as a luxury car) and overall asset allocations. This article will briefly explain why I choose to be defensive in the current market.
Spoiler alert, being defensive does not mean I will allocate my assets into bonds, "non-risk" money market funds or place short orders. I am hesitant to invest in the current market, but instead of searching for investments to "park" savings, I will continue with my DGI strategy to invest in dividend growth stocks, and select the right defensive dividend stocks by using the necessary diligence to qualify the stocks with proper screenings. I will provide details on extra steps I take to select dividend stocks with special criteria that I qualify as defense dividend stocks.
The phase "past performance is no guarantee of future results" goes around frequently in the investing world, however, my personal belief is that overall history will repeat itself.
S&P 500 Price History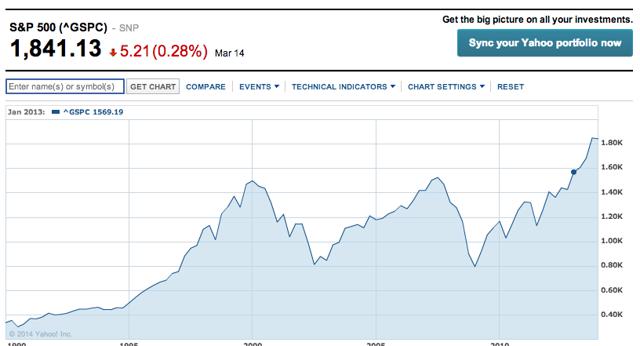 [Source: Yahoo Finance]
I apologize ahead of time, this article will not show you when the future market will experience a noticeable pullback or when we will experience another recession; however, this article will provide information on how I screen defensive stocks that fits my portfolio configuration.
How to select defensive stocks
For the short term, I will only focus on researching stocks related to "Needs" in industries that provide products or services such as food, oil & gas, health, energy, financial, and household/personal products. The financial industry qualifies as a need because almost every person uses some type of financial services such as saving and checking accounts at a minimum. It is understandable that some investors do not consider the need of financial services place the financial industry in the defensive category, because the financial industry is what mainly led to the last Great Recession.
I value technology highly in the long run (20 years+), but they have been deemed to be more volatile. This means I will stay away from technology industry for this defensive dividend stock selection. If I find a dividend stock in the technology sector that is a great value, I would invest in it. Finally, I will keep my eyes open for value investments in other sectors, but the industries that provide Needs are what I will focus on for the near term.
In the first step in identifying defensive stocks, I use the "eye" test to see how the companies react to the 2007-09 Great Recession. If a company dropped over 50%+ and took more than two years to recover, it is off my list. One example of this is ConocoPhillips (NYSE:COP). I thought COP was an attractive stock, but when I looked at how it performed during the recession period, I was disappointed. I compared COP with industry leader, Exxon Mobil (NYSE:XOM). XOM also had a significant drop during the recession, but recovered quicker comparing to the overall index.
A place for quick references for dividend stocks is David Fish's Dividend Champions, Contenders and Challengers list, "the CCC stock list." XOM is a dividend champion with 31 years of dividend increase, while COP is a dividend contender with 13 years of dividend increase. For selecting defensive dividend stocks, I will favor dividend champions over contenders, and I will avoid dividend challengers during this time. The main reason is that dividend challengers are stocks that have 5-9 straight years to higher dividends and some challengers made the list by increasing dividend consistently after the 07-08 periods.
*I recommend that readers study and get a good idea of the Dividend CCC stock list.
XOM and COP stock price 2004-14

[Source: Yahoo Finance]
The eye test is one of the very first steps I take when I search for defensive dividend stocks. When the market has been doing well for so long, it is not difficult to claim that experiencing "paper loss" of the portfolio will not cost any emotional stress. Every investor has his or her own risk tolerance and I am comfortable if my investment drops 20%-40%. However, if a value drops over 50%, it would cause me to be emotionally stressed. Seeking Alpha contributor Chuck Carnevale recently wrote a detailed article "What Do I Do With My Stocks If The Market Crashed?" related to stock drops. I would recommend his articles to readers with strong interest in this topic.
COP has been on my watchlist for a long period of time and I was close to investing in it, but I believe I will purchase XOM because it is a better defensive stock.
"By looking at the graphs alone will not predict the future movement of the stock price, this is only the very beginning stage of investment research. The movement of the price captures my attention to the investment; I do additional valuations, industry research before I make any investment decision."
Market Cap
The second step I take is to look into market capitalizations as criteria. I want to focus on the market leaders since I am willing to give up some growth for some stability. Market leaders tend to move slower compared to the rest of the industries, and are also the first stocks investors look at when they re-enter the market after a market pull back.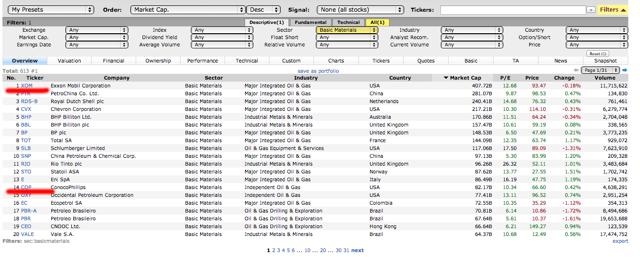 [Source: Finviz]
Before I decide to fortify my portfolio with defensive stocks, I would probably pay more attention to companies such as Chevron (NYSE:CVX), Total SA (NYSE:TOT), or COP on the list.
Current Valuation
My third valuation involves looking at the current valuations such as P/E and dividend compared to the overall index. I am willing to pay a reasonable amount of premium price for an investment, but there is still a price ceiling I will not cross.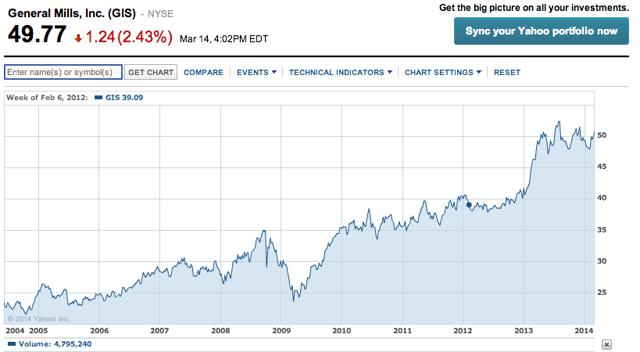 [Source: Yahoo Finance]
General Mills, Inc. (NYSE:GIS) is an attractive investment for a defensive stock based on providing a "Need", and has shown steady growth and a quick recovery during the recession. GIS's nice run in 2013 drove the current valuation P/E at 18.5, which is not favorable with the historic average. As such, I would not make a purchase of GIS in the short term. However, if GIS becomes a better price near the average P/E, I will add it to my portfolio.
Why did I decide to start fortifying and is it time for you to do the same?
Every investor's situation is different and there is not a universal investing strategy that can be applied to every investor. I can only share my own profile background and why I decided to start fortifying my portfolio.
As a relatively young investor that started to accumulate wealth at early age, I don't need to be too aggressive to achieve financial freedom. With defense dividend stocks, my portfolio also moves with the market, but just at a slower pace. I think the market will have a pull back in the short term. Would I miss out on holding more aggressive growth stocks? Probably, but investing in defensive dividend stocks I can still capture part of the gains.
Another side of the argument is that I can take on more risk to generate more wealth since I am far from retirement, or that investors cannot time the market. First, I do not find investing in risky stocks (as in small cap/growth) in the current market justifiable. I plan to invest into more risky investments during the later stages of my portfolio. (Details on my overall portfolio strategy and structure will be on my next portfolio update.) Second, I always believe slow and steady pace will get me ahead of many people. I would love to be part of the top 1%, but with my strategy and the amount of risk I can comfortably take, my goal is to be the top 10% net worth in my age group.
Getting defensive is not the right move for every investor. There are some investors who are behind on accumulation of wealth and who may need to take on extra risk to reach their retirement goal. There are investors who want to achieve great financial return from investments. There are hundreds of examples on why investors could choose to be more aggressive. I just choose to the more defensive.
This article should get you to think about these topics:
-Are you employing the proper investment strategy based on your profile?
-Are you planning to fortify your portfolio?
-How will your portfolio react when a pullback happens?
-What are some investments that can offer you protection?
-Will the market experience a pull back in the near term?
Readers: Do you think being defensive is the appropriate action to take at the current time, if so, for what kind of investors? Please comment on your current strategy and I am looking forward to see some recommendations of great defensive dividend stocks in the current market.
I am not claiming to be a knowledgeable investor, with less than a year as a DGI, I write to share my thoughts and actions, and expect to learn from knowledgeable feedback from the community. I hope this article will make some investors take a look at their portfolio configuration and remind every investor that sooner or later the market will experience a pull back. This article also expresses why I will start selecting stocks that are more defensive; being defensive is not a permanent strategy for my portfolio. To get an overall picture of my portfolio, please follow my 30 and under portfolio updates.
This article does not provide detail on all of the steps I take to evaluate an investment, but rather to show the general approach I have in the near future.
Once again there is not one investment strategy that is universal for everyone, readers please do your own research on proper portfolio allocations and configuration. Invest at your own risk.
Disclosure: I have no positions in any stocks mentioned, but may initiate a long position in XOM over the next 72 hours. I wrote this article myself, and it expresses my own opinions. I am not receiving compensation for it (other than from Seeking Alpha). I have no business relationship with any company whose stock is mentioned in this article.