Shares of Lend Lease (OTCPK:LLESY) have performed well since I first wrote about them in August 2013. Since that time, the shares have appreciated 30% relative to a 10% return for the S&P 500 (NYSEARCA:SPY). Because the company traded up to my initial fair value estimate, it is an opportune time to revisit the thesis.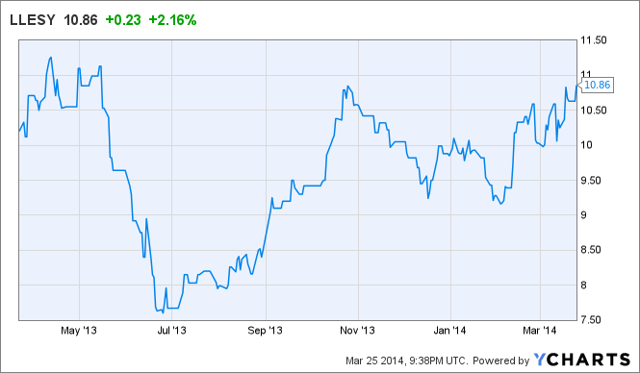 The Business
Lend Lease is an international property and infrastructure company established in 1958 and headquartered in Australia. However, Lend Lease has global scale, and is active in various markets around the world. While most of Lend Lease's operating profits do come from Australia, the company is active in Asia, North America and Europe.
Lend Lease also has a clearly defined strategy to capitalize on mega trend themes. Those themes include:
Urban regeneration
Ageing population
Sustainability
Funds growth
Infrastructure
Touching on a number of these themes, Lend Lease is becoming a large investor in health care assets. News reports indicate that Lend Lease is a potential bidder for a portfolio of 28 hospital properties owned by Healthscope. The deal is reported to be worth up to $1.25 billion, of which Lend Lease would likely bring in a co-investor and become the external asset manager adding to its current $15.8 billion assets under management ("AUM") portfolio. The move would be one of the largest additions to Lend Lease's portfolio of late, and would provide another healthy recurring revenue stream from advisory fees. In addition, the deal would help Lend Lease continue to diversify its property management business which includes residential and commercial asset classes.
Catalysts
While Lend Lease's share price has appreciated some 30% since my last report, the company still has attractive catalysts to unlock value and possesses a strong balance sheet.
In terms of catalysts, the sale of its interest in a UK-based retail property development Bluewater represents a large catalyst in terms of asset recycling and a cash infusion for Lend Lease. Bluewater attracts some 28 million annual visitors with favorable economic characteristics, making the property very valuable. CEO Steve McCann has been mum with respect to progress on a potential sale of Bluewater, other than saying that Lend Lease is likely to sell its interest in the property "at some time." Lend Lease's 30% stake in the property is valued up to about $800 million, representing a significant part of Lend Lease's current $6.8 billion market capitalization.
With respect to the balance sheet, Lend Lease remains modestly levered even after taking on some additional debt in the first half year. As of December 31 2013, net debt stood at $1.7 billion and is well covered by cash flow (5.7x interest coverage) and the tangible asset base (19.1% of total tangible assets). A Bluewater asset sale would serve to improve these metrics. In the meantime, Lend Lease remains conservatively managed from a balance sheet perspective which mitigates downside risk to the equity.
Earnings Visibility
One issue with investing in contracting businesses is the lumpiness of the revenue streams due to construction accounting rules. Rather than looking at quarterly profitability for these types of businesses, I prefer to assess the backlog each quarter to gauge demand. Lend Lease's backlog illustrates a strong pipeline, with more than $38 billion in its development segment pipeline and another $15.5 billion in the construction segment. Moreover, Lend Lease benefits from access to a permanent capital base that it manages and earns advisory fees. At the half-year ending December 31, Lend Lease held $15.8 billion assets under management ("AUM"). As an investor, I like the asset management side of the business because it provides Lend Lease with an annuity-like income stream.
Putting it together, demand for Lend Lease's services remains robust. While statutory earnings did indeed suffer in the first half of the year on account of lower profitability from the Bangaroo project in Australia, the large pipeline of business indicates healthy demand.
Given the tailwinds in the business and the earnings visibility, a 12 to 15x multiple on after-tax earnings seems reasonable. Lend Lease trades at about 11.5x next years analysts earnings estimates. Using the midpoint multiple (13.5x), these shares still have some upside to the tune of 15 to 20%.
Conclusion
My conclusion with respect to Lend Lease has not changed much since the last report. There are visible catalysts on the horizon to unlock value through asset recycling (the Bluewater deal) and Lend Lease's strategy and development pipeline remain robust. Therefore, I believe multiple expansion towards 15x after-tax earnings is not unreasonable for shares of Lend Lease.
Disclosure: I have no positions in any stocks mentioned, and no plans to initiate any positions within the next 72 hours. I wrote this article myself, and it expresses my own opinions. I am not receiving compensation for it (other than from Seeking Alpha). I have no business relationship with any company whose stock is mentioned in this article.