The oil sector is one of the few that offers a rare combination of high and sustainable shareholder remuneration, due to its high free cash flow generation capacity and sustainable payout ratios over the long-term. As usual within the oil industry, Statoil (NYSE:STO) offers an attractive dividend yield that is sustainable for the long haul. Its low exposure to downstream activities means it should not be affected by the issues hurting the sector's earnings, making it one of the best oil investments in Europe. Statoil has a market capitalization of about $89 billion and trades on the New York Stock Exchange through its American Depositary Receipt [ADR] programme. One ADR represents the same right of one ordinary share.
Company Overview
Statoil is Norway's leading oil and gas group and one of the world's largest oil companies. Its major competitors are therefore other oil majors, including BP (NYSE:BP), Eni (NYSE:E), Royal Dutch Shell (NYSE:RDS.A) (NYSE:RDS.B) or Total (NYSE:TOT). The company has operations in 33 countries, primarily focused on upstream oil and gas operations. It was founded in 1972 and is based in Norway, having approximately 23,400 employees worldwide. It has an AA- credit rating from S&P, reflecting its low credit risk. The Norwegian State is Statoil's biggest shareholder with a 67% equity stake, with the remaining 33% trading as free-float.
Statoil is the leading operator on the Norwegian Continental Shelf [NCS] and is also expanding its international activities. It is also the second-largest supplier of natural-gas to Europe, after Gazprom (OTCPK:OGZPY). After the disposal of its last interest in Statoil Fuel and Retail (OTC:STOIY) in June 2012, Statoil does not have material exposure to retail and marketing activities. This is a comparative advantage over most of its peers as the company is not exposed to a tough environment in Europe, as refining margins are very low and hurting the bottom-line of some of its peers like Shell, which reported recently weak earnings due in part to weak earnings in its downstream operations.
Statoil had about 5.6 billion barrels of oil equivalent [boe] of proven reserves at the end of 2013, with about 70% of its reserves located in Norway. A key positive differentiator of Statoil is its low risk foundation in Norway, compared to many peers that have the majority of resources based on politically risky geographies, like Africa or the Middle East. Statoil also has significant reserves in the U.S., namely in the Bakken, Marcellus and Eagle Ford plays. In the Gulf of Mexico, the company has six wells, but only two are in production. Further drilling in these assets may increase its proved reserves, possibly increasing considerably its weight within the group. Statoil has low exposure to current unstable countries, like Libya, Egypt, or Nigeria, having therefore one of the safest production profiles within the European oil sector. On this issue, Eni has the worst risk profile, given that more than 30% of its oil & gas production comes from the North of Africa.
Statoil's production decreased by 3.2% in 2013 due to low volumes from mature fields, with international production accounting for 37% of its total output. Its reserve replacement ratio was 128% in 2013, and much higher than a few years ago supporting its mid to long-term production growth targets. Although the vast majority of its oil and gas production comes from the NCS, its international production has started to grow through acquisitions and new discoveries. Statoil's strategy of rebalancing its portfolio towards higher risk, higher impact exploration wells has clearly delivered good results over the past few years. Statoil had a few successes in Norway, Brazil, and Tanzania justifying its exploration-led organic growth strategy and demonstrating the rewards of assuming a slightly higher risk profile. This will contribute significantly to make the company less dependent on Norway going forward and to reach higher production abroad over the coming years.
Statoil has recently updated its strategy, shifting its focus to increase capital efficiency. Statoil's production guidance is for approximately 2-3% compounded average growth rate [CAGR] from 2013-2016, and 3-4% CAGR between 2016 and 2020. The company's goal is to reach a production above 2.5 million barrels of oil equivalent in 2020 compared to around 1.8 million during the past year, with international operations accounting for about 44% of the total. To achieve these targets Statoil is relying on its organic exploration strategy, which has been very successful lately.
Dividends
Regarding its financial performance, Statoil's revenues have increased over the past few years until last year. In 2013, Statoil's revenues amounted to $105 billion, a decline of 11% from the previous year. This drop was due to lower volumes, prices, and due to the divestment of the Fuel and Retail segment in 2012. Despite higher costs across the industry, Statoil has been able to achieve relatively stable EBITDA margins at around 35% over the past few years.
Over the past few years, the company has increased its dividend successively, reflected on its 5-year dividend CAGR of 3.9%. Statoil's dividend yield is currently about 4.1%, based on its last annual dividend of NOK 7 ($1.16) per share. The dividend payout ratio was only 56%, which is acceptable for a mature company like Statoil and is within the sector's average. Recently, the company announced its intention to implement quarterly dividends in 2014, instead of its current annual payment. This change will align the company's capital distribution practice with its peers, and is especially welcomed by U.S. investors who are used to more frequent distributions. On the other hand, income investors should note that dividends paid with respect to shares or ADR's will generally be qualified dividend income and subject to Norwegian withholding tax of 15%, reducing its appeal compared to other alternatives like Shell or BP.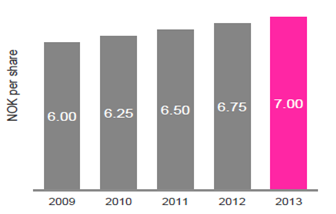 Despite the company's good cash flow generation, its huge investment in exploration results in negative free cash flow. Therefore, its dividend is not covered by organic cash flow and should not be at least until 2016. In 2013, Statoil 's capital expenditures amounted to almost $19 billion or 18% of its revenues, which is a very high ratio. Over the next three years, Statoil expects to spend around $20 billion per year, a level that should decline thereafter and lead to positive free cash flow generation. Statoil expects to cover its dividend organically by 2016, which seems to be easily reached with a moderate reduction in its investment program.
Statoil's dividend is also supported by its strong balance sheet, given that its net debt is below $10 billion or a net debt-to-EBITDA ratio of only 0.25x. This means it should have a strong capacity to raise debt on capital markets to meet its funding needs over the next few years.
Regarding its valuation, Statoil is trading at a slight discount to its closest peers, especially considering the PER and EV/EBITDA ratios. It is trading at 10,5x its estimated 2014 earnings and its EV/EBITDA is only 2.6x, trading at a 48% discount to some of its closest peers. Therefore, in addition to an attractive dividend yield, Statoil offers a cheap valuation making it a compelling investment for income investors.

Disclosure: I have no positions in any stocks mentioned, and no plans to initiate any positions within the next 72 hours. I wrote this article myself, and it expresses my own opinions. I am not receiving compensation for it (other than from Seeking Alpha). I have no business relationship with any company whose stock is mentioned in this article.