Halcón Resources' (NYSE:HK) CEO Wilson gave a presentation on the company on March 25th at the Howard Weil Energy Conference. Much of the presentation covered well-known ground, e.g. downspacing in the Bakken, continuing well performance improvement in the East Texas Eagle Ford, etc. However, the presentation also provided some important insight into Halcón's near-term plans in the Tuscaloosa Marine Shale ('TMS') play which are worth sharing with the SA community.
First of all, Halcón revealed its TMS drilling schedule for the next several months. As the graphic below shows, Halcón anticipates drilling 4 new wells in Wilkinson County, MS and 1 new well in West Feliciana Parish, LA between now and the end of July.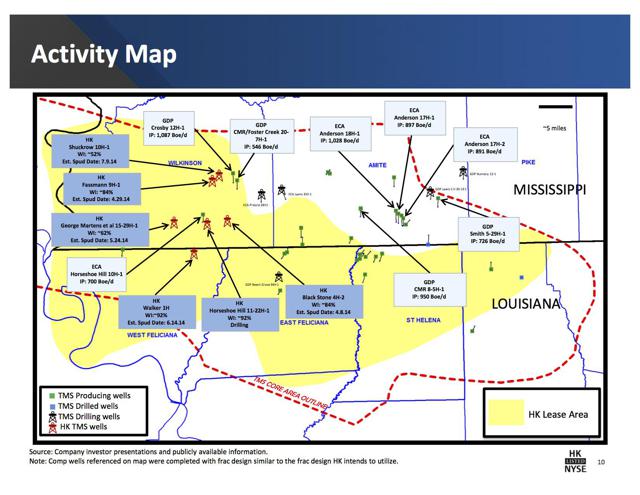 Second, Halcón revealed its analysis of the TMS to date and what its approach will be to development in contrast to current industry practice. Notably, Halcón plans to increase the average length of its laterals to 7,200+ feet from the current industry average of 6,000+ feet. It also plans on increasing the amount of proppant per lateral foot to 1,600+ lbs. from the current industry average of 1,400 lbs. And it also intends to increase the perforation cluster spacing to 50 feet from current practice of 66 feet. Placing the perforation clusters closer together should create more fractures in the lateral.
The presentation also presented several drilling and completion approaches which Halcón hopes will avoid some of the mechanical issues experienced by some other operators. These include reducing chances of hole instability by:
1) Drilling the intermediate vertical section of the well with oil based mud;
2) Setting the intermediate casing +/- 100' into the top of the TMS at up to 30 degrees, i.e. coming in to the top of the TMS at an angle. Goodrich Petroleum (OTC:GDP) found this to be a solution for getting past the so-called "rubble zone";
3) Drilling a large (8.5") production hole "to reduce equivalent circulating density" ('ECD'). ECD occurs when friction in the well from circulating drilling mud and fluids results in increased bottomhole pressure, which can cause well integrity issues; and
4) Refining the target zone "to avoid unstable intervals". Goodrich Petroleum experienced problems in the upper zone of the TMS and has indicated that it will now target the lower zone. It would appear Halcón will follow suit.
Halcón also indicated other adjustments to the current completion techniques including:
1) Choosing to use the clay stabilizer choline chloride instead of potassium chloride. The TMS formation contains between 3-4% smectite, which is a type of clay which will swell in the presence of water. Very bad for production. Halcón states that total clay and smectite content in the TMS is very similar to East Texas Eagle Ford Shale (El Halcón) an area Halcón has a lot of experience in. The company apparently has had success with choline chloride and intends to use it in the TMS;
2) Modifying the frac design to minimize chance of pressure spikes and casing deformation. This will hopefully avoid the casing deformation Goodrich experienced with its Huff 18-7H well; and
3) Potentially using a snubbing unit rather than coil tubing to mill out the frac plugs.
Finally, Halcón provide its 605Mboe "base case" type curve which is representative of the average well it expects to drill across its holdings. The curve is based on analysis of 6 wells in the play using current industry standards and then "normalized" to a 7,200 foot lateral. As shown below, Halcón expects an IRR of 40% at $12MM well cost and $90 oil. Significantly, the graphic shows that Halcón's has an average of 66% working interest across its TMS holdings, with an average royalty interest of 22% and net revenue interest of 51%.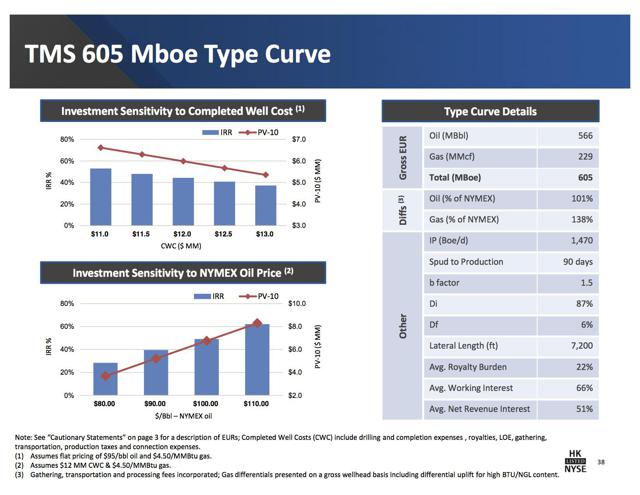 Disclosure: I am long HK, GDP. I wrote this article myself, and it expresses my own opinions. I am not receiving compensation for it (other than from Seeking Alpha). I have no business relationship with any company whose stock is mentioned in this article.